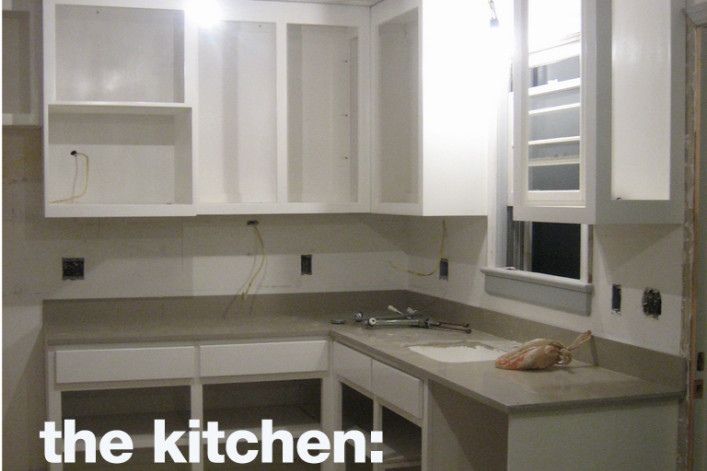 Q. Is there any evidence that renovating a kitchen in NYC actually pays off in the end in regard to resale value?
A. Generally speaking, kitchens that need to be updated are often a deterrent to buyers, because it's an expensive and time-consuming renovation.  But while a renovated kitchen can help sell your apartment--and for a better price than if you didn't renovate--it doesn't necessarily mean you'll get back what you put in.
To some extent, the answer depends on how much you plan to spend on your renovation.
In New York City, says Jory Schwartz of architectural and interior design firm SH Projects, expect to pay around $15k-$25k for an inexpensive kitchen renovation, $40k-$75k for a mid-range kitchen, and $100k+ for a high-end kitchen.
(Remember that if your kitchen is larger than the "typical" New York kitchen--most are 7x9 or smaller--these costs need to be adjusted upward.)
So when it comes to getting your money back when you sell, how much is too much?
At a certain pricepoint, buyers expect a state-of-the-art kitchen, whereas you probably won't recover the cost of a high-end kitchen on a lower-end starter apartment. As a very general guideline, try not to spend more than 5 percent of the sales price of your apartment on your kitchen renovation.  That means if your apartment is only worth $300K, you may want to stay under $15,000 to recoup your kitchen outlay. However, if your apartment is $1 million or higher, $50K might not be enough with high-end appliances.
Keep the expectations of your eventual buyer in mind.
"If a buyer is spending $3 million and up, they expect to see a classic, modern kitchen with beautiful cabinetry, finishes and fixtures, plenty of countertop space and the ability for a couple to be in the kitchen cooking together without bumping into one another," says Shelli Scrimale of Stribling. "True quality and workmanship are also high on the list. If it's an estate sale, they will be more concerned about the layout of the kitchen because they will just tear everything out anyway."
On the opposite end of the market, says Barbara Smith of Corcoran "I have put in low-end [IKEA] kitchens costing between $7,500 to $10,000 in sponsor renovations of low-end--$400K--one bedrooms and they helped sell the apartment." (She notes that, importantly, the rest of the unit was renovated as well.)
"On higher-end apartments, say $1 million and up, new kitchens probably would result in the seller recouping the cost of the renovation," says Smith. That's if you sell within five years for most kitchens (which will show limited wear and tear), the kitchen seems current and not outdated, and the market is typical.
When it comes to getting your money back, "much depends on the mind-set of the buyer and the price of the property," says Gordon Roberts of Warburg Realty. Some buyers "may be willing to make concessions to a 'meh' kitchen if the rest of the apartment works for them, the price is right, and they are unexcited about cooking anyway." 
The percentage of costs you're likely to recover also depends on a sliding scale of factors like the apartment itself, the size and details of the kitchen, the buyers, the market, location, monthly maintenance costs, etc.
Before you set your budget, look at the average appraised value of comparable apartments in your neighborhood, see what they have to offer, and make sure your apartment falls in that range including the reno costs. 
Visit similar apartments currently on the market. Note the asking price, the square footage, the level of renovation if any, and especially the kitchen. That will give you an idea of how yours compares, and may help you set the remodel budget if you are concerned about recouping the costs when you go to sell.
Here are some tips to keep in mind for renovating your kitchen with resale in mind:
Unless you're planning to sell in the next couple of years, renovate with longterm durability in mind. "When considering materials for a kitchen, the least expensive option is not the best option," says Schwartz. As an example, he says, choose "cabinets that have quality drawer slides and door hinges that will allow you to open/close smoothly over many years. Many companies will use inexpensive hardware to cut costs but will end up costing the end user a lot of repairs." Drawer slides and hardware can be upgraded on less expensive cabinets and can make all the difference.
Layout is more important to buyers than flash or size: "Buyers who cook will really scrutinize a kitchen for it's user-friendliness," says Roberts, "and a badly-placed fridge, poor counter space, or awkward shape can all be a deterrent."  Adds Scrimale, "Buyers are not fond of Pullman kitchens or kitchens that are extremely narrow."
Don't over-renovate. Depending on the pricepoint of your apartment itself, investing in high-end cabinets, appliances, and finishes may not be a smart move. An ultra high-end renovation with luxurious materials doesn't make sense in a $600k apartment. Sources like Home Depot, Lowe's, and IKEA will be more affordable and you'll have a better chance of gaining in the long run. Schwartz also recommends appliance shopping on eBbay:  "Consider buying products where seller ratings allow you to be reasonably assured to get low prices for used, 'like new' or new items that sellers cannot use or no longer have a use for." 
Stick with neutral cabinets and finishes--avoid the crazy colors and patterns that may be specific to your taste. If you want color, experiment with paint, which can easily be replaced and is inexpensive. "A classic white kitchen is timeless," says Scrimale.  "I have a client who did a kitchen renovation 10 years ago. The room still looks amazing."
If your budget allows, splurge on the countertops. Granite, perhaps the most practical and durable of natural materials for kitchens, starts at about $85 per square foot depending on the type of granite and go up from there. Caeserstone is also quite popular now. You can save money you spend on countertops by using porcelain tiles elsewhere rather than stone tiles; porcelain typically costs less and there are now many that reasonably replicate the look of natural stone tiles (think slate or limestone textures).
Another way to keep the budget in check is to hire your own laborers and buy your own material. "In other words, act as your own general contractor," says general contractor Alex Ushyarov, who is also a founding partner of Clickandimprove.com. However, this requires the expertise (things like ordering the correct amount of materials and staying on top of the project so the renovation is built to spec), and also time. If you have a day job, you'll find it nearly impossible to oversee the goings on at your apartment on a daily basis. Usharyov advises hiring a pro to manage your project, "unless you have true experience in the industry and know what you are doing. Otherwise, the kitchen may wind up costing you twice the amount in many cases."
---
Tracy Kaler was a designer, decorator and renovator in her last life. Before working as a freelance writer, she held several furniture sales jobs in the Big Apple and purchased a new wardrobe. Now she works in her pajamas and commutes two feet to her desk each day. This is one of the few advantages of living in a New York apartment, and well, so much for that wardrobe.
Wondering about renovating? We want to answer your Renovation Qs. Just send us an email!
Related posts:
How much does it cost to renovate a kitchen in NYC? (sponsored)
A few things to consider before combining those apartments...
Ask an Expert: What's the best kitchen countertop material?
NYC renovation bloopers: 6 great ideas you'll regret having
Why is it so expensive to renovate in New York City? And what can I do about it?
Getting your developer to finish your punch list
Brick Underground articles occasionally include the expertise of, or information about, advertising partners when relevant to the story. We will never promote an advertiser's product without making the relationship clear to our readers.