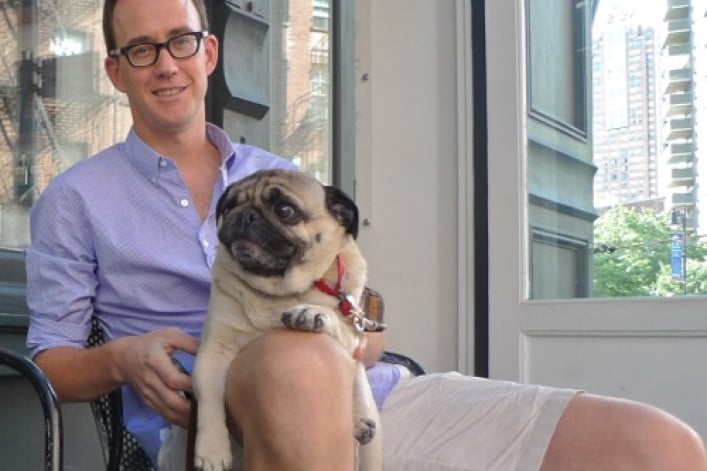 In this installment of Confessions of a Neighborhood Blogger, we caught up with Erik Torkells of Tribeca Citizen.
After leaving his job as editor-in-chief at Budget Travel in 2008, Torkells started the neighborhood site for news, photos, shopping, tips, and as a general directory for life in Tribeca.
With all of his extra free time (post-Budget Travel) he took his dog, Howard, on long walks in Tribeca, leaving him with some questions: What are the plans for this building? When will the construction on that building finish? Since he couldn't find answers on any website, he decided to build his own, and Tribeca Citizen was born.
He became obsessed with the project and treated managing the site as a full-time job. Today, his site gets about 125,000 hits monthly and it's growing.
Best of all, Erik says he gets more fan mail from Tribeca Citizen readers than he ever did as a magazine editor. 
1. What's the first thing you would you tell someone who's just moving in?
Watch your toes: Strollers have right-of-way here.
2. Where are the best deals in the neighborhood?
Have lunch at Greenwich Grill, an Italian restaurant that is quiet and elegant but not expensive, especially during the day when you can get the $14 pasta or $20 entree prix fixe. 
Happy hour at B Flat, from 5-8 p.m., offers $8 drinks. For dinner, stop at Capri Caffe--also Italian--on Church between Chambers and Reade streets.  
I honestly don't know of too many real estate deals in Tribeca, but Chinatown isn't too far away if you're looking to save a bit on rent.
3. Do you have a dream building in your neighborhood?
Besides obvious ones like the soon-to-be-converted Woolworth Building or the much-photographed Staple Street bridge?
Every time I see Winka Dubbeldam's crumpled-glass Greenwich Street Project just north of Canal, I smile. What more can you ask for?
And I'll be excited to see 11 North Moore develop -- the folks behind the project are promising that it'll rival 15 Central Park West.
And I'm absolutely obsessed with Herzog & de Meuron's 'Jenga' design for 56 Leonard. It's a game-changer for Church Street.
4. Any buildings that feel out of place with the feel of the neighborhood?
Sure. But that's New York City. My bigger concern these days is the 'toppers'--rooftop additions that are set back, but not so much that they're invisible. Too many have no relationship with the building below them. That can be interesting--like Shigeru Ban's addition for 361 Broadway -- but often they look like cheap afterthoughts, crappy hats slapped on classic outfits.
5. Any real estate-related controversy brewing or currently happening in your neighborhood?
I wouldn't call it a controversy, but northwest Tribeca is getting very nervous about Related's plans for a ten-story, 107-unit building at 460 Washington, which is currently a massive plot that's a parking lot and two warehouses.
The last time Ponte Equities put up a rental building in the area--Ponte owns 460 Washington, too--it was the much reviled (dark and out of place in the neighborhood) Truffles Tribeca. There is hope that this project will be nicer, but it will definitely block views and add density to the neighborhood.
Metro Loft Management also plans to modernize one of the last unconverted major buildings in the area -- 443 Greenwich. Northwest Tribeca is so quiet, but maybe not for long....
6. What do you think your "sister" neighborhood might be?
A hybrid between the West Village and the Upper East Side.
7. Which neighborhood feels like the opposite of your neighborhood?
Williamsburg or Greenpoint. Have you ever noticed that Tribeca has very few 20-somethings? It's as if the Pied Piper led them all over the East River bridges.
8. Would you stay in this neighborhood forever if you could?
No way! Life is too short! Everyone should move every now and then.
9. Where would you want to go?
Sydney.
---
See all Confessions of a Neighborhood Blogger.
Related posts:
Confessions of a neighborhood blogger: First stop, Greenpoint
A move-by-move neighborhood guide for the people, by the people
11 years later, a TriBeCa native longs for a pre-9/11 Lower Manhattan
Brick Underground articles occasionally include the expertise of, or information about, advertising partners when relevant to the story. We will never promote an advertiser's product without making the relationship clear to our readers.