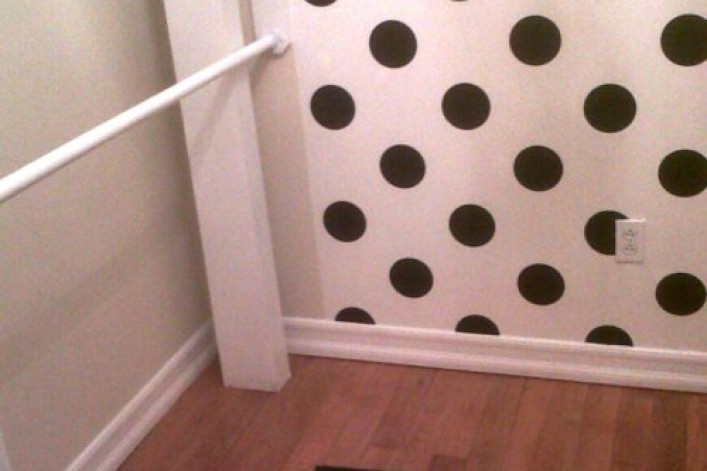 When I first decided to move, I knew it would be nearly impossible to find what I needed.
I was living in a big junior four for $1,600, with a wall of closets, three armoires, five dressers and lots of storage space. I even stored shoes in my kitchen cabinets.
Every quarter I would go through my clothes and re-organize them by color, sleeve length and material, giving anything I no longer wear to either a consignment shop, to friends or to a friend's twice-a-year clothing swap. 
So even with regular pruning and a willingness to throw out a lot of my stuff, I knew that apartment-wise I'd still need a fairly big place to house my clothes and shoes.
I was clear with any agents I spoke to that I knew it was like looking for a needle in a haystack to try to find a junior four, two bedroom or huge (with many closets) one-bedroom that was not on the Upper East Side, above 96th or farther east than First Avenue.
I also needed an eat-in kitchen because I have a china cabinet with vintage china I've collected and a vintage table from 1956 that I will not part with. The building had to be pet friendly, the unit not be above a fourth-floor walkup, and the landlord had to be willing to accept a freelancer. 
In other words, I was the client from Hell. 
I figured I probaby needed another large railroad-style apartment, as they seemed to be the type of set-up I needed. Most had large eat-in kitchens and an extra room without windows to be used as a second bedroom or office. They tended to stay on the market a bit longer or go for cheaper because no matter how big the space, roommates were reticent about walking through each other's bedrooms. 
A tall order for sure (especially given my $2,000 rent cap), at which most brokers balked. 
But not all.
"This is NYC," said the woman who instantly became my favorite real estate broker. "You will find anything you are looking for here if you look hard enough."
It made sense.
After all, there are men born in women's bodies looking for an Asian business man with a large foot fetish to love them forever and somehow find them at a random party in Queens for Chicks with Dicks and Big Feet.
After all, people move here with $100 to their names and somehow find rooms they can afford.
So why couldn't I find a two bedroom for under $2K in Hell's Kitchen?
Fueled by this thought, I continued to peruse listings on Streeteasy and deal with a variety of agents who'd contact me with things they thought might fit.
It was hard to search because most sites do not have a drop down menu item for "Railroad" or "Junior-4". So I had to weed through every one- and two- bedroom I could find in my price range. 
When I saw the apartment I eventually rented I knew it was the one: a newly renovated convertible two bedroom on the second floor of a walkup with a big eat-in kitchen and best of all, it was in my fave nabe: Hell's Kitchen!  
It was $200 more expensive than what I wanted but I negotiated it down -- using my mad negotiation skills --to $2,000 a month...it had been on the market for a while, probably because agents were trying to market it as a two-bedroom and great roommate share but in reality the two rooms advertised as bedrooms could only fit twin beds and had no windows.
For a single person, the space was large enough to work with. I signed the lease, forked over a check for the full year of rent (in order to get the lower rent, and since, as a freelancer, I have a hard time proving I can make the requisite 40x a month), plus a month of security, and an additional $500 as a pet security, and the broker's fee  -- around $32k total.
But when I got the keys, armed with a tape measure, reality hit.
One bedroom was so tiny and had a closet in it, so only a twin bed could fit in it; the other was slightly bigger but I realized clothes could not be hung in that closet because the back wall was at a slant. It was completely useless!
And if I were to put my queen-sized bed in there, there would be room for nothing else. Also, I didn't want to sleep in a bedroom sans windows.
So I figured I'd make the living room at the end of the unit -- with windows facing the street -- my bedroom. It was huge and could easily fit my armoires, dressers, and desk. 
But then there'd leave no room for a living area because neither of the smaller bedrooms could fit more than a couch and the couch would face a closet, so there'd be no place to hang a television. 
Over and over I mentally moved things around like a puzzle but I could not get them to fit and the panic was increasing hour by hour. I called a few friends over and each came to the same conclusion: This apartment will not fit your stuff.
I could not forgo my newly purchased $3,000 couch, nor could I downsize my clothing any more than I had.
Even though in square footage this place was as big as my other, the setup would not allow for both closet space and a living room. I threw myself on the floor and cried.
I called the landlord and asked if there was any way to get my money back. He said he'd give me my year of rent back if I could find someone to take the apartment by the 1st but that, of course, the broker's fee would not be refundable.
I cried some more thinking about the loss of over $5,000 in broker's fees, the next month's rent I'd probably have to pay if I didn't find someone in a week, and also because I had already told my own landlord I was moving in a week. 
The next morning I headed to meet the new landlord to return the keys, and try to recover my money. I arrived 30 minutes prior to our agreed upon meeting time and entered the apartment once more.
I walked through each room and mentally moved walls. If I could take out the closet and wall of the first small bedroom I would be golden but I doubted the landlord would allow a construction crew to come in and start knocking down walls he just made. 
But then, in a stroke of genius I realized if he'd allow me to take out the non-functioning closet in the bigger bedroom I could make that a living room. Then I could make the smaller bedroom with the functioning closet a closet the size of the whole room!
I ran down to the meet the landlord who I'm sure thought I was crazy for calling him crying about how the apartment would not work and trying to reverse everything I worked so hard to make happen.
He was ready to work out details of how I would get a tenant and how much money he'd refund when I told him my plan.
It all hinged on him being willing to demo the closet in the bedroom. Seeing the crazed look in my eyes, he said he was fine with it as long as I was sure I would be staying there. Making structural modifications to a rental unit is highly unusual, but then again so am I!
An hour later he had his contractor, Carlos, hack out the closet. Carlos had never turned a whole room into a closet or showroom before so I drew him an outline of what I wanted.
We worked together closely picking out hardware and organizing how thick and high shelves should be. In two days, Carlos had constructed the closet of my (and many NYC renters') dreams. I had shelves for days, bars for gowns and coats, places for my suitcases, cubbies for purses and a full armoire for my shoes!
I put a rug, mirror, big polka dot chair and best of all, a chandelier, in the room. I had him install hooks for my jewelry, belts, and bigger bags.
There is even a stand for umbrellas and raingear. Later, I hung up tasteful nude drawings. It was a dressing room after all.
Friends now come over and try on clothes, playing an adult version of dress-up.
My closet has become a conversation piece, commented on by everyone who enters for the first time. I sometimes read in there surrounded by my friends . . . by friends, I mean my beautiful clothes and shoes. 
What had initially been a nightmare turned into a dream. Some people take lemons and make lemon-ade. Me? I just turn them into closets. 
---
Kelly Kreth, recently returned to Hell's Kitchen, chronicles her misadventures in her tenement-style walk-up in this bi-weekly BrickUnderground column, Hell's Bitchen. 
Also by Kelly Kreth:
A brief break from bitchin': 9 seriously awesome things about Hell's Kitchen

Hell's Bitchen: I vow never to move again
15 things I've learned from 'Million Dollar Listing NY' so far
The 20 deadly sins NYC rental agents should never commit (but do)
Escape from the UES: Goodbye douchebaggery, hello Hell's Kitchen
Dear Neighbor: I am your worst nightmare
Living next to a bridge & tunnel club: KY Jelly wrestling, all-night noise, no regrets
Brick Underground articles occasionally include the expertise of, or information about, advertising partners when relevant to the story. We will never promote an advertiser's product without making the relationship clear to our readers.