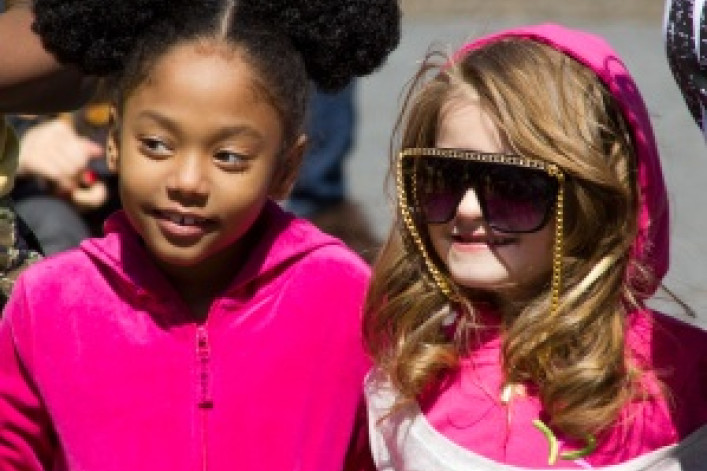 We asked seven kids, ages 6 to 15, what they'd want in an apartment if the decision were up to them—a kid's version of our Room for Improvement column. Some wanted something cozy, others wanted something huge, and almost all of them wanted to be able to play sports and eat sweets.
Here's what they had to say: 
Jake, 11: "I'd definitely like an apartment that makes you feel like you're on vacation. And definitely on the West Side. I don't like the East Side, it's too serious, too business-y. The West Side is more chill, more for hanging out. Wouldn't want anything too big or too small. Wouldn't mind a terrace with a basketball hoop on it—but one of my friends has that and the ball goes over the side sometimes—that's too dangerous."
Benjamin, 10: "I want something really modern with a good home protection system. I'd want a basketball court in the building. And I'd like a doorman—it's cool to come in and high five a doorman and have fun with him. I want the people in the building to be friendly so you can throw a ball in the hall without anyone complaining —like you can in the building I live in now."
Jadon, 6: "I want to live in a building on the water. On the Hudson River. It should be in the shape of a huge aircraft carrier. There'd be a swimming pool inside, a diving board that goes right into the River.  My room would have a king sized bed with photos of old, famous ship captains. In the kitchen, lots of Honey Nut Cheerios and pancakes."
Emily, 15:  "My ideal apartment would have floor-to-ceiling murals of my photos in every room—I love to take photos. My bedroom would be huge with bunk beds and a loft, cozy bean bag chairs, a flat screen and desktop Mac and a mini fridge. A frozen yogurt machine in the kitchen with a million toppings would be nice, too."
Hudson, 8: "My apartment would be in the middle of Times Square. It would be huge, 100 floors and in the newest building in New York City.  My bed would be a water bed and I'd have Fatheads of all my favorite sports players on the walls.  I'd have a great view of  the ball that drops on New Years Eve. There would always be 50 bars of chocolate in the kitchen. I would like to have my own library of all the books I want."
Sam, 11: "I wouldn't want it to be small but not so big that I'd get lost in it. Five bedrooms, 3 bathrooms would be just right.  I'd like it to be on the Upper West Side—it's where I grew up and the East Side is too unknown for me. I'd choose a building with lots of kids in it—the one I'm in now has hardly any. I'd like some electronic devices but it's not necessary to go over the top with them. I'd like a terrace overlooking Central Park with a hot tub on the terrace and champagne bottles hanging from the ceiling. Oops, I'm sounding like I'm 40! "
Avery, 11: "I'd want a dance studio, a chocolate fountain in the kitchen,  a library and a garden on the roof with a fire pit for making s'mores."
Related posts:
To raise a family in NYC, you need a master's in real estate
These 5 former Manhattanites love/hate the 'burbs and are barely breaking even there
How to raise four kids in a fourth-floor walk-up (no, we're not joking)
Can you raise a family in Manhattan on $400k a year?
Can babies and walk-ups ever really get along?
Brick Underground articles occasionally include the expertise of, or information about, advertising partners when relevant to the story. We will never promote an advertiser's product without making the relationship clear to our readers.