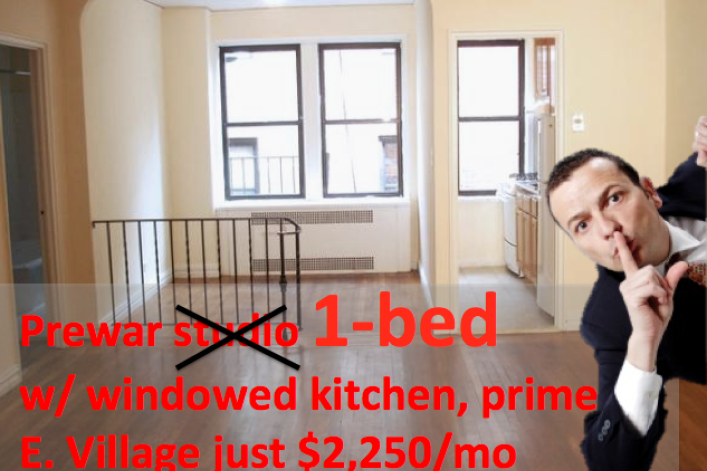 New York City real estate agents are famous for using less-than-transparent "brokerspeak," putting positive spin on some less-than-positive aspects of an apartment (take that "cozy" hole-in-the-wall or that run-down building "full of character"). 
Sometimes those very brokers will label an apartment as a "two-bedroom" when it's a really a junior-4--or call a studio a one-bedroom.
One steamed-up StreetEasy user has taken to the forums to ask why brokers think the studio/one-bedroom label are interchangeable? 
Most responses fell somewhere in the "because brokers are crooks" camp, though one (brave) agent explained his justification for listing a studio as a one-bedroom.
"Generally when we do this (I am speaking only for my firm here, not for the real estate community as a whole) it is a square footage call -- in the case of a 'jumbo studio' or an 'oversized studio,' I would only do it if the property were over 500 square-feet," says the agent.
Whether an apartment should be listed as it stands now, or whether it should be listed as it could potentially be used, remains a major issue of contention between brokers, apartment hunters--and sellers too.
Elsewhere on StreetEasy forum, a prospective seller wants to know whether he should list his apartment as a two-bedroom or a junior-4.
Technically, a junior-4 is a one-bedroom with a dining room/office area, but often brokers will list it as a two-bedroom, since the extra space could be used as a bedroom (and obviously, the more bedrooms, the higher the asking price).
Most StreetEasy users take the reasonable position that whether an apartment is a junior-4 or a two-bedroom depends on the original intent. If the room was originally meant to be a dining room, or is a result of some sort of recent division (like, say, a temporary wall) it is a not a true two-bedroom. 
"A room right off the kitchen with no corridor and just a pocket door between the room and the kitchen is obviously a dining space no matter how it is utilized," says one StreetEasy user.
Bottom line?
Approach room counts with a touch of skepticism (particularly when the price is on the friendly side), and before you get too excited about any apartment listing, check with the listing broker to make sure it's exactly what you want (and exactly what they say).
Related:
From 1 to 2: The insider's guide to temporary walls
Ask an Expert: Is it okay to put a kid in a windowless bedroom?
Brick Underground articles occasionally include the expertise of, or information about, advertising partners when relevant to the story. We will never promote an advertiser's product without making the relationship clear to our readers.