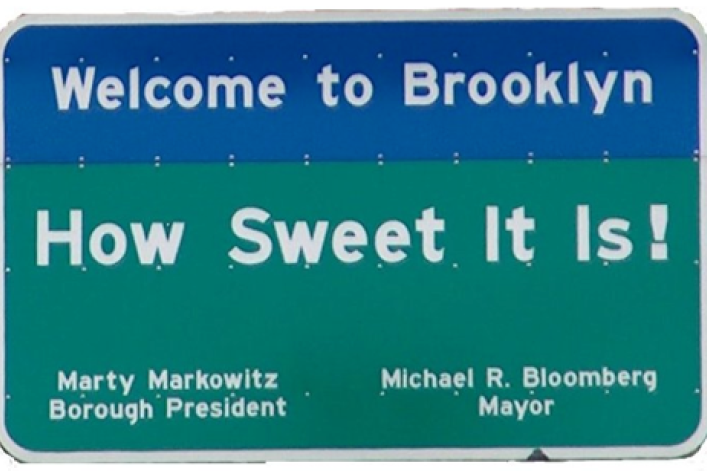 For reasons relating mostly to resources, BrickUnderground doesn't cover Brooklyn as much as we would like, which is too bad, because there is, obviously, a lot of interesting stuff going on real-estate wise.
If real estate had feelings, for instance, Brooklyn should be pretty smug right now:  Its median sales price increased 5% last quarter compared to a year earlier, according to the Elliman Report for Brooklyn, while prices flatlined in arch-rival Manhattan.
So what gives?
Square footage is an obvious answer--space is cheaper in Brooklyn. Condos, for example, sold for an average of $697 per square foot last quarter versus $1,233 in Manhattan, according to the Elliman reports.
But that's not the whole story.  If you speak to Brooklyn brokers, like we did, you'll hear that what's going on in the borough is more like a perfect economic storm. 
1. 718 is head of the middle class
With tuition at private schools more out of reach than ever for many parents, the hunt is on for highly-rated public schools in relatively affordable neighborhoods.
District 15, which includes the neighborhoods of Park Slope and Windsor Terrace, has some of the most sought after and competitive public schools outside of the Upper East Side's Gold Coast.
"Family-sized two- and three-bedroom apartments in the area are almost always in high demand and rarely sit on the market for very long," Paul Paglia of Brooklyn-based Garfield Realty explains. "In fact, buyers will often tailor their search based solely on the reputation of a particular program, sometimes forcing over-crowding and wait-listing in the earliest grades."
And while some may balk at the lengths people will go to get their kids into the right schools, Paglia knows the power of the right zip code.
"I've heard of parents going so far as to bribe landlords to 'purchase' a 'mailbox' to get their children enrolled in some of the more elite public programs."
2. Mom-and-pop macchiatos go down easier
Congress' futility in creating jobs and improving infrastructure has potential homebuyers a little less confident about the future of neighborhoods dependent on the opening of big chains like Fairway and Marshalls (Harlem) or the 75-years-in-the-making Second Avenue subway line (Yorkville).
But demand seems to have gotten stronger in self-contained, small-business oriented neighborhoods with destination eateries and boutiques.
"I don't feel like my corner café is going to sneak out like a thief in the night, because it's a family-run business that's been in the neighborhood forever," says Alitza Wellstead, who recently moved from the Upper East Side to Kensington.  On the other hand, she says, "I know Starbucks wouldn't owe us anything."
3. Wait, we can afford radiant bathroom tiles?
First-time buyers who have been priced out of predominantly co-op Manhattan are finding more than what they thought they could afford with the explosion of Brooklyn condos.
"Nowadays co-ops have stricter debt-to-income ratios and require more liquidity after closing," Jeffrey Nolan of Corcoran says, "so while co-ops appear less expensive based on price-per-square foot, they may now require more income and more liquid assets than a condo."
In addition, co-ops in Manhattan typically have higher common charges than both co-op and condo options in Brooklyn. This is especially true when factoring in new development condos in Brooklyn with tax abatements.
A lot of these new developments are also in comparably safer and more convenient areas (like Park Slope's 4th Ave or Greenpoint) than what the same money would buy in Manhattan.
"A new development condo buyer in Brooklyn will be picking up roof decks with great city views, fitness centers, less expensive parking and the new development look and feel that many co-ops in Manhattan do not offer," Nolan explains.
4. Rooms with a view
Things may be looking up in Brooklyn in part because you can do that exactly: Look up.
In a bull market, having light and views in NYC are seen as a luxuries that come after basics like location and affordability.
But in a post-bull-market of super-picky buyers with increased options and more concern about resale and quality-of-life issues than ever, sun and skyline are essentials.
It's easier to get both in Brooklyn since it isn't as built up as its East River rival. 
"I took a Manhattan buyer to see the Rushmore and he didn't like the unit because he felt like his views were of the other tower in his own building," says Alison Rogers of DG Neary Realty. "In contrast, you can go to the new buildings in Williamsburg or Downtown Brooklyn and really get a sense that the city is at your feet."
Related:
Does rent-to-own make sense in New York?
Find a great agent with BrickUnderground's Agent Referral Service
Are you the co-op or condo type?
17 questions to ask before buying a NYC apartment
5 things never to ask a buyer at a co-op board interview (sponsored)
Brick Underground articles occasionally include the expertise of, or information about, advertising partners when relevant to the story. We will never promote an advertiser's product without making the relationship clear to our readers.