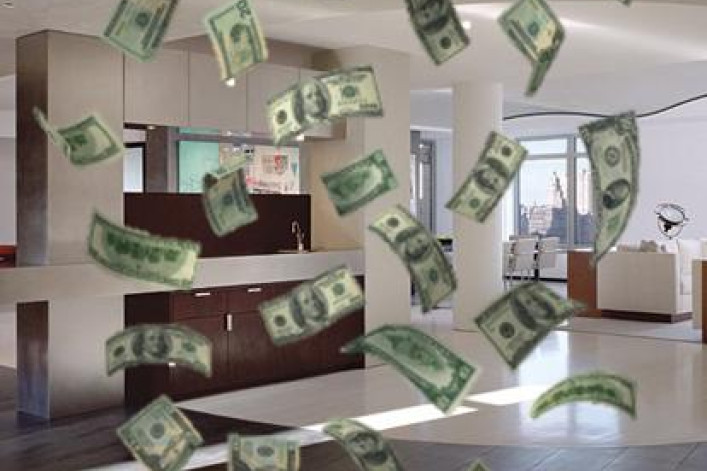 For those who bought an apartment in a new development before the market turned, reselling that space has a particular set of challenges. The first is breaking even.
"When you bought new construction, you probably paid the sponsor's transfer taxes, but in a resale you, the seller, are responsible for paying them," says Doug Perlson, co-founder and CEO of RealDirect.com, an alternative brokerage that offers discounted commissions, an attractive option for sellers trying to break even. "Add in a typical broker's commission, and you are very quickly in the red."
If you bought between 2005 and 2008, there's a good chance you will take a loss if you sell today.  And since everyone bought at the same time, you may have a lot of competition.
"New Yorkers tend to move every five years or so, so a 2007 building may have a higher number of apartments for sale than a similar older building," Perlson says.  Too much supply drives down prices, and there is still a lot of brand-new construction on the market (possibly in the same building).
Many buyers may hesitate to buy an apartment after four years of wear and tear when they could get a brand new space. They may also prefer to buy an apartment at the beginning of its tax abatement term than one further along where the property taxes are higher.
But others see the benefits of buying 'nearly new,' when both you and the developer will probably have worked out whatever "kinks" came with the new building, and you may have upgraded the apartment.  If there have been positive changes in the neighborhood (such as a new Whole Foods or Fairway), that could increase the value of the apartment.
Here are some things to keep in mind when selling:
Highlight the upgrades made to the apartment – whether that's custom closets, window treatments, or lighting fixtures. All those extras boost the value of the apartment, saving a buyer thousands of dollars, Perlson says. Let potential buyers see all the work that's already been done to make this space more like home.
If any of your neighbors are selling their apartments, it will affect the cost of yours. "Resale apartments on the market may be in your exact line, creating a competitive situation," says Perlson. Consider holding off a few months if a there are many listings comparable to yours.
Find out if the developer is still holding onto some unsold units—either renting them out or continuing to market them, advises Phyllis Pezenik of DJK Residential. If there are too many apartments left in the building, it might be more difficult for the buyer to get a mortgage, reducing your pool of prospective buyers.
Many who bought before the market crashed consider renting in hopes that there will be an upswing in real estate sales and prices. "It's a tough call," Pezenik says. She recommends just putting it on the market and seeing what happens. But other brokers say if there are a lot of similar apartments currently on the market and you don't need to sell immediately, you might want to hold out for a while.
In a competitive situation where lots of apartments are on the market in your building, it's especially important to get the price right. If you offer the apartment for less than similar units, it could sell faster. On the other hand, you may not recoup the money you invested in it. "Price is a moving target," says Eve Levine of The Corcoran Group Brooklyn. "The important thing is to be informed and constantly aware of the climate and current inventory."
If brand new apartments are for sale in your building or another similar nearby tower, you may face some special challenges. "It depends on the product – especially the finishes and amenities," says Pezenik.  "Some of the resales have better finishes than the new products.  Also it depends on the condition the seller has kept the apartment in, and any upgrades they may have made to the apartment – which depending on the buyer's taste could work for or against them."
Since there are fewer 3-bedroom or larger apartments on the market, they are often in demand. "If a large apartment hits the market at a time when there's a dearth of that particular type of apartment, a listing can do quite well," says Levine. "Conversely, the initial asking price of that apartment as new construction was probably higher, so the profit margin may be slimmer, if there at all." Smaller apartments might offer more of a profit margin, but are less in demand.
Related:
9 reasons why your apartment hasn't sold yet
Find an agent with BrickUnderground's Referral Service
Brick Underground articles occasionally include the expertise of, or information about, advertising partners when relevant to the story. We will never promote an advertiser's product without making the relationship clear to our readers.