Design + Architecture
BrickTest: FLOR tiles let you satisfy the 80% carpet rule without moving the furniture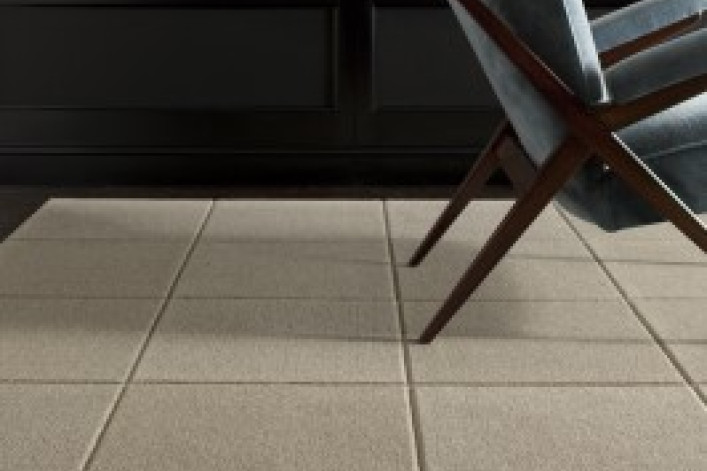 While many people gush about their pretty hardwood floors, others, including me, prefer a soft surface underfoot to a cold, hard, clompy one. Plus, as a considerate NYC apartment dweller, I want to avoid disturbing the downstairs neighbors with footfalls.
But rugs can be tricky too, especially in small spaces.
Small square footage translates into heavier wear and tear per square inch on rugs than in your average 2,000 square foot suburban home with wall-to-wall carpeting. After 15 years, the big rectangular rug in our living room was becoming frayed and bunchy, with the pile tamped down in areas of heavy traffic.  Moreover, the thought of moving all the furniture out (out where?) to fit a new rug was so daunting that, no matter how much I talked about it, I simply couldn't do it.
Luckily, I found an alternative.

The Product:
FLOR
tiles carpet squares come in one size: a 50-centimeter (or almost 20-inch) square. You can arrange these mix-and-match squares any way you want, for a solid surface or a blocky design, and swap one or two out if disaster should strike a portion of the rug. The tiles come in all sorts of colors and several textures, too, along with some designs.
The Test:
We wanted to cover L-shaped floor area in our bedroom.The FLOR website explains how the carpet squares work. You lay them out however you choose, then attach them with sticky FLOR Dots. I didn't even bother to measure. Instead, I cut newspaper squares to the right size and spread them on the floor. For the bedroom, we needed 20 squares, with two of those cut in half.
The company used to sell primarily online and via catalog (which meant you had to order and pay for a sample piece before buying your tiles). When the new 
FLOR
store opened this year at 142 Wooster Street in SoHo, I went to check out the tiles in person (and save some money while I was at it).
I brought a fabric swatch of our bedroom curtains, in a leaf pattern that includes several natural colors on a mustard background. The store was filled with sample squares in every variety. I spread out and couldn't decide. But you can take three small samples home for free, which was helpful.
Back at home, I compared an off-white shade called "reed" with a dark greenish color called "branch," and chose the latter.
Flor
offers half-price shipping if you order from the store. The boxes arrived two days later.
Then the fun began. We laid out the tiles without sticking them together, preferring to see how they worked and whether we needed to reposition them first. Best of all, there was no need to move the furniture -- we just picked up a few furniture legs. This was even easier than I thought.
Without the FLOR Dots, the tiles started to separate after a few days, so we attached them with the sticky dots.
Prices range from around $8 per tile to around $40 (in general, the more plush they are, the more expensive they are); there are nylon versions suitable for garages and playrooms (for those non-New Yorkers among us), and plush wool versions for the living room.
Our style, "velvet twist," was $17 a square, the same price as the popular "rake me over," style, with a slightly plusher pile. You can get half tiles, too for a $3 cutting charge. Specify whether you want the tiles cut with or against the grain.

The verdict:
Brick Underground articles occasionally include the expertise of, or information about, advertising partners when relevant to the story. We will never promote an advertiser's product without making the relationship clear to our readers.