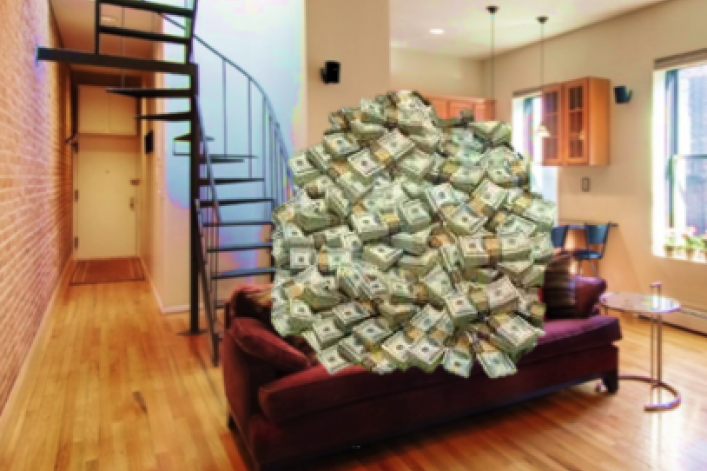 Sure, you could get a better paying job or take in a roommate in order to afford your pricey NYC digs. Or you could adopt some of the clever and not-so-painful-really austerity measures we recently ran across in an UrbanBaby.com discussion, such as:
Drink office coffee.
Buy a car without financing,  garage it in Harlem ("save tons that way") or park it on the street, then run it to the ground.
Don't buy anything from China ("If it's made in China, I put it down and walk away. I've been doing this for a year, and I have almost entirely eliminated frivolous spending. I've saved 35k more than I did the year before, and our income is still the same. Give it a try.")
Google for coupon codes before buying something online. ("It works about half the time.)
Live in a smaller space. ("That lower rent has been the best thing to ever happen to us.")
Rent out your apartment each summer for the month of August and go on vacation. ("We charge about 7k per month- all expenses included- as our apt. is a small 3 bedroom it can sleep 6.")
Don't get pregnant. Alternatively, don't have an extra child just so that your existing one won't be lonely.
Public school.
Leave 20 minutes earlier and walk everywhere.
Bring water from home instead of buying it.
Drink only tap water and coffee made at home. Almost never buy bottled water, soda, teas, coffee, etc
No takeout, almost no restaurants, eat at at home or bring lunch to work and on long outings. Buy vegetables through a CSA and eat (or freeze) every single thing you get. Don't buy prepared foods (eg Fairway deli stuff).
Use a window fan and/or ceiling fans instead of an a/c.
Shop in the off season ("I buy designer winter coats in March, summer clothes in August, and frequent thrift and consignment shops. ")
Schedule date night during the week instead of the weekend ("Much much cheaper to pay my nanny for a few hours of overtime than bus in another sitter.") 
Stop comparing your lifestyle to other people's. ("Makes me live within my means.")
Color your own hair.
Shop Fresh Direct to cut down on impulse buying.
Sign up for Amazon Mom and Amazon Prime. ("now addicted to the free Amazon Prime and getting things such as toiletries, diapers and grocery items at a big discount & shipped free. Love the subscribe & save.")
(UrbanBaby.com)
Related posts:
15 lessons for first-time renters
I am a New Yorker and I want my $19,000 back
Brick Underground articles occasionally include the expertise of, or information about, advertising partners when relevant to the story. We will never promote an advertiser's product without making the relationship clear to our readers.