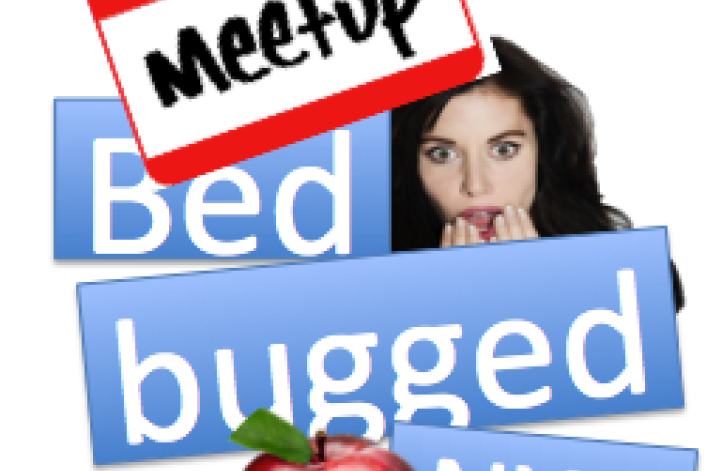 Whether you have bed bugs or plain old bed bug anxiety, we suggest you sign up ASAP to secure a spot at BrickUnderground's next Meetup, BedbuggedNYC.
The panel-style event and Q&A will take place from 6:30-8:30 p.m. on Thursday, Sept. 15th at the West 23rd Street penthouse headquarters of our co-host, the neighborhood social networking site Romio.com; in fact, while you're signing up for the BedbuggedNYC Meetup, be sure to sign up for Romio.com to start up a conversation with your neighbors and unlock other neighborhoods to get the dialogue started.
While you sip on wine and munch on snacks provided by Romio.com, our in-the-know BedbuggedNYC Meetup experts will dispense the practical lowdown on everything from what bed bugs really look like and where to find them, the best ways to get rid of them, who pays, how to get your landlord or board to do the right thing, to how to deal with the emotional trauma and social stigma of infestation.  
Bonus: Our very forward-thinking Meetup sponsor Bed Bug Fumigation Specialists will be on hand to explain how to bed bug proof your next move and introduce you to The Fume Cube, a smart new advance in bed-bug treatment that anyone in an infested building should learn about pronto.
Our BedbuggedNYC panel features:
Gil Bloom, president of Standard Pest Management, is an entomologist, pest control operator, New York Magazine's "Best Bedbug Warrior of 2011," and a former member of Mayor Bloomberg's Bed Bug Advisory Board. He has also provided training to a number of city agencies. Gil will kick off the BedbuggedNYC Meetup with an overview on what you need to know about preventing, detecting, and banishing bed bugs from your apartment.
Steven Wagner, real estate lawyer, Wagner Davis PC:  There's only so much an individual apartment dweller can do about a bed bug problem elsewhere in the building, so what are your legal rights and how do you get your landlord or board to do the right thing?  Who's responsible for the cost of extermination in your own apartment? Can a landlord refuse to rent to you if you had bed bugs in your last place?  These are the kinds of questions Steve lives to answer, and he will.
Theresa Braine, journalist, bed bug survivor, and BrickUnderground's Bedbugged! columnist: Fresh from a 7-year stint working as a journalist in Mexico, Theresa returned to NYC in 2008, took over her brother's Brooklyn apartment, and got a nasty surprise: A bed bug infestation. Reflecting on her yearlong battle to get rid of the bugs, Theresa will discuss the emotional and social side effects of having bed bugs, what coping measures worked for her and what didn't and what she'd do today if faced with the same situation again.
Sign up now to reserve a seat! See you there.
Brick Underground articles occasionally include the expertise of, or information about, advertising partners when relevant to the story. We will never promote an advertiser's product without making the relationship clear to our readers.