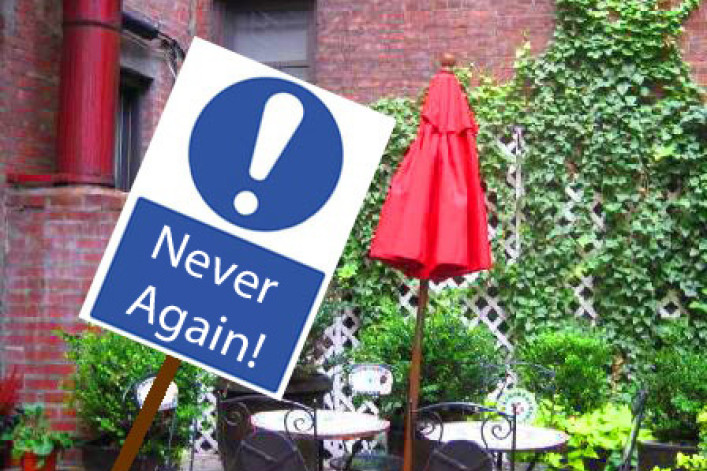 It was a dream come true:  Six-hundred square feet of outdoor space accessible from both levels of a duplex, garden apartment on the Upper East Side of Manhattan...250 square feet of tiled patio and 350 square feet of a raised patch of grass with bushes around the perimeter and a cherry tree in the middle.  
When I first saw it advertised in the Times, I told my husband, "If we ever get this apartment, I will never complain about anything again."  
Famous last words.
The apartment sat on the market for weeks, months.  I gazed at the pictures longingly online.  The very week we were certain we were ready to jump in to the Manhattan real estate market, my parents were in town and there was an open house - the stars were aligned.
My Internet love affair did not disappoint: My husband and parents all agreed that it was a rare find.
We bid back and forth, our offer was accepted, we passed the board, etc....  On the walk-through, we noticed the green grass was no longer green or very grass-y.  We made it a condition of the sale that it be re-sod in the spring by the owner.
We moved in at the beginning of November and promptly put a Weber grill outside.  My husband is from Manitoba, Canada (Fargo was a southern destination for him growing up) so he barbecued all winter long without a care.  
In the spring, the sod was brought in (through our apartment) and we tried very hard to make a go of having grassy backyard in Manhattan. 
My husband bought a push mower at Home Depot in Queens and we have lovely picture of our cherry tree in full bloom before we realized the falling blossoms made a colossal mess. 
Don't hate me, but (I cannot tell a lie and) we chopped down that cherry tree to enlarge the play-space and avoid the risk of cranium-to-tree-trunk contact. 
Then, despite my husband's assiduous care and daily watering, the sod died a slow and natural death.
We decided to put in a play surface and decided on SYNlawn (no it was not Astroturf - we are not the Brady Bunch). It cost about as much as a nice family vacation, so it was a pretty big investment but it felt great, stayed green, and needed no maintenance. 
We kept the bushes in the back only and bought everything Little Tykes had to offer:  a picnic table, a slide, a t-ball set, a toy lawn mover (for our toy lawn), a basketball net, and--drumroll please--a bouncy house. 
We bought a shed to house all the 'outdoor toys' as well as bikes and scooters, Crocs in various sizes for ourselves and guests, a hose, and a new kiddie pool each of the four summers we lived in the apartment.
Sure, it was fun--tons of fun, heaps of fun, loads and loads of fun...  Our friends loved the barbecues and my kids loved their backyard.  The bouncy house was known as the 'nap-o-matic'.  On blistering hot summer days, it was a joy to sit on lawn chairs in the shade and watch the kids splash in the pool and draw with chalk on the brick walls.  During snow days, we put on snowsuits and made snow angels and built snowmen. 
Everyone's fun, however, came at a price beyond my annual Little Tykes bill. 
If the backyard was not swept almost daily and hosed down with a pressure hose before each play date, the children playing there looked like the chimney sweeps from Mary Poppins.  This is Manhattan, after all, and if you think your white sofa looks bad after a year or two exposed to the air from an open window, imagine the soot that can accumulate on balls and buckets and the like.  You would find me or my husband out there, every two weeks or so, scrubbing down the toys with bleach.
Once the yard was clean, it was open for business and my husband and I were the sole proprieters and employees.  I felt like I spent entire summers running up and down the staircase getting drinks and food and whatnot for clamoring toddlers and their thirsty caregivers.  When actually in the backyard, I worried about little wet feet slipping on the stairs or jumping from the 'grassy knoll' to the patio.
The large trees around our yard made autumn torture. Imagine raking (often wet) leaves and schlepping garbage bags of them through your apartment.  We actually had a gardener (not easy to find in the city and certainly not cheap) to help maintain the bushes and plant the impatiens without which my mother insisted no garden was worthwhile (my older daughter chose the color palette each year).
"Did you water the bushes?  Did you put the bouncy castle away?  Did you empty the Shop-Vac?  Are you sure there isn't a stray crust of pizza left outside to tempt the 'critters'?"  (To be fair, we never saw any outside save for a squirrel we named Mr. Squirrel).  We constantly worried about the drain getting blocked and flooding our lower level. 
I felt like I had all the hassle of a house without the actual house.  The myth of a backyard in Manhattan is exactly that - a myth.  With apartments all around, my daughter once came to me with a little plastic pail full of cigarette butts that fell like snow in to our little yard all year long.
When we started looking for a new place last year, outdoor space moved from the must have category to the only if we have to column.
This is our first summer in our new aparment, sans outdoor space.  We left all the outdoor toys and the grill to our buyers with our best wishes.  Everyone misses it but me. 
At least that was true until I started writing this.
Related posts:
I can't use my 43rd floor terrace--but my closets are amazing
Then & Now: I still love my terrace. The layout and maintenance fees? Not so much.
Then & Now: I fell for the view, then shut the curtains
I loved my outdoor space. Then I got married
How to tell if your balcony is about to fall off
Brick Underground articles occasionally include the expertise of, or information about, advertising partners when relevant to the story. We will never promote an advertiser's product without making the relationship clear to our readers.