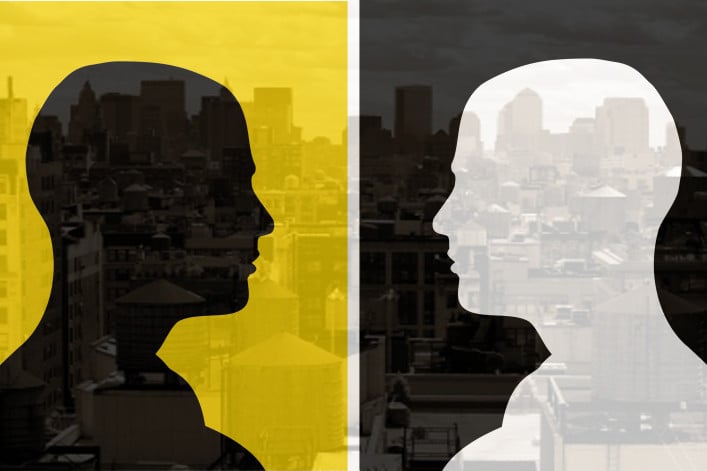 When I first bought my one bedroom, one bath co-op in Brooklyn Heights 36 years ago, what I loved most was that it had huge closets--which were necessary in order to live in 790 square feet with a home office, two cats and a husband. 
It was a hard transition to move to Brooklyn, though, as my social life was in Manhattan and I had a hard time getting cabs to take me home and could not afford them very often. 
Though most of my friends still do not live in Brooklyn, I have grown to love my Brooklyn neighborhood and no longer miss my social life in Manhattan. And after 36 years cab fare is not so much an issue as it initially was. I now marvel at how my area is full of trees and beautiful brownstones and appreciate the welcoming doormen that have known me for so long. 
What I loathe most now are the neighbors on either side of me. One has loaned the apartment out to his sister, who likes to sing opera (loudly and badly) at any time of day.
The other side is even worse! A relatively young couple who insisted they wanted a quiet environment when they moved in now have a problem child, school-aged, maybe kindergarten, who screams like he's being eviscerated, day and night, against our bedroom wall. His parents' attitude is "talk to the hand."
I complained to the board but they said all they could do is send a letter—they did—and told us "the child will grow up, eventually." 
In the past, apartment dwellers seemed to understand that they lived in a semi-private setting and couldn't do whatever they felt like doing, but the younger generations think the only thing that matters is their comfort. This has made me and my husband so miserable we'd move in a New York minute if we could find something comparable. 
---
Then & Now explores how time illuminates the pros and cons of an apartment--and how what draws people to a place isn't necessarily what keeps them there.
Related posts:
The 7 worst places to live in a building
Then & Now: I can't use my 43rd floor terrace, but the closets are divine
Then & Now: I still love my terrace. The layout and maintenance fees? Not so much.
Then & Now: I fell for the view, then shut the curtains
Then & Now: I adapt to my prewar 'charmer'
Brick Underground articles occasionally include the expertise of, or information about, advertising partners when relevant to the story. We will never promote an advertiser's product without making the relationship clear to our readers.