Room for Improvement
Room for Improvement: Bathrooms that make sense, flatter floors, and soundproofing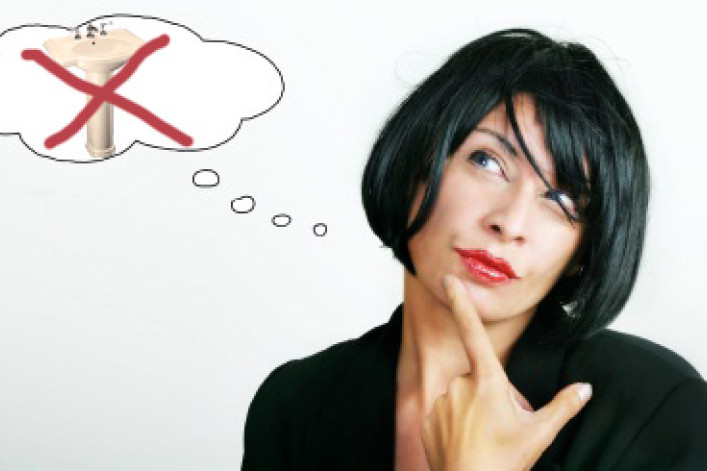 Five New Yorkers tell us the one thing they would change about their apartment if they could:
Another place to wash up:  I wish my apartment had a sink in the bathroom. I love my huge kitchen but having one sink for the whole apartment is inconvenient when I have guests over and gives me no choice but to clean every dish immediately so the sink is kept free for other uses.--Nicole, Communications professional, Greenpoint, 1 bedroom railroad style apartment, $1600
Make the bathrooms smarter: I moved into a two bedroom, two bath rental and it is the first time I've ever had two bathrooms in my ten years in New York City. All new fixtures, but a pedestal sink in both.  Worse, tiled floor-to-ceiling which looks great, but means you can't hang shelves, add towel racks, etc. So there is literally no storage space except for a small medicine cabinet. Nowhere to put a hairdryer, or an extra roll of toilet paper. Watching my wife balance her makeup on the edge of a pedestal sink is quite a sight. -- Mark, Web Design, Harlem, 2BR, $2350

Add a dose of quietude: My apartment is practically perfect; it is big and has a backyard, a dishwasher, a real-sized living room and dining room. I know I am lucky but one thing I would like to change about my apartment would be sound insulation. I get a lot of noise from traffic on the busy street in Brooklyn that my window overlooks. Garbage trucks and other big wheelers are constantly disturbing my sleep. --Morgan, Marketing, Williamsburg, 2BR, $2100
 Bring the laundry inside: I would add a washer/dryer to the apartment, because I spend so much money on laundry whether or not I do it myself at the laundromat or send it out. On top of that, not having one in my apartment makes me push off doing laundry, so when I do have to haul it to the machines I have at least four loads to do. --Brian,  Communications professional, Gramercy, 3BR walkup, $3450
Level out those floors: I have a rather unusual complaint: slanted floors. Because of the slanted floors we are constantly pushing our couch and bed back into position as there is a very obvious slant in the floor. If we drop something round (such as a pen) we can watch it roll to the complete opposite side of the room. --Allison, Public Relations, 1BR, Upper East Side, $1950 
Brick Underground articles occasionally include the expertise of, or information about, advertising partners when relevant to the story. We will never promote an advertiser's product without making the relationship clear to our readers.