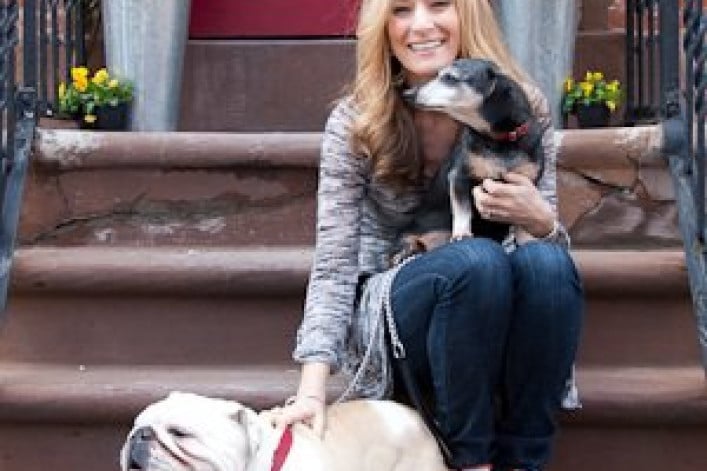 NBCNewYork's on-air reporter, Cat Greenleaf, leads an artfully integrated home and work life. She interviews all sorts of people--actors, musicians, athletes, politicians--on her own Brooklyn stoop. And she is lucky in real estate:  She acquired her Cobble Hill brownstone at a huge discount from a pay-it-forward seller. Good thing, because the renovation spiraled from taking down a few walls to a to-the-studs project. Excerpts from BrickUnderground's recent interview follow. 
Where did you grow up?
I grew up in Westchester in Mamaroneck, New York, but went to high school in Los Angeles. I attended college in Boston for two years and then spent a year in India working with Mother Teresa. My senior year was spent studying in Brazil. After graduating, I moved to San Francisco for a job in broadcasting as a researcher for a short-lived TV network and, like everyone else in San Francisco, sang in a band.
How does living in these places compare with living in New York?
Once a New York Jew, always a New York Jew.
Would you say the bagels are part of its allure?
Not really. It's more about the rate at which my blood courses when in this city. Nothing ever felt real in other cities. While I enjoyed my time in other places, I always knew I had to be here.
What's your apartment saga?
I was getting evicted from my apartment in San Francisco.  Having two pets, bad credit and no job made moving to NYC seem like the ideal choice for me.
Sarcasm noted. That must be the New Yorker in you.
It was the summer of 2000, and I was 28 years old. I had finally gotten hired at NY1 as their traffic reporter and found a sublet on Craigslist in the West Village for $1,000. The catch was I had to live with the owner's furnishing, which I put up in the sleep loft forcing me to sleep on the couch. It was a small studio in a walkup; so small, in fact, the tub was a square instead of a rectangle. I loved the working fireplace so much I didn't care even if others were sweating. Although space-challenged I threw the best parties of my life there and amazingly squeezed 35 people into it.
After I left, people told me they thought the apartment was worthy of condemnation, but at the time I thought it was the most glamorous thing. I had my full-on Mary Tyler Moore dream come true and saw it as if looking through rose-colored glasses. Two years later, I was asked to leave because it had been an illegal sublet.
Where did you go?
I got another sublet. This one was on the Upper West Side and was even smaller, but had a massive private yard. I found it on Craigslist and the $1,500 rent was devastating to me on my salary at the time. Still, it was totally magical and even had a proper bathtub.
In less than a year, I switched apartments with my agent. He wanted to live on the UWS and I wanted a bigger place because I was moving in with my boyfriend, who subsequently became my husband. We moved into the two bedroom unit in the Seward Park Houses on the Lower East Side, splitting the $1,700 rent. That ended in about a year and a half, because pets were not allowed and I had smuggled my dog in. Let's just say we were ratted out; the building was filled with "information sharers".
Thankfully, we were married by then, I was a reporter at RNN and buying was finally a feasible option. After looking on Craigslist, I found THE ONE. Our requirements, aside from price, were that it have outdoor space and be in Brooklyn. We couldn't afford Brooklyn Heights or Cobble Hill, so we moved to Prospect Heights, which wasn't as trendy or hip as it is now.
Tell us about the apartment.
It was a FSBO co-op that had been recently renovated. It was a one bedroom that had a giant backyard, 1.5 baths and storage with room to grow. It even had a washer and dryer. It also was an extremely laidback building that didn't require a board interview.
So, you lucked out again. What came next?
In 2004 we sold it to friends for double the price. We had been stalking this brownstone for years that was next to a friend's apartment. We knew we were in no position to buy a brownstone, but my friend mentioned it to the owner and this nice man said he wanted it to go to a nice family. He explained he was given his first home at a huge discount and it allowed him to forge his way in NYC. He wanted to do the same and sold it to us for two-thirds of the price.
Our luck continued. We found the newly launched Clinton Hill Design Build, which gave us a great deal on the work because they needed some show houses. We knew we wanted to renovate a bit because the owner, who had purchased it in the 1940s, had been great at building on, but not taking away.
We wanted some extra walls taken down and the linoleum pulled up. But once a few walls came down, we wanted more and more changes. We turned a three family into a two family. We added a gorgeous IKEA kitchen by waiting for a sale. We paid $2,800 for everything---besides fridge and microwave.
What are your living arrangements now?
I live with my husband, our two year old son and our 15-year old mini-dachshund, Julio. We also really lucked out by getting the best tenants in the world with the help of a broker from Brooklyn Bridge realty.
What's the best and worst about your apartment?
Best: I get to shoot my show, Talk Stoop, at home. Worst: I'd like a parking spot for bikes and strollers.
What's your dream home?
I'd still be in Brooklyn, but with a water view. I'd still want a brownstone, but a double-wide one with double the bedrooms.  
What is the one thing you'd change about Brooklyn?
It's not easy to have a lot of animals here. I'd like to get more, but it's not fair to neighbors. Dogs bark, roosters crow, goats are not acceptable. Having a little farm would be nice.
What's your favorite neighborhood?
The East Village, because it retains the vibe of the New York City I fell in love with as a kid: a little edgy, gritty and artistic. 
Do you think space or neighborhood is more important?
Space. The truth is as much as you might live for your area, you actually live in your house.
What tips would you offer someone moving to New York?
Keep your overhead low because it is expensive to live here and you are going to want to get out and do stuff. Beware of scams, particularly when not dealing with people in person. Don't have a car.  
What are your favorite food-related places here?
I'm not saying I'm great at it, but I typically cook. Trader Joes on Atlantic Avenue has changed everything for the better. Cobble Hill is also home to tons of little specialty shops: Pisanos, our butcher shop; Cobble Hill Foods, a bake shop;  Stinky Brooklyn, a cheese shop; Fishtails, a fish market,  and Blue Marble Ice Cream.
When not eating at home, Joya, a Thai restaurant, is my favorite. They also deliver. This weekend I tried out a new sandwich shop that was amazing--Court St. Van Horn. 
Do you ride the subway?
 I've had a car since my days at RNN, because it was a requirement to drive myself to work sites. I bought a car back then with my last $800 and miraculously--again with amazing luck--found a nice neighbor who sold me a T-bird for that amount. I do love riding the subway though, because I feel like it is my own private limo.
Another guardian angel neighbor?
I've been very, very, very, lucky. My knuckles are raw from knocking wood. I try to pay it forward by opening our home to friends for showers, weddings, parties. We use every inch of our home and want to share the wealth.  
More Q&A's on BrickUnderground:
Real Housewives' Countess LuAnn: Respect thy neighbor and drive a Smart car
Comedian Amy Schumer:  NYC is the only place I feel completely at home with the possibility of a stranger peeing on me
Kelly Cutrone: My elevator has a secret life
 Author Julie Klam: Liberation is spelled washer dryer
 Fox 5 Julie Chang's 5th floor walk-up: "I buy umbrellas like packs of gum"
NY1's Roger Clark: His heart belongs to Forest Hills, his rent check to Yorkville
I-Can't-Believe-I'm-Still-Single Eric Schaeffer: Chicks dig hammocks
Author Michael Gross: Real estate isn't fair.
Jason Sheftell, NY Daily News real estate correspondent: "You don't pick a rent-stabilized apartment--it picks you"
Brick Underground articles occasionally include the expertise of, or information about, advertising partners when relevant to the story. We will never promote an advertiser's product without making the relationship clear to our readers.