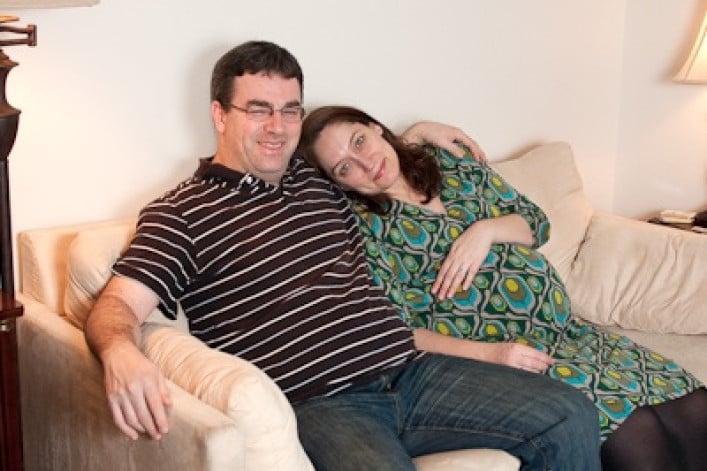 NY1 reporter Roger Clark and fiancée Jenny Gill embark on an apartment search in hopes of finding a bigger place—two bedrooms—for under $2,500 on the Upper East Side, preferably in Yorkville.  Three weeks, a 20% budget increase, and a lot of dishwashers later, they find their dream apartment. 
My fiancée Jenny and I had every intention of staying put in our ground-floor studio with a small backyard on York Avenue and East 91st Street--until we realized a baby would be joining us. With Jenny due in mid-February, we needed a bigger place in January. We initially put our budget at $2,500 for a two-bedroom space and wanted to stay in the same area--Yorkville and the Upper East Side--because of our familiarity with it and its proximity to work and friends as well as our favorite restaurants and watering holes.
Week 1—No laundry, subway construction, and a budget increase
The first two apartments were shown to us by a broker who we found on a StreetEasy.com listing. We would have preferred to avoid brokers, but it seemed like pretty much every listing was associated with one in Manhattan.
One was in a pre-war elevator building on East 85th between York and East End. It was clean, but just didn't seem big enough. Plus, the broker did not have the keys to the building entrance and we had to wait for someone to open the door for us, which made the broker seem unprofessional.  We felt that was a bad sign. There was also no laundry in the building, which was critical as we're expecting a child.
The next place was a second-story walk-up on Second Avenue also in the 80s. It was also too small and didn't have enough closet space. It did have exposed brick, which we loved, but the windows faced both the avenue and side street, each with a view of the Second Avenue subway construction. That was a big negative.
We decided that to get something we wanted, we would have to up the ante.  We raised our budget to $3,000 per month.  We knew that we would be sacrificing some items like a vacation and a few dinners out, but felt it would be worth it to have space for us and especially the baby.
One of the things that frustrated us was seeing ads for apartments on the Upper East Side only to find out they were in East Harlem. East Harlem is not the Upper East Side. One broker in particular would not disclose the location of an apartment until we agreed to see it. Mostly we found out the true locations of the apartments once we called the broker. Brokers obviously know this but attempt to lure you up there anyway, wasting their and your time.
Week 2—Close call, but for the closets
 The next weekend we looked an apartment in Ruppert Towers on East 89th between Second and Third Avenues for $3,000. It had a doorman, laundry, and the apartment was a good size. It was shown to us by representative for the owner--it was a condo being rented out. There was a built-in entertainment center and closet dividers. We were basically sold on it and put down a deposit. But later we discussed it further and realized there was no closet in the smaller bedroom where the baby would sleep. It was also just too small, with no room to grow, and if we ever decided to have a second child, there would be no room for sharing.
 
Later that night we saw a two bedroom in a pre-war building on York in the 70s. The broker was late and didn't seem very interested when we got there. He brought someone with him and introduced us but we had no idea who she was. It seemed he was always in another room when we were checking the place out and was not attentive. The apartment was roomy with decent closet space, an elevator and laundry room, but for $3,000 it did not provide amenities of Ruppert Towers. After a quick tour we decided against it.
 
On to another broker... We looked at a building on Third Avenue and East 95th Street. It had a doorman, laundry, and elevator and the apartment was spacious with lots of closet space in both bedrooms. At that point we decided the Ruppert Towers apartment wouldn't do and decided to get deposit back. The broker offered to build a closet in the baby's room but we didn't think that would work.
We moved the latest two-bedroom--for $3,100 on 95thand Third Avenue (no fee, and one month free rent)—to number one on our list.
Week 3—Too big, too basement
 
We let a week go by.  A broker showed us a place in Normandie Court on East 95th and Third. It was a two bedroom, two bathroom unit for $3,200 a month, which included a doorman, laundry, elevator, gym and pool--which the broker made sure to focus on. There was a one-month fee for that apartment as well. We decided we didn't like the complex; it was just too big.
The broker also showed us a no-fee two bedroom on 74th and York for $2,831 a month with one month free. It was a duplex, but the bedrooms were tiny and it was in the basement with no windows. We didn't think that would be a good place for a baby or for us.
 
Later that week she showed us a place on East 78th Street between Second and Third Avenues the highlight of which was a small backyard like our studio had. But there was no true living room and no laundry. The patio was just not worth the lack of space and closet area.
That night we met with yet another broker and saw a gigantic two bedroom in the 80s between York and 1st for $2,850. It was the biggest place we had seen and had laundry on the premises. However, it was a fourth story walk-up;  that just was not going to work with a baby. (We were very tempted by the size. We probably could have fit three of our studio apartments in there.)
 
One interesting item about our search: Every apartment had a dishwasher no matter how old the building; I wasn't expecting that.
And the winner is….
 
In the end we went with a sixth floor two-bedroom on East 95th and Third for $3,090 a month which had no fee, one month free rent, a doorman, laundry and elevator, and plenty of closet space in both master and baby's room. This was shown to us by a broker; it was the only building she showed. We originally applied for another similar apartment in the building and found out it had been rented that day. Luckily there was another unit available with the same dimensions.
The search took about three weeks. We were pretty sure it would not happen overnight, and knew we had a little time to play with.
Overall, our search was not as miserable as we expected to be.
There was a lot of anxiety for us about it, but we gave ourselves that extra month so there wouldn't be a hard deadline for getting out of the old place. We shared search duties, and although Jenny did the overwhelming amount of searching and appointment-making, we looked at each place together.
We tried to not talk about it all the time so we wouldn't stress ourselves out too much, especially because it also happened to be the holiday season. A baby, apartment hunting and holidays equals way too much stress, so we tried to maintain a balance that wouldn't make us go nuts.
And despite having to deal with so many brokers, they were for the most part nice and seemed to want to help without forcing anything on us.
However, there were several occasions in which the brokers asked personal questions about our jobs, salaries and credit before we even looked at the apartment, and that was kind of annoying. We understand they don't want to waste their time showing something to people who will never live there, but there should be a mutual respect and a bit of trust. Perhaps that is asking a lot in the Manhattan apartment game, so c'est la vie.
The only thing I would have done differently was not give a deposit to the broker from Ruppert Towers, because it was a hassle when Jenny went to pick it up and get it back.
My advice to any apartment hunters is to really be sure you want something, and don't let the broker trick you into thinking that the place will vanish if you don't act immediately! Also make sure you have all of the proper documents needed to rent an apartment ready so you aren't rushing around last minute to gather bank statements, tax forms, employment letters and pay stubs. Get it all together before you even start looking!
The baby will soon arrive in our wonderful new apartment. Then our real work begins.
Related posts:
Q&A with NY1's Roger Clark: His heart belongs in Forest Hills, his rent check to Yorkville
Brick Underground articles occasionally include the expertise of, or information about, advertising partners when relevant to the story. We will never promote an advertiser's product without making the relationship clear to our readers.