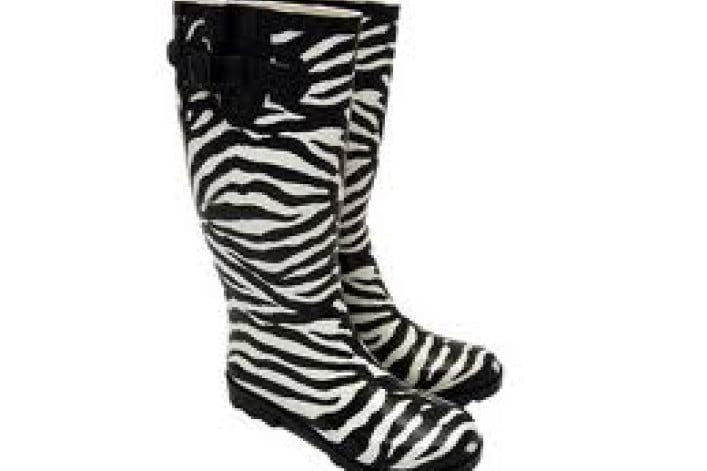 You set your wet rainboots out to dry in the common hallway shared by two apartments, 15 feet apart. The next thing you know the management company calls to tell you to move your footwear inside.  Fair, or unbearably uptight? An UrbanBaby poster wants to know.  Here's a sampling from the 111 comments so far:
FAIR: First it's rainboots. Then it's a basket full of gloves and hats. Then it's an umbrella stand. And maybe a stroller. And so on. Before too long, it's a cluttered mess.
FAIR: [responding to above] THANK YOU. One step down the slippery slope. Someone in my building got into the habit of leaving a stroller in the hallway. That lasted a week until I saw someone had tossed it into the garbage. They got a new stroller and kept it inside.
UPTIGHT: I hate people like your neighbors. They really are not equipped for city living. They need to go rural.
FAIR: "If the fire dep't does an inspection and sees stuff on a landing, there will be fines against the building. We have a small building and we know which families leave piles of shoes, umbrellas, strollers, etc. outside their apts and when we got fined, the fine was split among those families."
FAIR: You share the landing, and you should only leave things there that your neighbors are OK with. In this case, they are not OK with your boots, so you have to bring them in.
UPTIGHT: I get that it's a common space, but that just means multiple people use it, not that it has to be kept to the specifications of one user.
UPTIGHT: I live in the building with kids on each floor, and there are strollers/bikes/scooters stored at each door, people put out small stands with flowers, decorations - there is nothing offensive about it. If anything, it makes me feel more homey.
FAIR: In my bldg, the rules very clearly state that no one can leave things in the hallway. I personally think it is a good rule, and leaves the building neat looking. There is a guy downstairs who always leaves his smelly shoes outside his door. I think this is totally gross and wonder what the hell his problem is that he can't put them inside the door like normal people. Why can't you put your rainboots inside the door on a mat or in your bathroom?
FAIR: The Collyer brothers might have started out that way.
UPTIGHT: Time to start boiling cabbage for dinner and to let the steam escape into the hallway.
DEAL WITH IT: At least you don't live in Moscow with the neighbor leaving their dog's poop on your side of the hall.
Thoughts?
Brick Underground articles occasionally include the expertise of, or information about, advertising partners when relevant to the story. We will never promote an advertiser's product without making the relationship clear to our readers.