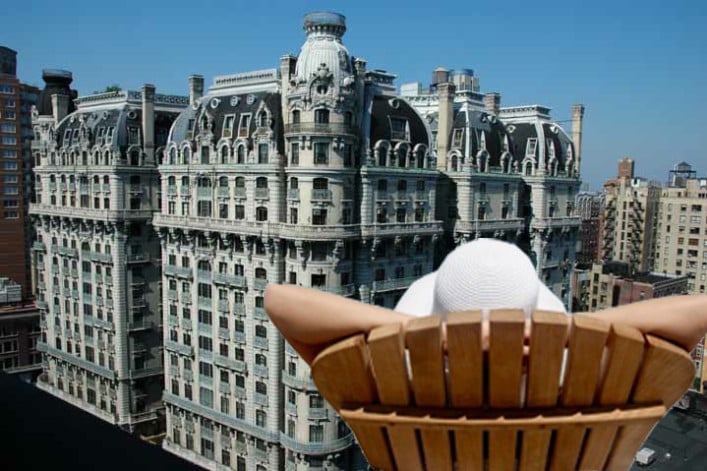 My husband and I recently jumped at the chance to dog sit for the weekend, because the dog in question lived in the Ansonia--the grand former Upper West Side hotel where our friends own a $4 million four-bedroom condo that's eight times the size of our one-bedroom rental two blocks away.
Our dogsitting weekend was not just a super-sized staycation. It was also an opportunity to experience life as we would otherwise never know it.
Coming and going, for instance, was a whole new experience. Getting from sidewalk to apartment was a hike, requiring a nod to the doorman, a wait for the elevator, and a long walk through the doors to the end of that grand, carpeted hallway. I had been certain that I would dislike having a lobby attendant, but after the doorman held the door while my arms were full, I became less sure. It was a treat not to have to fumble with a key, either.
Still, we weren't real residents, so we didn't quite "belong." I never really got to know the doormen in a meaningful way, or to decide whether I would or wouldn't like my daily routine to include the presence of several watchmen. They were such omniscient gatekeepers that I had to stifle the impulse to say where we were going and when we would return. Did they expect me to bring them coffee when I walked in with a Venti cup for myself? I'll never know.
I didn't miss the stairs in our walk-up. Here, there were four elevators, with one devoted to pets, bikes, deliveries and so forth. Schlepping big bundles -- I don't know why I always seem to be schlepping stuff -- was almost effortless.
Each evening, instead of running two flights down to the garbage cans next to our stoop, I took the trash down the Ansonia's grand carpeted hallway to the pristine "compactor room." I had missed the day's WSJ but -- not to worry -- there it was, folded neatly in the recycling bin. I was tempted to hunt for further reading material on other floors.
My husband reveled in the majesty of the Manhattan skyline from the massive rooftop patio, where we met some sunbathing neighbors. For fresh air at our place, we stick our heads out the window.
As expected, I found heaven in the Whirpool front-loading washer and dryer inside "our" $4 million apartment. I did loads upon loads, including stuff like the slipcovers and mattress pad, which I would launder more often if I didn't have to schlepp them (along with a bottle of Tide) to the coin laundry, which closes at 9 pm.
The rest of the apartment was almost as heavenly. The master bath, (as big as our bedroom) had a rainforest showerhead, a bench for sitting, and sauna-style steam jets. The living room included a 60" TV and an L-shaped couch. The dining table sat eight. (Typically, my husband and I eat perched on our loveseat, balancing plates on our laps.) There was so much space for spreading out, we could have been in Montana.
Less great was the Broadway location. Convenient, yes, but with screamingly loud street noise. The apartment had two layers of windows, which helped, but the sirens and squeaks were relentless. Trucks idled; buses beeped. During the wee-hour trash pickup, we dragged the futon into the walk-in closet and slept there, amid the neat shelves and drawers and racks and hooks. Or maybe it was really a guest room and not a closet at all.
When it came time to return to our humble abode, we ran the dishwasher, filled Fido's bowl with water and our arms with bundles of fresh laundry, and nodded to the doorman. Do I feel a bit inadequate knowing that our friends can afford a $4 million home while we rent? As my key fell from my hand onto our welcome mat, I tried to remember what a good rent-stabilized deal we have.
The bottom line: We prefer our apartment. But only because it's quieter, and that's where all our stuff is.
Brick Underground articles occasionally include the expertise of, or information about, advertising partners when relevant to the story. We will never promote an advertiser's product without making the relationship clear to our readers.