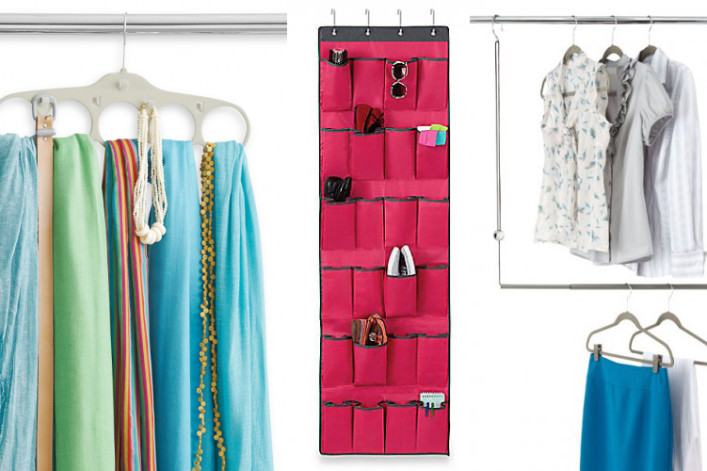 When my real estate agent told me that my sight-unseen apartment had a massive walk-in closet, I thought I could be exactly like Carrie Bradshaw, handily stowing stacks of fashionable New York clothing.
But my jaw dropped when I finally saw the space after signing the lease and moving here from California: My "walk-in closet" was a walled-off hallway.
True, it was large. It was about 20 feet long by two feet wide, with a small, four-foot wide space in the front.  But there were no shelves or rods from which to hang clothes.
And while the length of the closet gave me lots of potential shelf space if I could figure out how to fix it up, the narrowness could be a problem for someone who was claustrophobic. (Luckily I wasn't.)
But the long and thin shape made it tricky to construct anything, and without money to build custom shelving from scratch I was afraid that I would have to store everything in boxes instead.
On top of all that, the walls of my so-called closet were thicker than the rest of the apartment, making it difficult to drill or nail anything.
It was my uncle who came up with a solution. We took a quick trip to a hardware store and picked up some wire shelving that could be mounted on the thick walls with a power drill. 
Despite their thin appearance, they were able to support the coats and dresses I hung from them and the folded clothes I put on top. Had we chosen the plastic version, they probably would have buckled from the weight.
I also bought a couple of freestanding metal racks from Ikea probably intended for garage storage. They were perfect for extra toiletries, towels and linens. A small plastic drawer for my underwear and unmentionables found a home at the wider entrance to the closet.
In the end, my closet was just like I imagined it should be -- and only cost me a relatively small amount of money, around $100, and some elbow grease.
A more maddening challenge was about to rear its wiry head:  Its name was Time Warner.
-------
Michelle Castillo moved to Manhattan last fall to attend Columbia University's Journalism School and currently works as a freelance writer covering entertainment for the TodayShow.com and MSNBC.com. Rental Rookie is a twice-monthly column chronicling her first year as a renter in NYC.
See all Rental Rookie columns here.
Related posts:
Cool Stuff: Your fantasy off-site closet
Brick Underground articles occasionally include the expertise of, or information about, advertising partners when relevant to the story. We will never promote an advertiser's product without making the relationship clear to our readers.