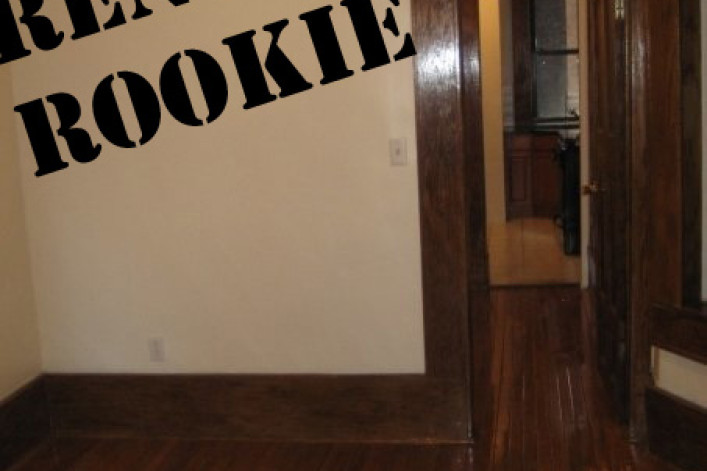 "For $100 dollars more than you're willing to pay, I could get you an approximately 300 square foot railroad apartment," said the Manhattan real estate broker I'd never laid eyes on.
"Railroad apartment?" I said last August from my spacious two-bedroom college apartment in L.A.  "I'd be near a railroad!?"

Finding an apartment to rent in Manhattan when you live nearby (and already know the lingo) is one thing; doing it from across the country without ever checking it out is another.
But I had used all my savings on what Angelenos think are East Coast essentials, like fashionable paper-thin coats. I didn't have money left to conduct my search in the flesh.

Instead, I did it virtually.

My initial goal was to find a spare room, so I plowed through Craigslist, where my friends had all found their places.
After numerous calls to scam artists who wouldn't tell me exactly where the apartment was located or finding out from BedBugRegistry.com that the building was infested with bed bugs, I decided to work with a real estate agent.

I found a Century 21 agent who had been advertising on Craigslist, called him up and was pleased to find out he seemed to know what he was doing since he actually had a license (or so his official Century 21 logo on his website suggested). And because of the downtrodden economy, many landlords were paying brokers' fees, so his help wouldn't cost me anything.

I explained that I needed a two-bedroom apartment (I was moving with a friend) near a subway and close to Columbia University, where I had enrolled in graduate school, for less than $1850/month. (Frankly, I was more concerned about how I was going to survive my first winter without getting mugged more than about the price.)

Because of my price range, Suh sent me listings of apartments that were located in safe buildings, but in not-so-great areas.
He did his best to assuage my fears by telling me where the closest grocery store was and which trains and buses stopped in the area.
Still, I googled one address and found out that the previous renter of an apartment I was considering had posted a comment on a local message board. He had been pelted with cans when he went running every morning. I decided since I can't run that fast it wouldn't be the place for me.

Finally, after a week of searching, Suh emailed pictures of an apartment with gorgeous wood floors and moldings on the Upper West Side near the 96th Street subway.
The two bedroom apartment had its own bathroom -- I didn't realize this was a luxury in cheap NYC living until several apartments I had found only had dorm-style bathrooms located outside your apartment, shared with your neighbors -- and a brand new kitchen.

This was a railroad apartment, I was informed, and it could be mine for $1,950/month.

As I learned, rather than being by an actual railroad, the Railroad Apartment is an epic piece of New York history left over from the pre-war days: It's basically a long hallway separated by a series of unfortunately placed walls.

The conductor-to-caboose flow requires you to walk through your roommate's room to get to the next room, kitchen and bathroom. If you're not big on privacy (and you sleep like a log), this is perfect for you.

My wariness prevailed until the agent told me the apartment was located less than one block from the 1, 2, 3 and two blocks from the A, C subways. For someone from southern California, where the concept of walking places is entirely foreign, that was the most selling factor.

"We'll take it!" I said enthusiastically, not really knowing what I was getting myself and my roommate into. And, with a few strokes of an electronic signature and a couple bank transfers, I was set to start my own Upper West Side story.

Next time on Rental Rookie:  Reality sets in.
Michelle Castillo moved to Manhattan last fall to attend Columbia University's Journalism School and currently works as a freelance writer.  Rental Rookie is a twice-monthly column chronicling her first year as a renter in NYC.
Related posts:
4 rules for flaming your landlord online
Brick Underground articles occasionally include the expertise of, or information about, advertising partners when relevant to the story. We will never promote an advertiser's product without making the relationship clear to our readers.