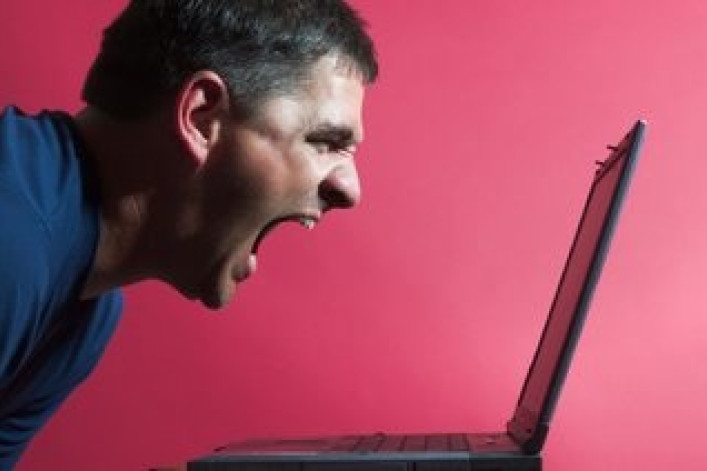 After reading two recent accounts of online landlord-bashing--each ID'ing a specific landlord--we started to wonder about the proper protocol for airing private gripes publicly on the web.
We talked to one of the frustrated renters, as well as a lawyer, a blogger and the CEO of StreetEasy to develop this 4-step pocket guide for criticizing your landlord (or developer, sponsor or co-op board) online.

1. Tell the truth and nothing but the truth

"Saying something false to deliberately damage or embarrass an identifiable person or entity is libel," says Aaron Shmulewitz, a real estate lawyer at Belkin Burden Wenig & Goldman.

Easy enough to avoid.  But understand that you can also be sued for libel even if you're telling the truth--and you will have to pay the bill for proving you're innocent.
"You could be liable for tens of thousands in legal fees even if the statement is true," says Shmulewitz.
You might decide it's worth the risk.
Carlos, the 22-year-old renter of a $2,300-a-month luxury downtown studio, started a darkly hilarious blog about his landlord's reluctance to pay for inspection and treatment of suspected bed bugs.
"I had it mind that this could backfire and I could get sued, but everything I wrote was true," he told us. [UPDATE 5/11/10: Carlos emailed us to say that this story made him nervous enough to take the blog down: "I just want this episode to end," he says.]
2.  Chill out

Anger can be counterproductive. If your goal is merely to bash your landlord and earn some sympathy for your plight, you might want to re-think your strategy altogether.

"The best case scenario is that you get the anger out of your system," says Ana Maria Sencovici, co-founder of the  smart Manhattan real estate blog, The Apple, Peeled.  And the worst case is getting sued for defamation.
As far as furthering your cause, "anger diminishes your credibility and diffuses the very message you are trying to disseminate," says Senovici. instead, "try to truly come from the standpoint of helping others and/or providing much needed constructive feedback to landlords."
Indeed, angry vitriol can not only get you nowhere, it can get you erased.

StreetEasy.com CEO Michael Smith says that about 10 landlords, sponsors and developers a week ask the site to remove derogatory comments about them or their properties.

"More often than not we do," Smith told us, "because we come to the conclusion that there's just one angry person."

For instance, he says, StreetEasy will look at the number of city violations racked up by a particular landlord:  "If there are a lot of those and lots that are unpaid, that's a good indication of a building that's not managed well."

3.  Anonymous isn't always, and on-the-record is forever
StreetEasy would "never" voluntarily reveal the identity of a user without permission, says Smith.
Yet anonymity is pierceable: "Your identity can be found out through investigation and subpoena," says Shmulewitz, the attorney.

Using your real name to begin with will make your complaints sound a lot more credible.
On the other hand, your dispute with your landlord will be Google-able for decades by employers and potential soulmates, and also by future landlords (or co-op boards, should you go on to buy a place).

4.  Spread the word in the right places

If you are mostly looking for short-term sympathy and don't intend to carry a torch and rally a community for weeks or months to come, Sencovici recommends posting on StreetEasy's discussion boards.

"That can generate quite a good bit of buzz in a very short period of time," she says.  

Emailing a link to your thread or simply a "tip" to blogs like Curbed, BrickUnderground, and Brownstoner can trigger wider blogosphere coverage of your plight.

But starting your own Facebook page or blog is a long-term commitment that ideally must be maintained over the long haul, though not always.  

Carlos, the renter quoted above, kept his blog for less than a week before his landlord abruptly changed its mind about paying roughly $2,000 worth of expenses to investigate and treat a possible bed bug infestation. (He is still short $500 worth of drycleaning and two nights in a hotel.)

In the meantime, Carlos posted a link to his blog on a StreetEasy thread begun by another disgruntled neighbor. He also put a link in the comments following a Curbed post on his neighbor's problems.  The strategy resulted in around 250 visits to his blog.
In addition, he added his building to the Bed Bug Registry and posted his experience on apartmentratings.com.
A few days after his blog went up, he says, his landlord "just literally called me with a complete change of tone."
Did the landlord see the blog? He's not sure.
"When the exterminators came back this past week, I noticed they went into another apartment in the building on their way out, so maybe someone else has bed bugs now."
Brick Underground articles occasionally include the expertise of, or information about, advertising partners when relevant to the story. We will never promote an advertiser's product without making the relationship clear to our readers.