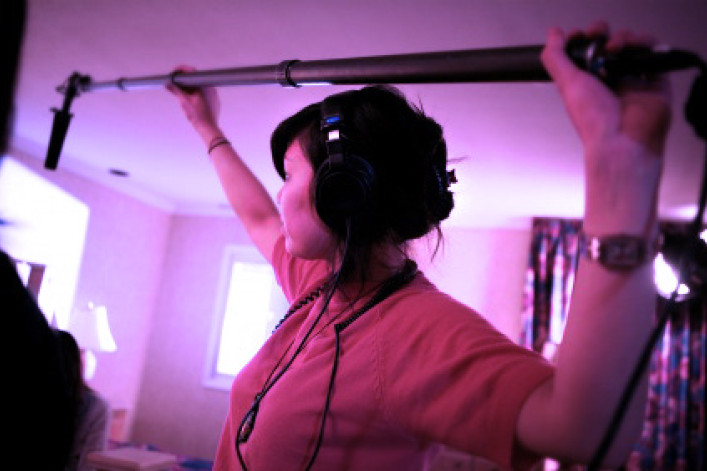 With rates ranging from $500 to $10,000 a day, renting out your New York City apartment to film studios and photographers might seem like an easy to way to make a quick buck.

But Sam Rohn, a New York City-based location scout and manager at NYLocations.com, explains that it's the most iconic buildings and views—the ones that make people identify with New York City—that are the most in demand…which means the typical apartment often belongs to a person not particularly in need of a quick buck.

"Unless you have a good deal and a huge apartment, don't expect to get rich from doing this," Rohn said.

That said, notes Rohn, there has been the odd case where a band insists that they have to shoot a music video in a particular bar because their dad frequented the place–which happens to be around the corner from your modest walk-up, and they need an apartment setting nearby to film a scene.
If you feel like getting lucky or you're sleeping in an iconic goldmine, read on.
Location scouts--people hired to check out locations--are the usual way locales are "discovered" these days by filmmakers and photography studios.

Two NY-based location scouts include Debbie Regan Locations and Sam Rohn's NY Locations.  Other places like ScoutingNY offer their "matchmaking" services, but might not be as well established.

The scouts advise sending a link to a basic website displaying some photos of your place, or if you really can't figure out the website stuff, you can email a few pictures (just make sure not to clog their inboxes with too many photos or they'll delete your email).

The scouts check out the locations that match their clients' needs. If all looks as it does in the picture – and Rohn says he's never been misled – then he or she will facilitate the talk between the studio and the apartment owner. 
The scouts get paid by the studio when they finish the job, which in its entirety includes finding the place, making sure paperwork is in order and ensuring things run smoothly on location.

If your apartment doesn't fit a current project but the scout likes the look, they'll file it away until the right project comes along.

What they want
Like any apartment owner, studios and filmmakers want space and light.

You can pretty much forget it if you live in a fourth floor walk-up in the Bronx; lugging equipment up the stairs is not a selling point.

Anything above the second floor (especially if they are looking for a night shoot, since they might have to hang lights outside the window) is normally passed over, unless there's an elevator. Railroad apartments are also looked down upon because of space issues, but Rohn does admit that on rare occasions, for shows like Law and Order: SVU they may need a cramped space to fit the storyline.

As mentioned, anything iconic is a huge draw, as one of the main reasons to film in NYC is because it looks like NYC. Iconic brownstones, pre-war buildings on the Upper West Side and penthouses are among the top three most desirable domestic locales.
Some examples of apartments NY Locations ended up using:
This Tribeca apartment was matched with a photographer who needed a place for some still photography.
This Soho loft used for a clothing catalogue photo shoot
This Brooklyn loft was used by Victoria's Secret

If your apartment gets cast...
If your place does land a role, there are a few things to bear in mind:
Insurance When a film company moves in, they may want to bring their own furniture. If they're using yours, any real production company (ie not your nephew in film school) should have insurance.
Moving You might have to move out for a period of time.  You may get some compensation to work around this, but if you don't live in four star accommodations, don't expect to be put up in the Waldorf Astoria. Every agent we talked to suggested you pocket the meager daily allowance-- which ranges greatly depending on the price of the project--and crash on someone's couch.
Owner's right of way If your property is rented, your landlord has to give permission – and they always take a cut of what you are going to get, often times along with your super, according to Rohn. Co-ops often charge extra shooting fees of $5,000 - $10,000 dollars, so you'll get some money, but don't expect the entire bill. Getting the necessary approvals in a co-op can take too much effort for the project in a lot of cases.
Clean up Rohn once "facilitated" the use of the empty ground apartments in his fourth floor walk-up and was reminded every day of it because the production crew did a shoddy job of cleaning up the fake snow that melted in his hallway. After nagging them, they eventually did, but he uses it as a lesson for future renters: You might have to follow up after the shoot.
Party crashers Some residents write into their contract that they can meet the artist or actors involved, so it never hurts to ask. But remember that they are at work. If your daughter wants to meet her favorite pop star, don't bring the entire fifth grade class with her -as happened with one client.
Related posts:
Brick Underground articles occasionally include the expertise of, or information about, advertising partners when relevant to the story. We will never promote an advertiser's product without making the relationship clear to our readers.