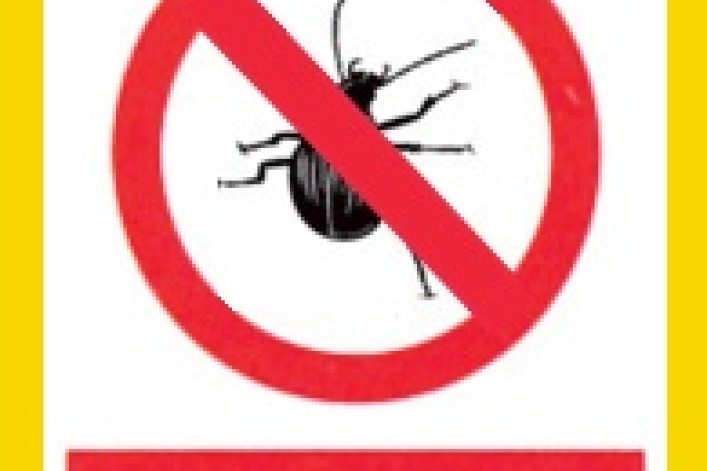 If you are one of the many New Yorkers who shop at thrift stores, you are at risk of transporting pestilent, propagating bed bugs into your home.

Everything purchased secondhand should be considered suspect, inspected carefully, and then treated somehow, says our source at Bedbugger.com, the authoritative bed bug blog consulted by countless victims in their darkest hour of need.
Here's how to protect your home and sanity:
1. Thrift-store clothing:  Wash secondhand clothes in hot water and dry on high heat to kill bed bugs.  If the item is dryclean-only,  twenty minutes in a dryer shouldn't be enough to damage the clothing and should be enough to kill the possible bed bugs and eggs. 
But for many people, the problem starts before the washing machine:  If your stuff isn't properly sealed, the parasites can leap into your home on their way to the machine. 
2. Furniture:  If you are buying secondhand, there really is no dependable and cheap way to make certain the six-legged parasites are not part of the deal.
"Solid wood items like tables and chairs can be visually inspected… but you have to remember that bed bugs are designed to hide in the tiniest cracks: behind the veneer on a dresser, in the head of a screw, or in the invisible gap where table legs join to the table," cautions our bed bug guru at Bedbugger.com.
The secondhand shop may tell you that their furniture has been sprayed, but many sprays are "contact killers" which only work when the bug is blasted directly. Bedbugs could be hiding under the fabrics of upholstered furniture.  They can even avoid the more powerful sprays that have residual effects (killing later on) by simply not crossing the area sprayed.
If you're confident enough to buy on a visual inspection and a prayer, check out these photos for guidance on what to look for.
If you can afford it, sending your treasures out for fumigation is the most effective prophylactic.  Bed Bugs and Beyond, a licensed and certified NYC bed bug fumigation specialist, charges $500 and up for larger items such as dining room tables, armoires, etc.  
Consider the company's fumigation chamber for multiple items. Its $700 tariff covers the room itself, not the individual items. You can either drop off your furniture or have the company pick it up for an additional charge.
3. Knickknacks & books: Dishware, glasses, lamps, books and picture frames can also be Trojan horses.  If you are a frequent knickknack shopper, consider investing in a  Packtite.  This suitcase-sized device heats contents to a temperature bed bugs can't survive.   (They're also great for baking your stuff after a trip that  may have exposed you to bed bugs.)
Related posts:
New clues on spread of bed bugs through apartment buildings
Most likely to have bed bugs: Poor old Swedish hipsters
Bed bug insurance? Apparently not
Bed bugged storage (Part 1):  Is your stuff safe?
Bed bugged storage (Part 2): How to protect your stuff
Brick Underground articles occasionally include the expertise of, or information about, advertising partners when relevant to the story. We will never promote an advertiser's product without making the relationship clear to our readers.