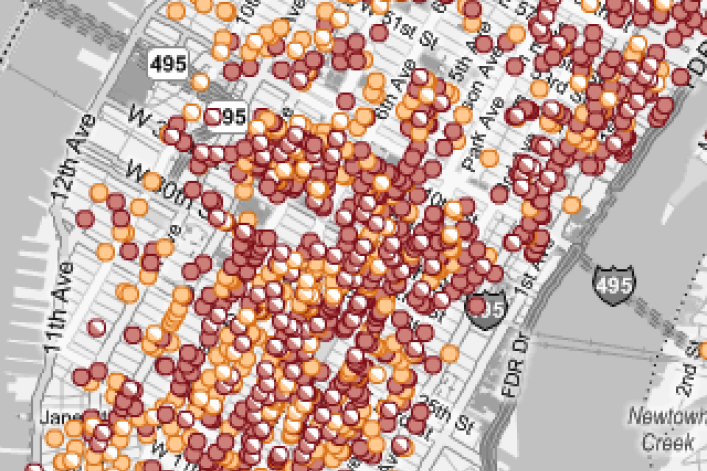 A recent study on NYC air pollution made headlines with its finding that the Upper East Side boasts some of the city's dirtiest air.   It pinned much of the blame on prewar apartment building boilers that tend to burn two particularly filthy (though cheap and plentiful) types of heating oil.  

Now a tipster points us to an interactive map posted by the Environmental Defense Fund: Type in your address to learn whether your brick or limestone fortress ranks, like ours, among the city's 9,000 soot-and-nickel belching structures.

If so, you're in esteemed company: The Flatiron Building, the San Remo, The Dakota and The Beresford all made the map of shame. Vying for the title of dirtiest zip code in the five boroughs were 10021 on the Upper East Side, followed by 10024 and 10025 on the Upper West Side.

A PDF accompanying the map describes the alternatives to the dirty heating oils otherwise known as #4 and #6, and announces that the city is planning to phase out renewal permits, which are currently issued every three years.  There's also a rundown of the alternatives (natural gas, #2 heating oil, or ConEdison steam) and the pricetag.

A longer report elsewhere on the Environmental Defense Fund website drills down a lot further.
Switching to a cleaner option can reduce fuel oil pollution by 95 percent. Unfortunately, it comes at a price that won't make cash-strapped co-ops and condos breathe easier.
Depending on how old your boiler is, your building will need to spend anywhere from a few thousand to tens of thousands of dollars converting it, and the annual cost of heating could rise too.  Moreover, if your boiler is more than 15 years old, it may have to be replaced altogether--a six-figure, assessment-worthy endeavor.
Brick Underground articles occasionally include the expertise of, or information about, advertising partners when relevant to the story. We will never promote an advertiser's product without making the relationship clear to our readers.