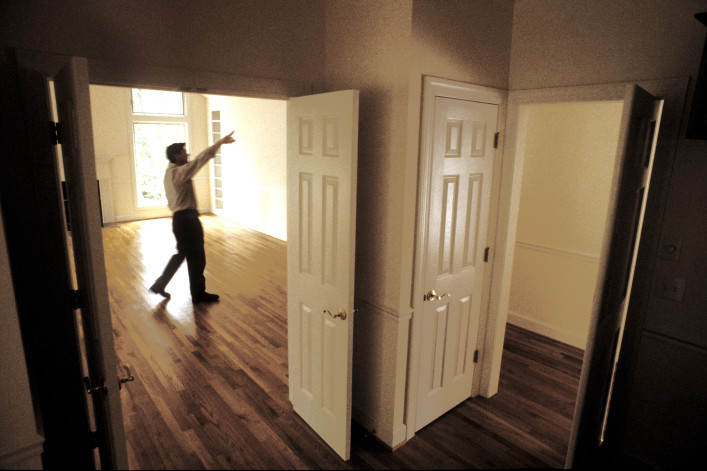 With thoughts of sugar plums and Amazon wish lists dancing in your head, showing your apartment may be the last thing on your mind this holiday season. Now, considering that the end of December to the beginning of January are traditionally slower weeks for the real estate market, should you save yourself the work and take your home off the market altogether until January? Well, it depends on whom you ask. 
According to data compiled for us by StreetEasy, the number of sales searches last year decreased by 9 percent from December 23rd to January 1st, when compared to the 10-day period prior to that. (This is a significant drop from the previous year's decrease of 22.4 percent. The company's analysts think that this change is likely attributed to its mobile product improvements in 2016 and the resulting increase in app users during the year.) 
So you might think it's a no-brainer to keep your place on the market. However, like most things in real estate (and life), the decision isn't exactly black and white.
[Editor's note: This story was originally published in 2016, and was updated in 2017.]
It depends on the kind of apartment you're selling
There's no one-size-fits-all answer. There are some luxury condos, for instance, that Mindy Diane Feldman of Halstead says she would "almost never recommend taking off the market over the holidays, because there are so many out-of-towners and overseas buyers here for the holidays" who might be interested in those apartments. 
On the other hand, co-ops, which she describes as "the segment of the market that's more oriented toward New Yorkers," might see less interest over the holidays. 
"If you're not going to be marketing heavily or seeing inquiries or traffic, you don't want to burn up the time [on the market] gratuitously," Feldman says. Of course, buyers' brokers can also usually reach out and get in touch with the seller's broker even if the apartment is temporarily off the market. 
Jay Glazer of Corcoran isn't too sanguine about the prospect of making deals during this time.
"I just think people are not seriously looking for apartments during the holidays," he says "In seven years, I think we had one client who wanted to look between Christmas and New Year's." Of course, you also have to take into account demand for the apartment.
"If people are knocking down your door to see it, don't take it off now," Glazer advises.
It depends on the market
"If the market is skyrocketing, like it was in 2006, there are open houses the day after Christmas and the day after New Year's," Feldman says.  Back then, she says, "people were hanging from the rafters."
But even when the market isn't red hot—it isn't now, by any stretch of the imagination—you don't necessarily want to remove your apartment from the listing right this very moment.
"I don't think there's been a holiday period since I've been in the business where I haven't had a deal on my desk at some point," Feldman says. "There's also always a surprise." Also, she says, "there tend to be moments right before the holidays where there's a flurry of activity." 
Why there could be more sales opportunity around the holidays
Corcoran agent Heather McMaster, who specializes in Brooklyn sales, says she never tells anyone to take their apartment off the market. Her reason: "There are always people who are going to be looking. People tend to relax more, and buyers may have more time to peruse. Why would you take it off the market? Why not keep it in front of people's eyes?" 
Feldman agrees, noting that during periods when people may have more down time at work—the holidays, but also summer holidays such as July 4th, Memorial Day, and Labor Day—she sees more apartment visits. In fact, she's had to cancel travel plans on multiple occasions to accommodate activity during these "dead" times.
Plus, McMaster points out, even if you pause for a month or so, an apartment doesn't show up as a new listing on aggregate sites like StreetEasy.
"If you take it off, you're just cutting down the number of eyeballs who see it," she says. StreetEasy confirmed that homes have to be truly off the market or completely de-listed for 90 days to be considered a "new" listing.  
Another good reason to show an apartment during the holidays: "There's less competition from other apartments," says Julianne Bond of Engel & Völkers New York Real Estate. "Inventory is down, so it can be good for a serious seller."
Bond says sometimes she'll reach out to buyers around the holidays to check in and let them know she and her clients are still on the market.
Corcoran's Glazer agrees, saying, "Depending on neighborhood, keeping it on or listing during the holidays can actually be beneficial. The dedicated shoppers will be looking and they'll be pining for inventory that isn't there. So you may have an opportunity to land a truly committed buyer."
After the holidays, McMaster says, can also be a fine time to refresh the listing, perhaps with new photos and maybe even a small price drop. Wait until people get out of their post-holiday work bubble, she says, but the second week or so in January is perfect for a refresh.
How the internet has changed things
Bond says she used to take apartments off the market before the explosion of real estate listing sites.
Now, "because of the internet and the expansion to international buyers, home-buying season really is year-round," she says. "Serious buyers are tracking the market all year long, and we don't want to miss them."
Darren Sukenik of Douglas Elliman agrees that the market has become year-long. There are slower parts of the year—namely the first and second week of August, and, yes, the last week of December, first week of January—but it's never completely quiet. 
"We've added some strong demographics to the buying pool in the last few years, namely families that in the past would like have moved to the suburbs but are staying in the city, and empty-nesters," Sukenik says.  "Not everyone's in St. Barts. And even so, people are looking at StreetEasy all the time, wherever they are."
Brick Underground articles occasionally include the expertise of, or information about, advertising partners when relevant to the story. We will never promote an advertiser's product without making the relationship clear to our readers.