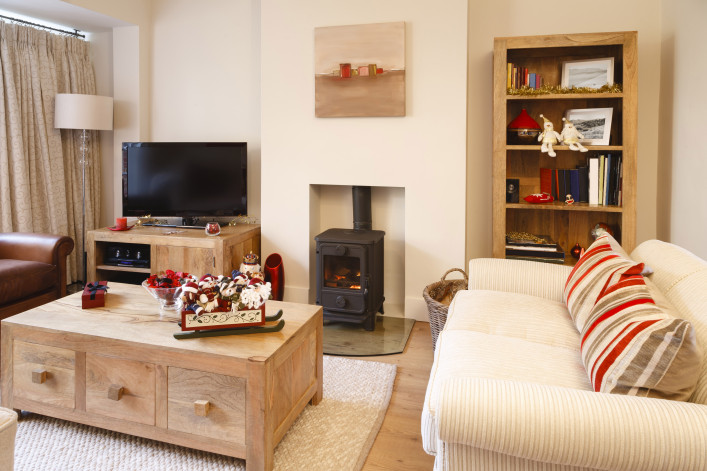 The holidays already come with plenty of hospitality hassles, between hosting out-of-town relatives, figuring out how much to tip the building staff, and picking appropriate gifts for your office Secret Santa. If you're selling your apartment, is it really worth enduring a gauntlet of open houses in a season where sales tend to be slower, anyway?  And will you have to move your decorations every time people come through?
While some brokers recommend postponing open houses until the new year—why bother, the thinking goes—the sales market is hot enough these days that you could ink a deal, even in the depths of December. "If there were ever a year when the holidays won't affect sales as much as usual, this is it," says Jonathan Tager, a broker with MNS. If you are thinking about holding open houses through the season, we've got tips from the experts on days to avoid, how to handle decorations, and more:
Skip these dates and times:
While the holiday season at large isn't a no-go for listings, there are some dates—namely, the weekends around Thanksgiving and Christmas—that won't be worth the hassle.​ "I've never held open houses on the Sunday of Thanksgiving weekend," says Tager. "Most people are out of town, and often, the people who do come to look aren't serious, but people who say 'hey, my parents are visiting, let's go around and look at apartments!'"
Citi Habitats broker Caroline Bass concurs: "The weeks before are fine, but the weekends surrounding major holidays like Thanksgiving or Christmas, there won't be high turnout." 
Since open houses are typically held on Sundays, December 7th and 14th of this year should be fine, Tager notes, but by the time you hit the 21st, people will be heading out of town, and you'll get less foot traffic. 
Another thing to keep in mind, and this applies throughout the winter: schedule showings between 11am and 2pm, when scarce winter lighting is at its best, advises Reba Miller, founder of RP Miller Realty Group. "Never host an open house after 4pm in the winter," she adds. "That's when the sun goes down and it's too dark to see anything."
Don't fret about fewer buyers:
Not surprisingly, window shoppers tend to stay home during the chilly, busy weeks of December. But in a competitive seller's market like this one, hardcore hunters have to be prepared to scope out properties regardless of the season. "The ones who are serious will still be out there looking," Bass says. "They're qualified, they're ready to go, and if something comes on the market December 1st, they're going to be ready to see it."
Plus, you may even tap a different demographic, notes Cindy Scholz, a broker with the Griffith-Scholz team at Urban Compass. "This is a great time for buyers who travel extensively for work to look, since most business travel will be put on hold this time of year," she says. And it doesn't hurt that you may have less competition from other sellers, since brokers often take time off around the end of the year, meaning fewer apartments on the market. 
Watch out for closing delays:
However, even if you find a game buyer, if you're hoping to wrap up your closing before the ball drops on New Year's, well, don't hold your breath. "Getting things done logistically is a pain, as everyone's out of town," Tager says. "The other broker might be away, attorneys are gone, and the management company's not around."
Keep decorations up (within reason):
Unless you've turned your apartment into a full-on North Pole replica, you won't have to worry about moving your decorations out of the way every time prospective buyers come through, brokers say.  "With simple decorations, you can give a space a home feel," says Miller. "However, go too far overboard and it can come off as distasteful." If you've got a particularly strong festive streak (yes, this is a thing), you can even use that to your advantage, says Bass, keeping fireplaces lit or serving holiday-themed drinks and snacks. "It can help buyers remember, oh right, that was the open house with the candy canes."
If you do have excess you'd like to clear out—extra shopping bags, visiting relatives' suitcases—Scholz recommends the Box Butler, a concierge service that delivers boxes for you to pack up and temporarily stores them for as long as you need. (MakeSpace offers a similar service, picking up, storing, and re-delivering your belongings.) 
Bottom line: "I'm never going to tell a client, 'don't do a Christmas tree, because that's really going to affect the value of your property,'" says Tager. "It's New York, and buyers need to know how to look beyond that."
Related: 
The 9 people you'll meet at an open house
Staging snafus that can hinder a sale
Hide the flatscreen, go tall, and other tips from a staging expert
Brick Underground articles occasionally include the expertise of, or information about, advertising partners when relevant to the story. We will never promote an advertiser's product without making the relationship clear to our readers.