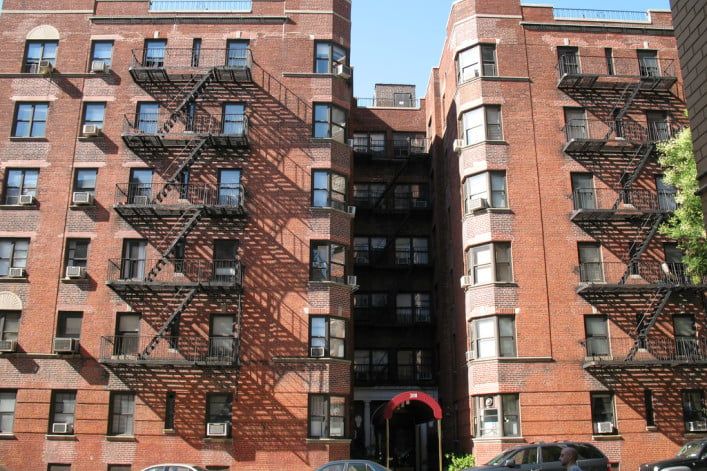 Right now, because New York City is in a buyers' market, potential buyers are much more selective about the apartment—and the building—they will ultimately choose to live in. 
Sellers know they need to spruce up their apartments before selling and price it right in a buyers market. But buildings themselves can play a role in the sale as well. Because buyers aren't really feeling any urgency these days to buy, it's important—now more than ever—to make sure your entire building stands out among the competition, says Christopher Kromer, a broker at Halstead.
In case you're wondering why sales of individual apartments matter—think of it this way: When you live in a co-op, or even to some extent, a condo, you're in it together. Slow sales or falling prices can hurt a building's financial health and apartment values. (One way some co-ops are addressing this these days is by voting to raise flip taxes.)
Want to know what could deter the buyer from buying in your building and what a co-op or condo board can do about it? Read on for some of the biggest turnoffs and how to address them. (And if you're not on your building's board, show them this post.)
Ca-ching charges!              
Kromer currently has a client looking at two different three bedroom-units in the Gramercy Park area, both similarly priced at $3 million, each with high maintenance fees. One building has such amenities as a fulltime doorman, while the other doesn't have any and only has a part-time doorman. Which building will probably attract the buyers?  
Of course, buyers want amenities such as a doorman or a gym, but they don't want high maintenance fees. 
"High maintenance and common charges can be offset by imposing subletting fees," says Sonia Stock, an associate broker with Douglas Elliman. 
It's easier said than done, but Stock also suggests reducing common charges by becoming more cost-effective—perhaps eliminating the 24-hour doorman and live-in super, and not relying so much on outside management. "Whether this is an option is dependent on the willingness of building residents to take on certain management duties," says Stock. 
Paperwork problems
The co-op board application process is typically tough on buyers, says Kromer, which can be an immediate turnoff. "Co-op boards have wide discretion in deciding to approve or deny the sale of apartments and they certainly don't want to compromise their responsibility to their current shareholders in scrutinizing interest." 
But showing some more openness to qualified buyers may be in order.
To get out from under the piles of paperwork, Kromer says that a board should be more flexible in reviewing applications, such as allowing purchases in trust, or working with escrows or perhaps a less strict sublet policy. 
"I understand some of these may go against the essence of a co-op, but I think there is some middle-ground to be had, especially in a soft market," he says.
Dim bulbs
Then there is, of course the issue of housekeeping. A dirty front stoop, neglected landscaping or a dusty lobby packed with old furniture can make a bad first impression.
A paint job, new fixtures and better lighting in the lobby and common areas are an affordable way to say 'welcome' to potential new buyers. 
"Good curb appeal is in a building's control," says Tiga McLoyd, an associate broker with Citi Habitats. "If the lobby looks old, and it needs painting or new furniture, it's going to make the building less appealing to buyers. With a better building, the buyer feels good—it's an emotional connection."  
Brick Underground articles occasionally include the expertise of, or information about, advertising partners when relevant to the story. We will never promote an advertiser's product without making the relationship clear to our readers.