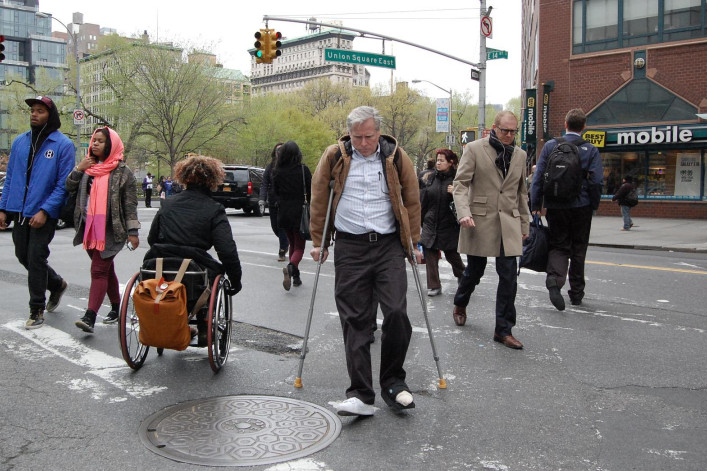 Putting it mildly, finding an apartment in New York City is difficult. If you have mobility issues, the search can be even harder because many listings rarely indicate whether the apartment or building is wheelchair accessible. And if you find an apartment you like and are told it's accessible, there's a possibility it might actually not be, as Eman Rimawi found out. 
Rimawi, the Access-A-Ride campaign coordinator for New York Lawyers for the Public Interest, searched for months for an accessible apartment. She's a double amputee and was using a wheelchair until she got her prosthetics and "went to lots of places that said they were accessible and I'd be fine in my wheelchair," she says. "I'd show up, and there were steps, and I was out of luck." 
Many people may think that accessibility issues in the city have been addressed (if they think about it at all) because of the Americans with Disabilities Act, a civil rights law that requires buildings to offer modifications or accommodations to allow a person with a disability to have equal use. But buildings do flout the law. (For example: If a non-accessible building is undertaking a major renovation, it is required to also take steps to add ramps and other features to bring it into compliance with the ADA.)
"I didn't fully know what it fully meant until I needed to know," Rimawi says.
She currently lives in a non-accessible building in Throgs Neck, in the Bronx, and has applied to more than 42 apartments over the past year but rarely hears back, she says. Affordability is also an issue.
"There isn't much, and I'm tempted to just say we have to start paying a lot more to get in an accessible place," she adds. 
Accessible transportation can be scarce
Proximity to transportation is a major factor for many apartment-hunting New Yorkers. If you have a mobility issue, your options are more limited because not all subways stations are accessible. Just 25 percent of the city's 427 stations have elevators. Plus, finding a station with a working elevator can be be a task—they are frequently plagued with mechanical issues, The New York Times reports. 
You can check the status of elevators and escalators in accessible stations on the MTA's website, "but what's on the site isn't necessarily what's happening in real time," says Rimawi. She's often traveled to accessible stations only to find out the elevator wasn't working, even though the site didn't show any issues. 
And even when you do make it down to the subway platform, there are other issues: Sometimes the train platform isn't close enough to the subway doors for someone in a wheelchair.
City buses are wheelchair accessible, but they are not without some frustrations, nor are they a commuting option for everyone. Also, wheelchair-accessible cabs and rideshares are not always available.
Rimawi mostly relies on Access-A-Ride paratransit to get to her Manhattan office because her nearest accessible subway station is about an hour away from her apartment—and she's concerned about intolerant straphangers.
"I'm paranoid of someone knocking me over into the street or being impatient with me while I walk on the platform or up and down stairs," she says. "People have done things like that, and they're not going to move for me to use the steps or come onto a train."
The New York City's Access-A-Ride program operates 24/7, 365 days a year throughout the five boroughs. The price is the same as full fare on mass transit. If you live in another state and use a form of paratransit there, you will be able to use New York City's Access-A-Ride, otherwise you can sign up for the program.
Additional resources 
As you prepare to move to NYC, Rimawi suggests crowdsourcing recommendations and suggestions from others with mobility issues. The Brooklyn Center for Independence of the Disabled and the Center for the Independence of Disabled New York, which has offices in Manhattan and Queens, are good resources for housing help and more, she adds. 
Brick Underground articles occasionally include the expertise of, or information about, advertising partners when relevant to the story. We will never promote an advertiser's product without making the relationship clear to our readers.