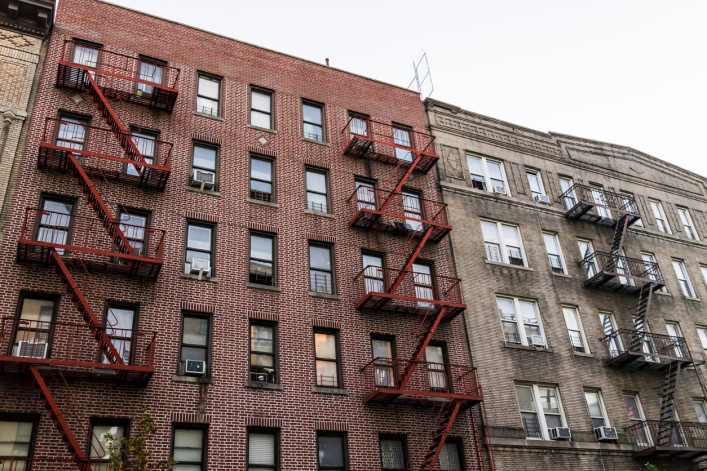 What happens when local and federal eviction bans lapse? It's a question on the minds of many New Yorkers who haven't been able to pay their rent because of the pandemic, and it came up during a StreetEasy webinar this week on housing affordability during Covid-19.
As Brick Underground recently explained, New York city and state eviction moratoriums apply through October 1st. After that date, tenants who qualify will be protected by the Centers for Disease Control and Prevention order for eviction relief in effect through December 31st.
Many renters don't even know CDC eviction protection is an option for them. It requires a few steps, including giving a declaration form to your landlord that explains how much you expect to earn and confirming that being evicted would require you to double up with others or become homeless and that you promise to make partial payments to the best of your ability.
But that may do little to forestall the coming crisis. There are 14,500 New Yorkers with pending eviction warrants and 200,000 eviction cases that were filed prior to the pandemic, according to Curbed. New research from StreetEasy shows the pandemic has had the most impact on NYC neighborhoods that were already experiencing the greatest rent burden. Areas with the most Covid-19 cases have seen rents rise 22 percent over the past six years. By contrast, areas with the fewest cases have seen a rise of in rents of 10 percent over the same period.
"The disparate impact of cases across the five boroughs highlights both new and pre-existing inequities," says Nancy Wu, an economist at StreetEasy, who presented her findings as part of the webinar.
Because of job losses, NYC renters have not been able to pay months of rent and owe thousands, says panelist Barika Williams, executive director of the Association for Neighborhood & Housing Development. Most don't have much in the way of credit to tap into, she says.
She points out the city needs to head off an "eviction tsunami that we're waiting for and terrified of in a city that also has a homeless crisis." And it's not only renters that are going to be hurt: Williams also predicts a second foreclosure crisis that's "mainly going to hit seniors and first-time homeowners."
"The broader question is, 'will we allow this crisis to wipe out and create multigenerational debt for communities that were already unstable to begin with'? Many people can't hang in there and figure out what comes out next," she says.
While the city is in danger of erasing 25 to 50 years of gains in racial equity in housing and other areas, Williams points out that NYC is in better position than other parts of the country, thanks to the right to counsel.
As Brick Underground has written, the right to counsel gives tenants who meet low-income criteria and who live in certain zip codes the legal right to be represented by an attorney when they are facing eviction in housing court. NYC was the first city to establish this in 2017 and past studies have shown a steep drop in evictions as a result.
But currently, "there is no scenario when all of these renters have the resources to pay their back rent. It's just not a reality. There has to be some injection of relief and resources in order to be a solution at the end of this," Williams says.
The panel discussion turned to a federal response as a solution—which will hinge on the upcoming election.
"What happens in December depends on what happens in November," says Charles McNally, director of external affairs at NYU Furman Center, who was also part of the StreetEasy webinar.
According to an analysis by the Furman Center, "just to get people back to pre-pandemic housing cost burdens … would take $600 million a month just in rental assistance," McNally says. "No other entity outside the federal government has the resources to provide assistance on that level. Without a strong federal response, we can't address this at the necessary scale."
Corporations, landlords, and wealthy individuals need to play a role in NYC's recovery as well, Williams says, through advocacy and making sure resources go to those in need, not those who are comfortably at the top of the market.
"What does NYC look like when we leaned on essential workers to carry us through this [extended period] and then step away and say, 'you can handle your recovery on your own?' It will not work for our economy or work for us as a responsible society," she says.
Brick Underground articles occasionally include the expertise of, or information about, advertising partners when relevant to the story. We will never promote an advertiser's product without making the relationship clear to our readers.