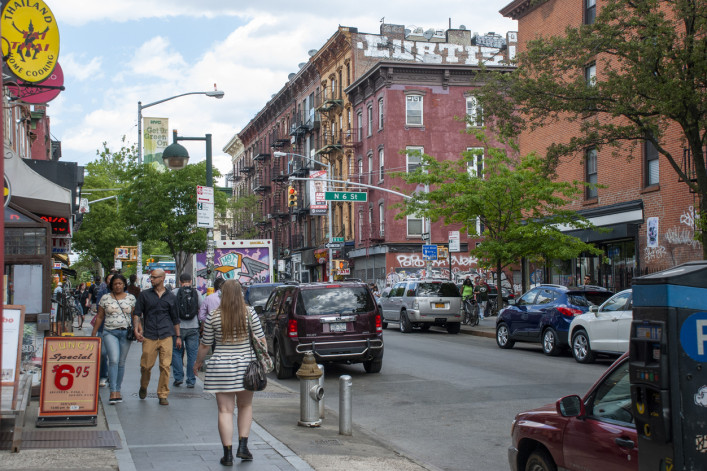 Married couple Andy and Raj Bandyopadhyay took a look at the plunging rents in New York City and decided it was now or never. They fled the Bay Area to get away from the Californian wildfires and landed in a Williamsburg rental. Now they are enjoying the "extra-chill version of city." Here's their story.
I (Raj) grew up in Mumbai and Andy grew up in Texas. We met in Houston, lived in Atlanta and then headed west. We had been living in Berkeley for a year and a half and in the Bay Area for a total of six years.
We enjoyed living just 15 minutes from San Francisco. We had a two-bedroom, two-bath new development unit of about 1,300 square feet. Our block itself was in the process of gentrification, but it was a five-minute walk away from a fancy outdoor mall with an Apple store, Anthropologie, Lululemon, SoulCycle, and such. The neighborhood is very residential and has a top-notch school district (not a factor for us since we don't have kids). It was also a short walk away from the Berkeley Marina, a beautiful waterside park with gorgeous views of San Francisco.
We talked about moving to NYC many times over the years just for the experience, but never thought we'd be able to find a good place. We had also heard all kinds of nightmares about apartment hunting here. Also, we are big into biking and SF just seemed way more bike friendly.
---
[Editor's Note: We're introducing Brick Underground's new series The Newcomers, which features first-person accounts about why a renter or buyer decided to take a chance on NYC and live here now. Have a story to share? Drop us an email. We respect all requests for anonymity.]
---
However, the pandemic changed all that. In August, there were crazy wildfires in CA and the air was unbreathable for a month. We wanted to get away for a bit and started looking at NYC. Andy is working on a book and he has a big writing community in NYC. I had quit my tech career to pursue photography full-time, and NYC is a much better place for art and photography.
We started looking at Airbnbs and short-term rentals, and realized how much rental prices had dropped. So, we decided to take the plunge. It was now or never!
We talked to several friends living in NYC about neighborhoods that might be the best for us. We wanted at least two bedrooms and enough space for home offices for both of us as well as our home gym. We also wanted easy access to subway lines and bike lanes, and someplace not too far from downtown. Ultimately, the two neighborhoods we really zoned in on were Williamsburg and Harlem. 
We mainly looked on StreetEasy; most units were offering four or more weeks of free rent without broker's fees. We did virtual tours of about 50 units in a week! Once we found a couple of units that we loved, we asked a local friend to do an in-person tour to verify that everything seemed legit.
Both of us work from home. Andy's employer is based in Chicago, but his job is remote (even before the pandemic). As a freelance photographer, I'm self-employed. We were able to meet the required income level and didn't need a need a guarantor.
When we applied to our current place in Williamsburg, we were told that there were two applicants before us, but we got the apartment. Overall, the process of finding an apartment was really smooth (we started our search on September 1st and had signed our lease on Sep 10th), without the usual stress you would expect apartment hunting in NYC. The agents were excited to talk to us, there were no crazy fees, or pressure and there were lots of discounts.
Our rent right now is just over $3,300 net effective ($4,100 a month lease with six weeks free). We live in a three-bedroom, one-and-a-half bath, 1,200-square-foot unit in Williamsburg. It's a first-floor apartment with a basement, dishwasher and in-unit laundry. It has all the space we need to accommodate home offices. 
Even though we have in-unit laundry, we sometimes use a local laundromat for bigger items. We simply schedule a free pickup and drop-off online. Super simple! In the Bay Area, we also had in-unit laundry, and we used a laundry app called Rinse, which is not available in NYC. No big deal though, NYC has laundromats on every block!
We have fiber internet here (Verizon Fios)—we used to have to make do with Comcast in Berkeley. Fiber is so much better!
Neither of us have a work commute now, however, we frequently explore the city by bike (when it's not snowing), and the subway, which is a lot less crowded than usual. Overall, NYC feels safe even after spring 2020 because people take Covid precautions seriously. Everybody is masked up, even outdoors and on subways. We are pleased the subway is covered with signs reminding people about masks. The public transit system in NYC is so much better than anywhere else in the country. Period. You simply don't need a car to live in NYC. We have only taken an Uber a few times since we moved here (to transport things bought on Craigslist). Between our bikes and the subway, we're covered.
It takes about 15 minutes by bicycle to get from our home in Williamsburg to the Lower East Side. Biking on the Williamsburg Bridge is convenient and fun—There are separate bike and pedestrian lanes, and there are so many people doing that route.
One interesting (and strange to us) thing to note is that bicycle storage is not something that NYC apartments really take into account. Most buildings don't have elevators, or easily accessible bicycle storage. We had to filter out a lot of really cool apartments for that reason. We both have heavy electric bikes that we can't carry up and stairs easily, so we picked a first-floor unit. In NYC you see a lot of bikes left outdoors. I hope that this changes in NYC as biking becomes much more popular! 
So even though the Bay Area and NYC are so very different, we both feel NYC is the right place for us right now. The biggest thing we miss about the Bay Area is the weather—it doesn't get as cold and there's no snow! San Francisco is also simply a beautiful city with spectacular views everywhere. There's a lot of nature that's easily accessible just a short drive away. 
NYC is much more diverse than SF in every regard: Food, people, and occupations. We both love that.
It's amazing to see the number of local neighborhood grocery stores everywhere in NYC! Within a 10-minute walk of our home, we have at least three small and one really large grocery store. It's easy enough to get groceries as you need them. Of course, you can also order groceries on Amazon Prime and Instacart. There are so many takeout apps, though we don't use them.
Outdoor dining in NYC is another huge plus. SF has outdoor dining in specific neighborhoods, but it's amazing how NYC has simply adapted and gone all in on outdoor dining! I love watching people take their time to eat a meal outdoors. In Williamsburg, our favorite restaurants are Reunion (Middle Eastern) and Ainslie (Italian). The tiramisu at Ainslie is the best we've ever had! We also have a weekend ritual to get chai at Kolkata Chai Co in the Lower East Side. 
NYC has amazing museums and galleries that are open right now with reduced capacity. The Chelsea area is packed with fantastic galleries. As a photographer, I really appreciated being able to visit those. My favorite museum is the International Center for Photography.
We're loving this new, extra-chill version of NYC. It's so easy to explore the city by bike, take the subway without the crowds, and really wander around. Outdoor dining can be a pleasure, since people don't feel rushed. The city feels like it's taking a breather, but also reinventing itself. I'm seeing more younger people and artists move in to take advantage of the cheaper rent. It makes me really excited for the future of the city.
Brick Underground articles occasionally include the expertise of, or information about, advertising partners when relevant to the story. We will never promote an advertiser's product without making the relationship clear to our readers.