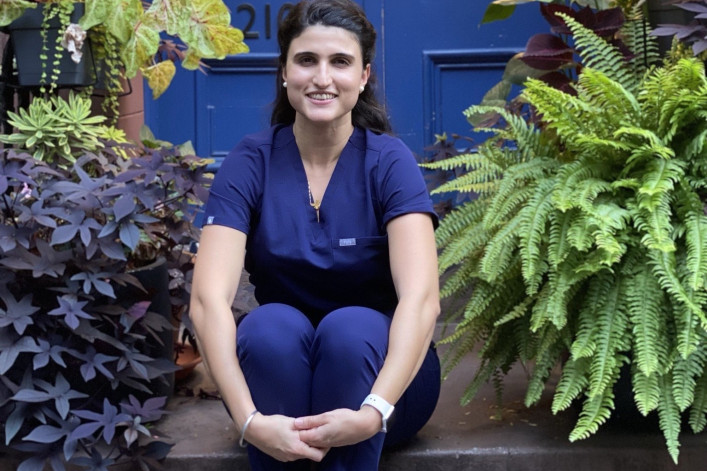 After Meher Irani graduated medical school in Loma Linda, California, she was matched with Jamaica Hospital in Queens. She had to scramble to rent an apartment, landing a studio in Forest Hills. Getting used to NYC living has been an adjustment, but she likes the noise and pace. Here's her story.
I was born in Buffalo, NY and raised in Mumbai, India, where my parents are from. I lived there until I moved to Boston for college. Most recently I was living in Loma Linda, CA, with friends in a three-bedroom, four-bath apartment. There was a pool, laundry room, and landscaped lawn. We split the $1,600 rent equally. 
---
[Editor's Note: Brick Underground's series The Newcomers features first-person accounts about why a renter or buyer decided to take a chance on NYC and live here now. Have a story to share? Drop us an email. We respect all requests for anonymity.]
---
I loved having an affordable rent and the quality of the apartment. It wasn't very modern—but it had a new kitchen and bath. The management took care of the building and the property. I did not like sharing a laundry room and wished it was a gated property. It was secluded but had no security for safety. 
The neighborhood—right by Loma Linda University—was very suburban, mostly families and university employees, so the area was pretty safe and quiet. There were some fancier restaurants about 30 minutes away but there weren't many upscale dining options in the town itself. 
I did like Mission Inn Hotel & Spa in Riverside, CA. That's the go-to spot for the holiday season for dinner and drinks because of the holiday lights. I also liked Haven City Market in Rancho Cucamonga, CA, for outdoor dining. And I enjoyed Victoria Gardens in Rancho Cucamonga, which was part of an outdoor mall. There were plenty of Chinese, Lebanese and Indian places near my home to order from. For exercise, there were also a lot of outdoor hikes and trails nearby.
I was a medical student at Arrowhead Regional Medical Center in California, and my commute was generally 15 minutes by car (which I sold when I moved to NYC). The car was useful because most places were about 20 minutes away. If I didn't drive, I would have to use an Uber or Lyft.
At the end of medical school, I wanted to get matched with a hospital in California but instead matched at Jamaica Hospital Medical Center in Queens. So I immediately started looking for apartments in March because I needed to be in NYC by the end of May. 
When I started apartment hunting, I didn't have a good sense of what rents or apartments in NYC were like. I connected with some agents online and then set up viewings for a trip to NYC.
It's a very different process to rent an apartment in California. When I was looking for my former place, I just drove around the area I wanted to live in and went into leasing offices and asked to see what was available. 
I found Kunal Khemlani, an agent at Living New York, through StreetEasy. He explained to me how rentals work in NYC while helping me rent from out of state, including sending me videos in advance of apartment viewings. I decided to look for a studio in the Forest Hills area with a budget of $1,600 per month. When I visited NYC, I saw about 10-15 apartments in the span of five days. 
I finally chose a prewar studio, which seemed typical for this area of Queens. It is clean, but not very modern. It has a shared laundry in the basement. 
It was costly to move cross country, but otherwise uneventful.
The location is convenient: just an eight-minute walk to the 71st Avenue subway station where I can catch the E, F, M, and lines. Alternatively, I can walk eight minutes in the other direction and be at the 67th Avenue subway where the M and R stop. My work commute is usually about 15 minutes. I take the E train just a few stops. Sometimes I take an Uber to work and the trip is about $13. I'm also just a few minutes from Austin Street, which has a ton of shopping and my gym. 
I think the neighborhood is cute, although not very quiet. But I'm in NYC and like the street noise and hearing the cars pass by. There are a lot of families and elderly people living in my area.
I still wish I had a private laundry room on my floor or a washer/dryer in my unit but that is not realistic for a NYC rental at my budget. I also wish my building's laundry area was better maintained and cleaner. Laundry is definitely more expensive here; even getting dry cleaning is pricier here compared to the West Coast. Not having a car makes food shopping inconvenient. 
After exploring the area, I found new favorite bars and lounges on Austin Street. Mojo Restaurant, also on Austin Street, has great Cuban food and drinks. 
People in NYC have been friendly. I mostly socialize with people from the hospital and friends from back home who are now working in the city. It has been relatively easy to meet people. My family has come to visit a few times and so have friends. They all love the area, appreciate the safety and like the proximity to shopping and restaurants. 
It took a while to get used to the area but now I like it. I like that it is not too crowded and polluted and it's close to work.
I think I will be here for another two or three years, but I'm not quite sure after that. I think long term I need to be somewhere warm. 
Brick Underground articles occasionally include the expertise of, or information about, advertising partners when relevant to the story. We will never promote an advertiser's product without making the relationship clear to our readers.