We've got to hand it to the brokers staging the photos for this $3,500 two-bedroom. Despite the fact that the kitchen is rather tiny, they managed to eke out a space for an "eat-in" area. We'd imagine if you're actually planning on cooking in that kitchen, you'll chose not to put a table and chairs there. This is a classic walk-up apartment (three flights up!) on First Avenue, in a neighborhood on the southern tip of the Upper East Side and the northern tip of midtown (also known as Sutton Place). 
Judging from Google Street View, the buildings is no-frills and you're steps from the Queensboro Bridge. For some that might be a major con, for others a pro. So what should you do? We asked our experts (and veteran renters), RentHackr founder Zeb Dropkin and freelance writer Lambeth Hochwald, to weigh in with me on this week's Take It or Leave It.​
The apartment:
Size: Two-bedroom, Two-bath
Location: 1071 First Avenue (between  58th and 59th Street)
Monthly rent: $3,500
Flexible layout: No
Days on the market: 72
Subway: N, Q, R, 4, 5, 6 to 59th Street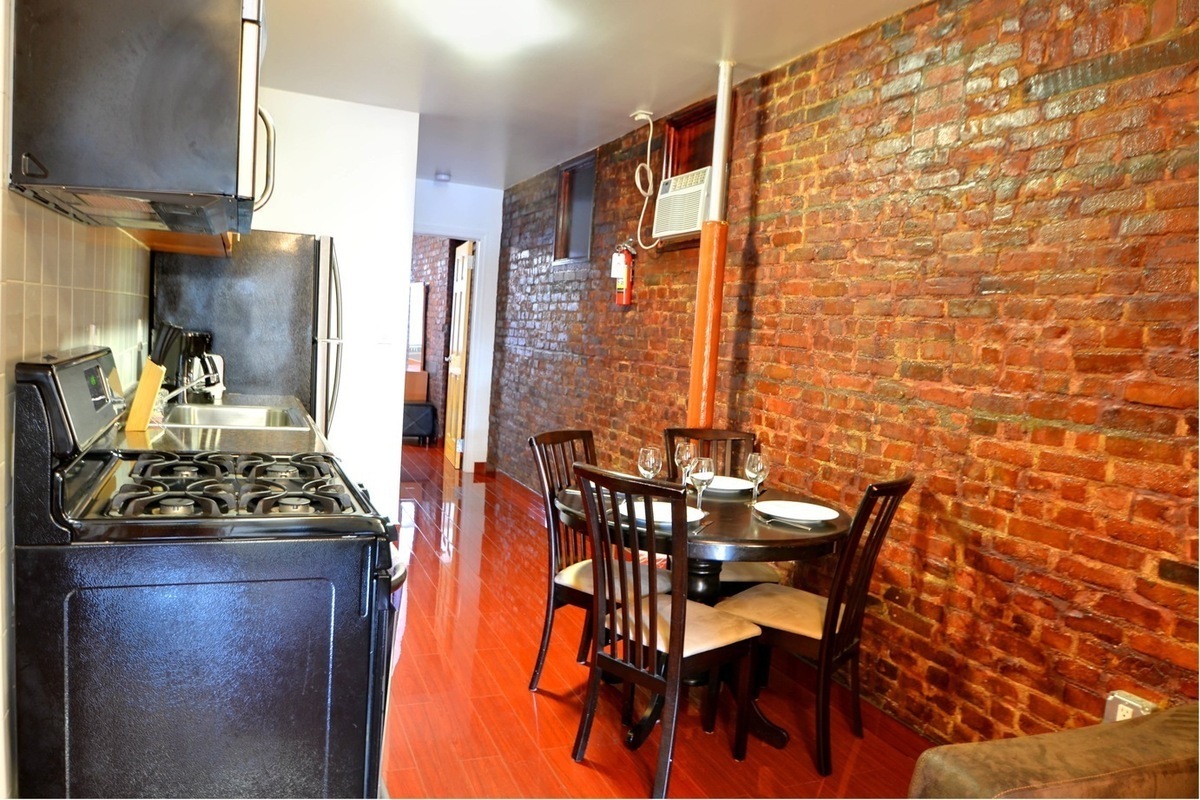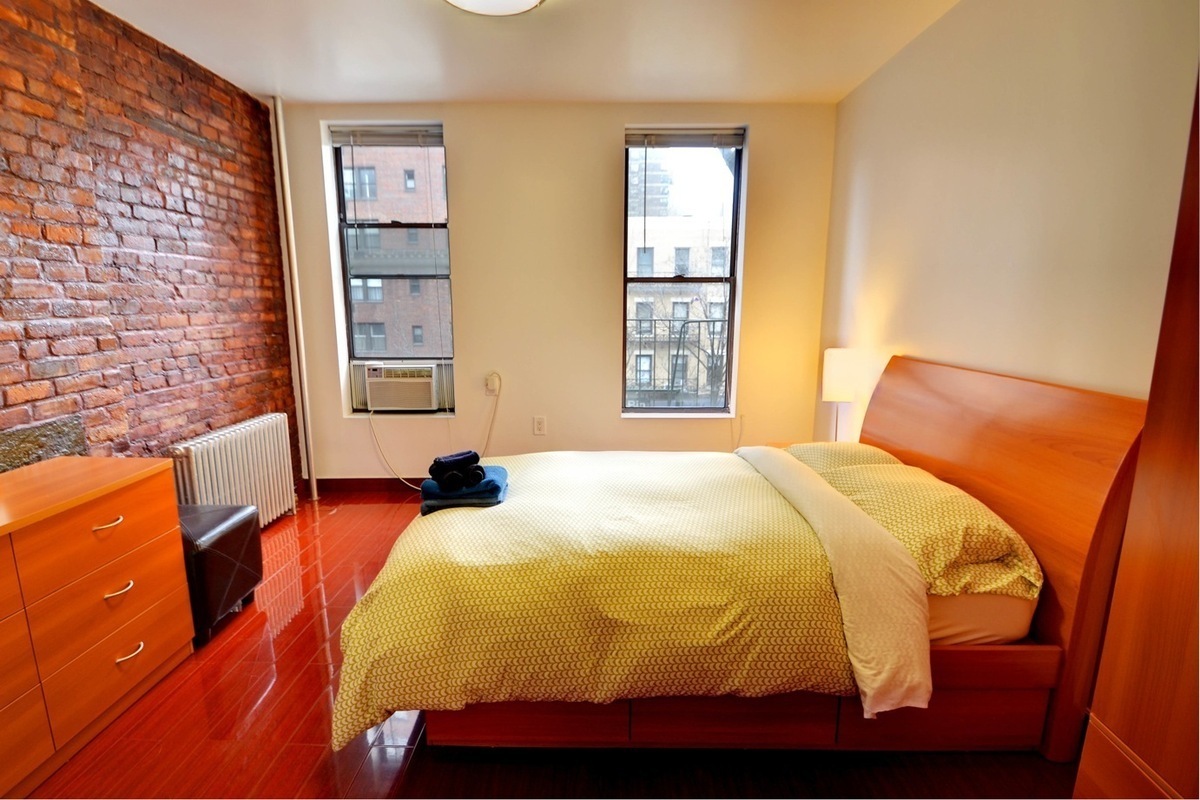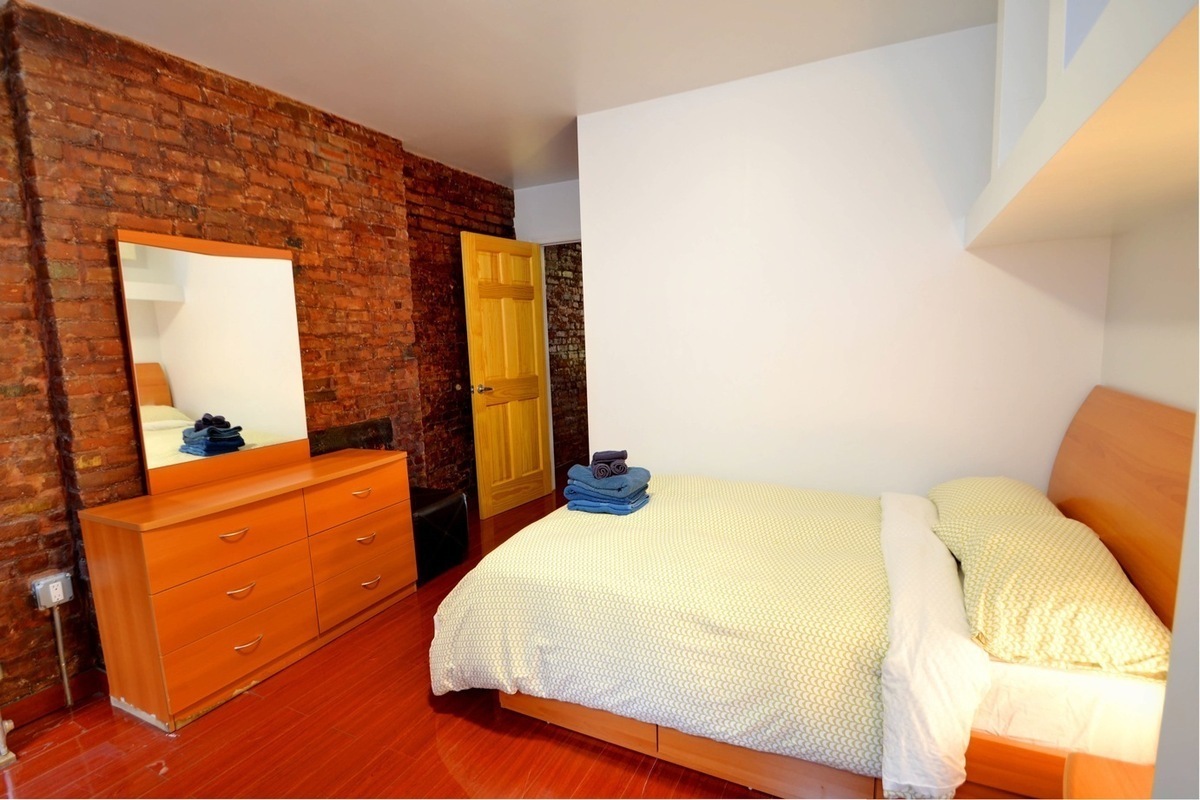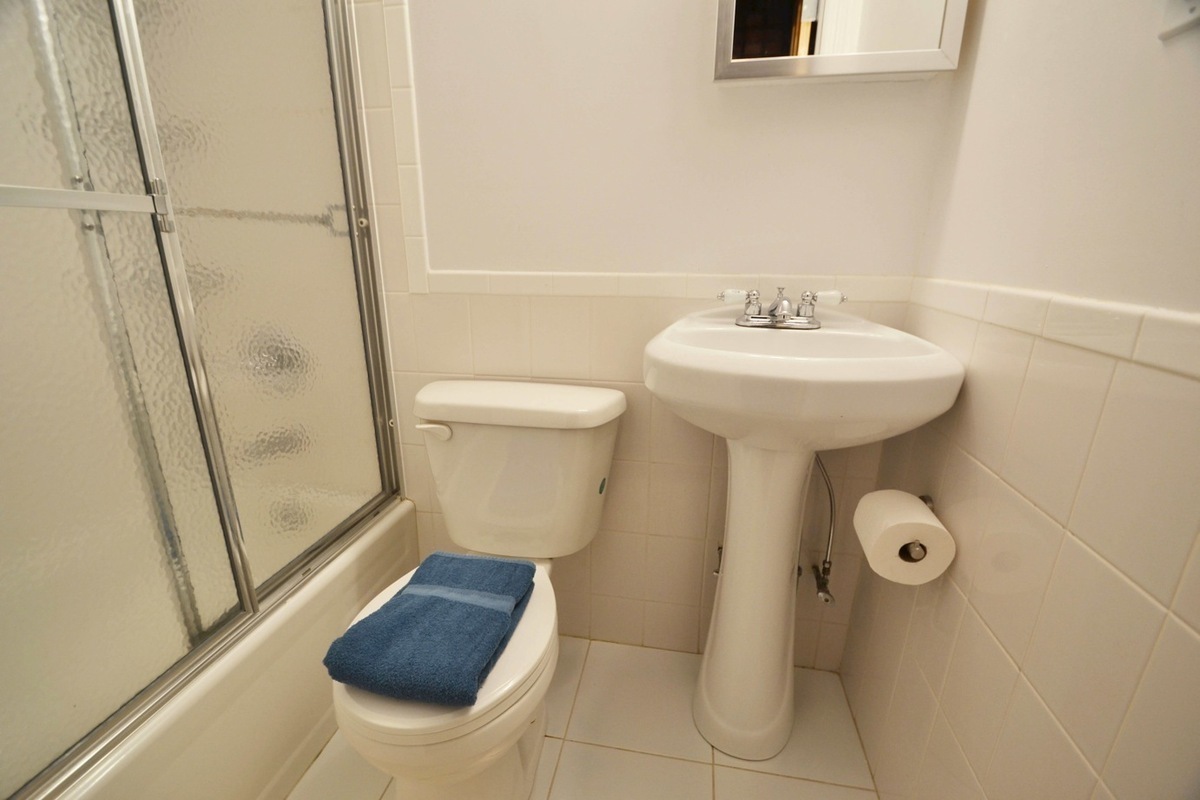 Pros and cons:
"I like the fact that the bedrooms are on opposite sides of the apartment (good for roommate privacy) and the exposed brick is a nice touch. It's also a pleasant surprise that there are two bathrooms (one is en-suite). That said, the place is going to feel small quickly, and I'd imagine the French-style sliding doors that separate the tiny living space and one of the bedrooms (which I'd imagine was once part of the living room space) don't keep sound out that well. Plus, according to StreetEasy, the place seems to be going on and off the market a lot and has been on the market for over two months. That's got to make me wonder if, in person, it's just too teeny-tiny or the building's just too ho-hum." —Lucy
"This exposed brick two-bed, two-bath is a 10-minute walk to lots of train options. But it's a fourth-floor walkup [and] it's converted from a one-bedroom to two, losing the living area in the process. No pets allowed and and it's pretty far from green space."—Zeb
"There's something lovely about this place—perhaps it's the exposed brick or maybe it's the French doors—but I'm digging it and the price. Unfortunately, since this is a walk-up to the fourth floor you better be sure you're in shape to make it that many steps up with grocery bags."—Lambeth
Who would this apartment be perfect for?
"Either roommates who travel often for work or a couple who want an office space and are cool with a walk-up. Extra points if you have a car and need to travel to Queens." —Lucy
"Roommates looking to share in midtown for less under $1,800, each who need their on bathrooms might be a good fit here." —Zeb
"A young married couple who won't balk at running down the stairs to do laundry or pick up a carton of milk."—Lambeth
The verdict(s):
LEAVE IT "The combination of less-than-picturesque street, the three-flight climb and the small space doesn't warrant the price. That said, I bet you could negotiate at least on the broker's fee." —Lucy
LEAVE IT "The cons outweigh the pros at this location."—Zeb
LEAVE IT "Since it's situated right on First Avenue, I'm worried that this place has got to be super noisy thanks to all the cars merging onto the Ed Koch bridge one block away." —Lambeth