If you're not from New York City (and even if you are), it can be hard to wrap your head around how expensive and difficult it is to rent here. Consider this: Landlords in NYC want to see tenants with incomes of 40 (or even 50) times the rent.
And that's a tough requirement when apartments are so pricey: The median rent for a one-bedroom Brooklyn apartment in the first quarter of 2019 is $2,895—that's up 11.4 percent over last year, according to Douglas Elliman's most recent market report.
That means a landlord is expecting you to earn at least $115,800 if you want that lease. Of course, you could share that apartment with a partner or a roommate. (And a third option is to use a lease guarantor).
In most scenarios, you can count on spending a significant chunk of your income on your rent, but there are some finds in NYC—if you are willing to make a few sacrifices on your apartment wish list.
Here's one that's may be worth a sacrifice or three: This three bedroom in Bushwick, 1097 Putnam Ave., #2, is on the market for $2,650 a month. (The median asking rent for a three bedroom in Bushwick is $2,700, according to StreetEasy). Divided three ways, the rent here would be $883—but there are some downsides to sharing this apartment: There's only one bathroom, it may be noisy outside, and there are no amenities. 
On the plus side, the apartment has been renovated—and the woodwork around the windows is very handsome. There are also hardwood floors, high ceilings, exposed brick, and an open kitchen with stainless-steel appliances (including a dishwasher). 
Apparently, all three bedrooms are queen size. It's hard to tell if that's accurate. There are only two pictures of the bedrooms, no floor plan, and the overall size of the apartment is not listed. The bathroom appears to have been renovated, too.
The building itself is a handsome, 1910 three-story red brick, set back from the street and behind a gate.
As for the neighborhood, this is not the part of Bushwick where you'll find lots of new places to eat, shop, and hang out. But the J train is four blocks away at Gates Avenue. Around the corner is Artist & Craftsman Supply, and casual vegan restaurant Toad Style, as well as a community garden, store-front church, and grocery store. The elevated subway tracks nearby probably means you'll experience some intermittent noise.
As for a commute to Midtown, it's about 36 minutes to the Empire State Building.
So what is the verdict? Would you live in this apartment far from the hip part of Bushwick? 
As always, when weighing New York City apartment listings, we turn to our Take It Or Leave It experts: Constantine Valhouli, founder of real estate research and analytics firm NeighborhoodX, freelance writer Lambeth Hochwald, and myself.
But first, here are pictures of the apartment.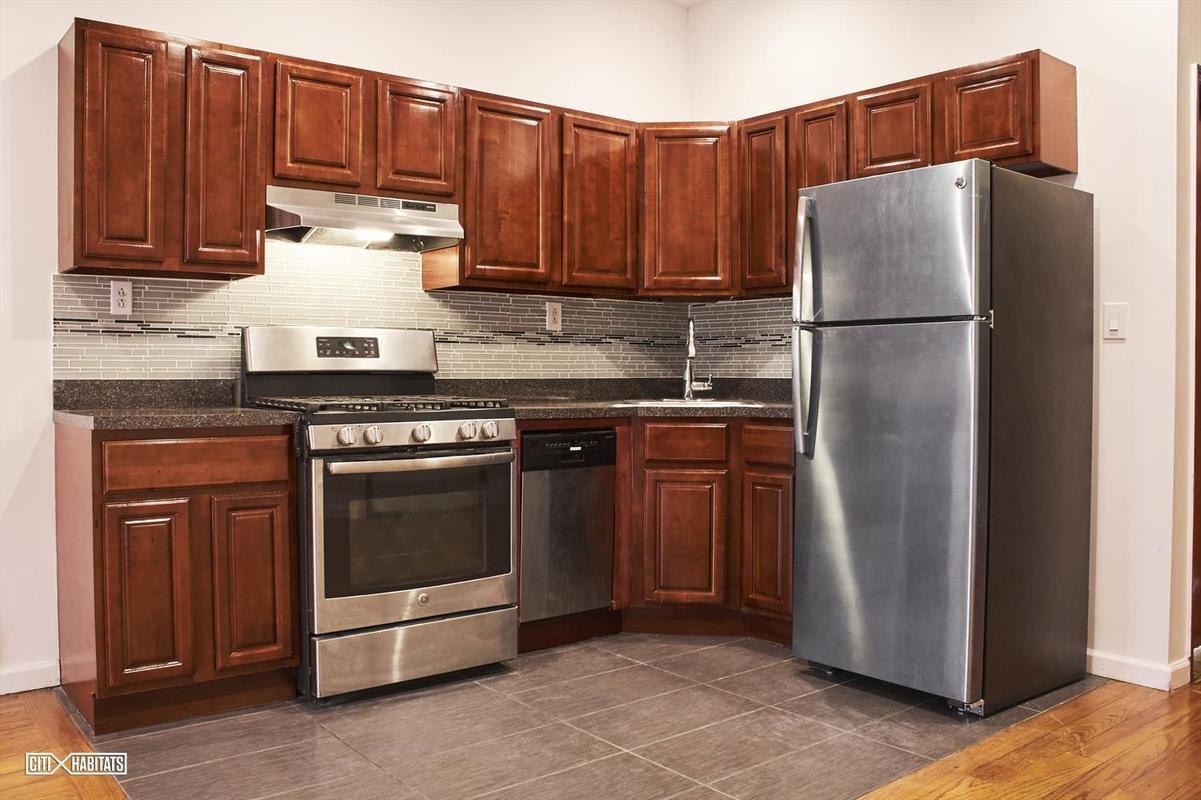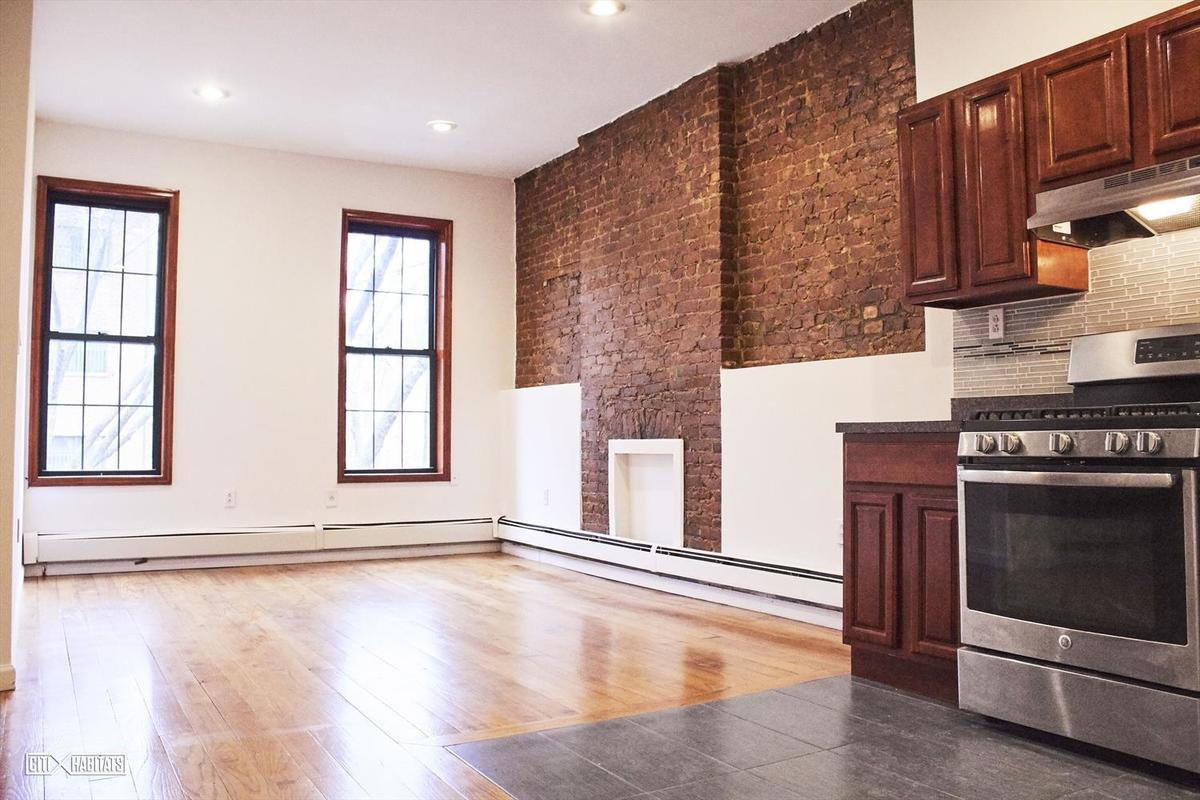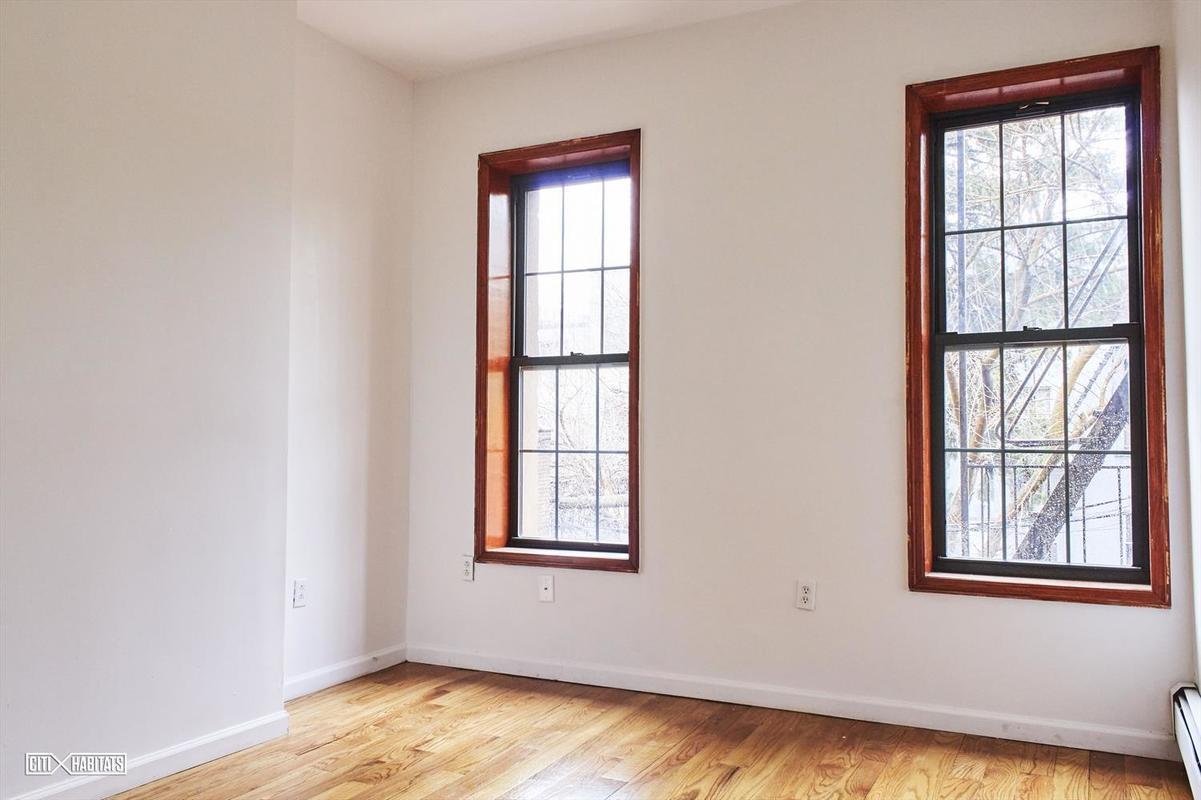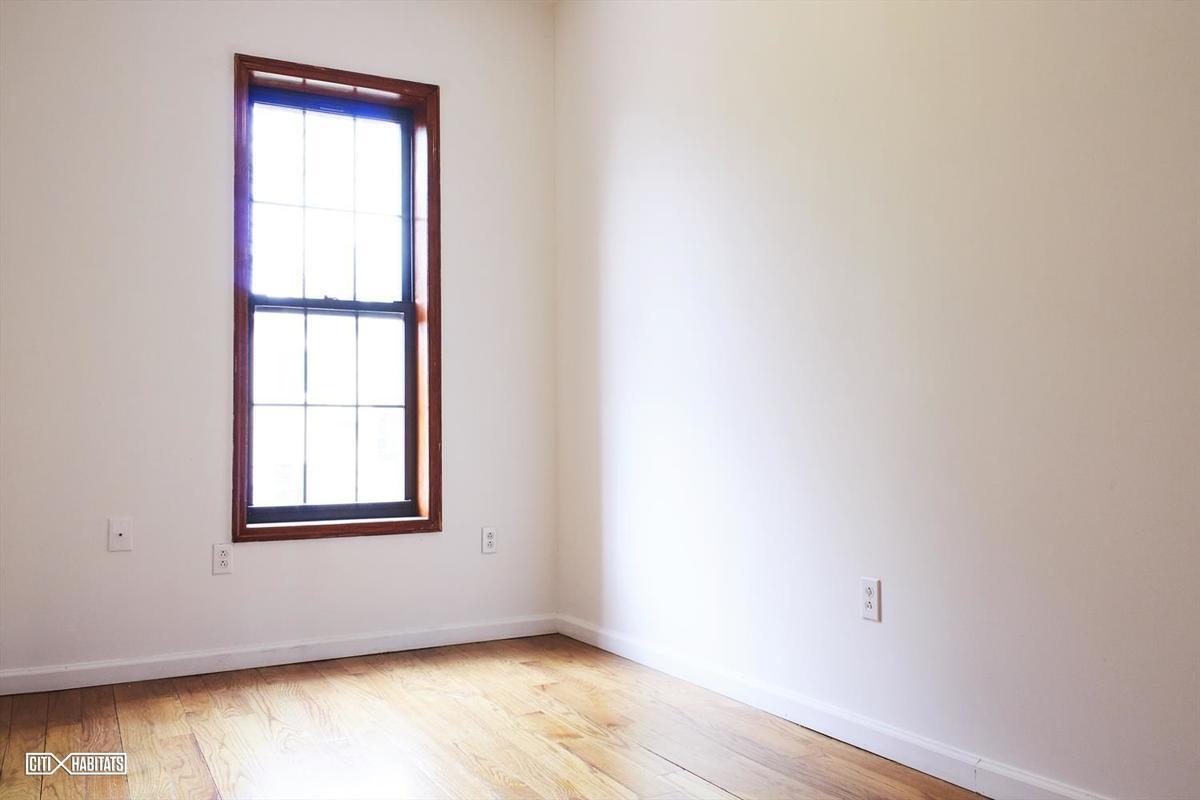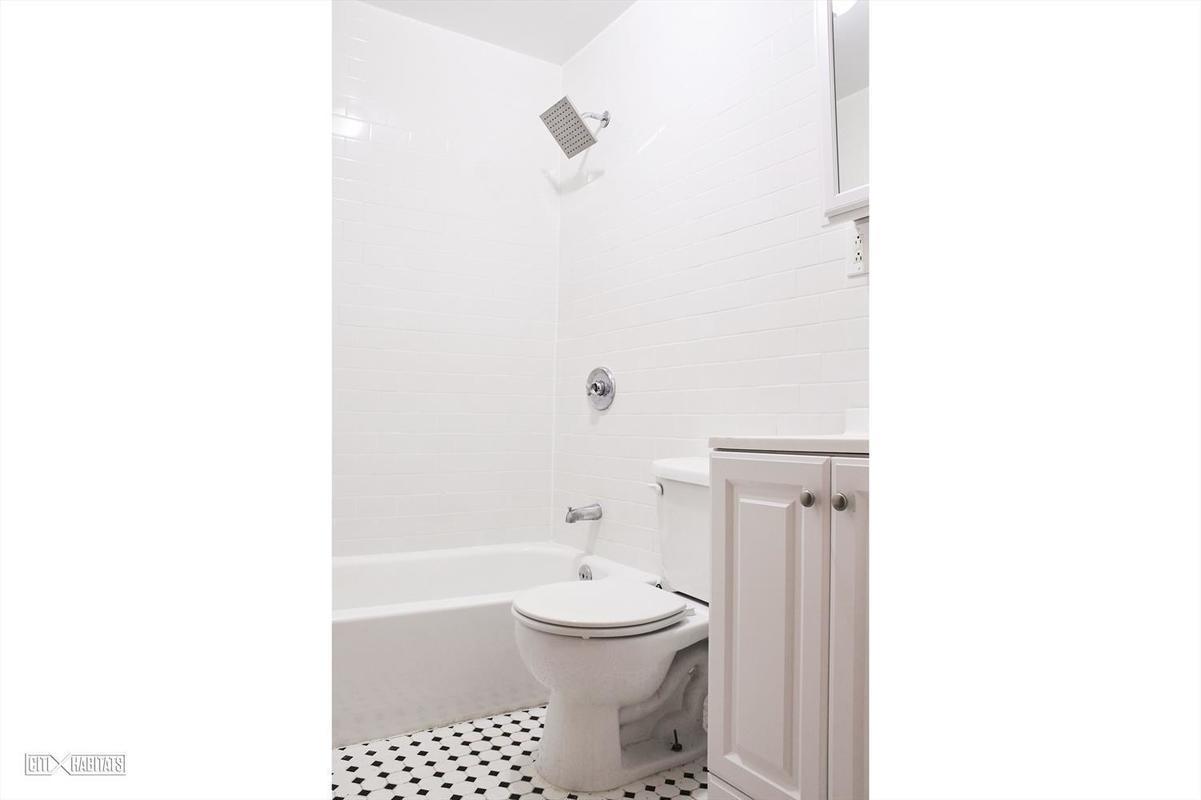 Pros & cons
"This tidy Bushwick three-bedroom is cute as can be—provided you're a fan of the color brown. It's brown all over in this place, from the kitchen to the window casements to the exposed brick. The other trouble with this place: it's not exactly prime Bushwick if you move here." —Lambeth Hochwald
"It's a bit bland, but I'm not going to nitpick: It's under $900 per bedroom for three roommates. At that price point, I'd live in a corrugated steel shack behind the sloth enclosure at the Bronx Zoo." —Constantine Valhouli 
"It's nice renovation, except for the baseboard heater that runs across the exposed brick fireplace—ugh. It's hard to tell how big this place is, but it's got a dishwasher, and you don't have to pay a broker's fee. And of course the low rent is very attractive." —Jennifer White Karp
Whom is it good for
"I truly feel like this place is calling out to a small family who don't mind sharing a bathroom and would get a kick out of being a step away from hipsterville." —Hochwald
"Find two friends and take it. But buy a potted plant so you can pee into it in case there's a long line for the bathroom (electrolytes, it's what plants crave). It's one of the few places where the Venn diagram of 'Bushwick' and 'affordable' overlap." —Valhouli
"It could be a good situation for a family with one income, or newcomers just getting started on their careers, or roommates who work part-time. (Also: Eww, Valhouli. Is that really a thing?)" —White Karp
Take it or leave it
TAKE IT. "Provided you're a fan of the J!" —Hochwald
TAKE IT. "The joy of moving to New York City is moving to the edge of an established neighborhood and being witness to the rapid changes that would take a generation to happen in whatever your hometown might be. And then you've earned the right to brag/complain that you were there before it was cool/how the new condos are ruining the neighborhood. Before you eventually get a job in finance and start doing cashfans on Instagram and move to the East Village."—Valhouli
TAKE IT. "The downsides of this apartment are doable, and the rent means you could live your dream when your dream is something other than your day job." —White Karp
Brick Underground articles occasionally include the expertise of, or information about, advertising partners when relevant to the story. We will never promote an advertiser's product without making the relationship clear to our readers.