Take It Or Leave It
Would you rent this renovated East Harlem three bedroom that's next to a schoolyard, for $3,099?
You could say there are two types of noise in NYC: The kind you can do something about, and the kind you can't. Most NYC noise, like traffic sounds, you can't do anything about—aside from not moving to a busy street.
It's hard to know in advance whether you're going to have noisy neighbors but figuring out whether the apartment you're considering is in a quiet neighborhood is doable, as long as you put in the legwork. Visiting a prospective apartment several times, both at morning and at night, is always advisable, to get a sense of what the neighborhood noise level is like.
That's especially recommended with this three bedroom, one bath in East Harlem, 240 East 110th St., #2. Checking the location on Google Map's street view shows the building looks over the schoolyard of a neighborhood public school, P.S. 83, so there's likely to be plenty of activity at recess and after school.
But if that's the type of noise you can live with, read on. Photos show a gut-renovated apartment with new flooring and a nice looking, although compact kitchen. There's not much in the way of counter space so you'd need an island here. The apartment has a dishwasher and washer/dryer in the unit, which is a nice perk for a rental.
The listing says it's a true three bedroom, but without a floor plan, it's hard to confirm, and not clear how large the rooms are or how big the living room is—definitely check that out. 
The apartment is asking $3,099 (it dropped by $151 yesterday, from $3,250), so it is less than median for three bedrooms in East Harlem ($3,200), according to StreetEasy. Also on the plus side: You're renting in a three-unit building built in 1996, not a large, impersonal building. 
It's two blocks from the 6 and 4 trains on Lexington Avenue—a 30-minute trip to the Empire State Building. Nearby restaurants include the famed Rao's.
Also known as Spanish Harlem, it's a neighborhood with reportedly the highest number of public housing residents. A rezoning in late 2017 and market cool down has apparently ground redevelopment to a halt in the area.
Still, one would be hard pressed to find a three bedroom in this condition in Manhattan or Brooklyn at this price.
What's the verdict? Could you deal with the school bells and ball playing next door?
As always, when weighing New York City apartment listings, we turn to our Take It Or Leave It experts: Constantine Valhouli, founder of real estate research and analytics firm NeighborhoodX, freelance writer Lambeth Hochwald, and myself.
But first, here are pictures of the apartment.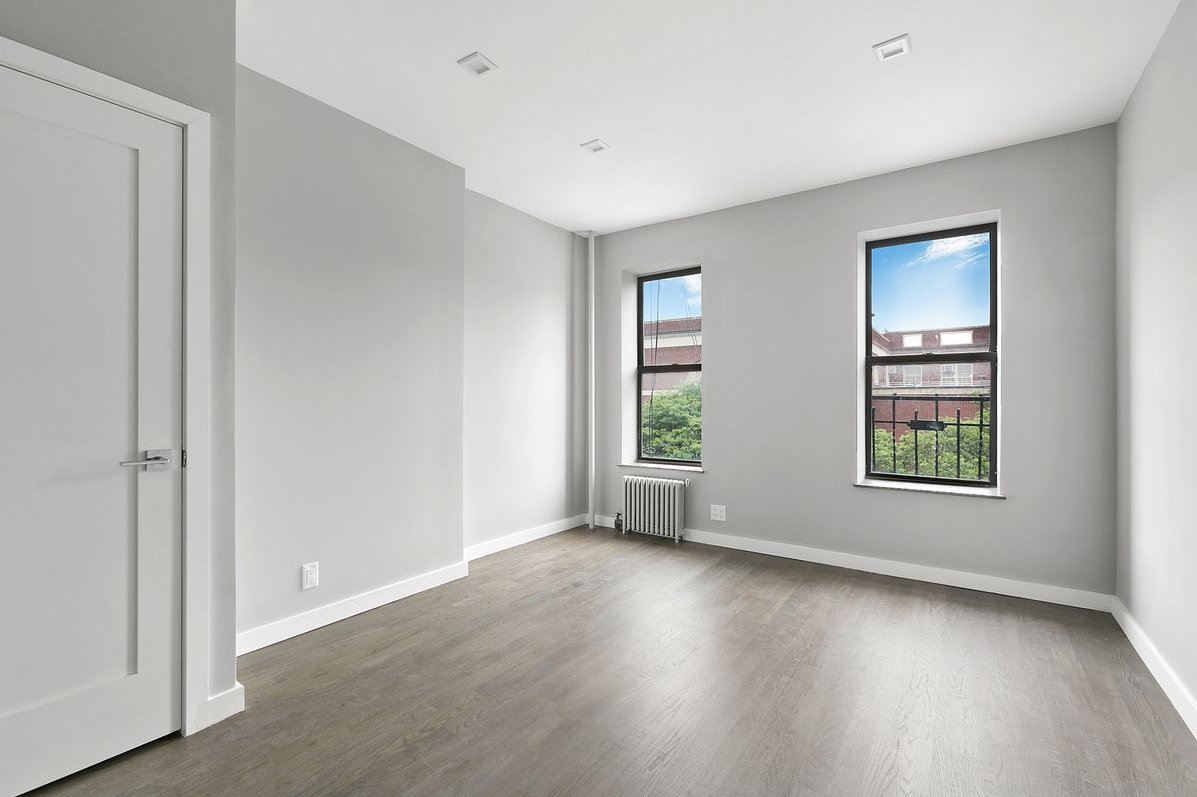 Pros & cons
"If dove gray everything is your jam, this three bedroom will be your cup of tea. The walls, the appliances—it's a monochrome lover's dream. That said, you've definitely got to check this one out in person to make sure the rooms aren't spliced in such a way that you'll feel cramped." —Lambeth Hochwald
"Living next to a school can be a deal-breaker for some—especially if you're freelancing and dig a mid-day nap at just the time where recess happens or the school day ends. This looks like a thoughtful renovation, especially the kitchen, and a place that would feel nice to come home to, at the end of the day." —Constantine Valhouli 
"It's priced very well for a renovated apartment with a dishwasher and washer/dryer in the apartment. It's close to the subway, and it's not a very long trip Downtown if you need to commute." —Jennifer White Karp
Whom is it good for
"Two med students starting their training at Mt. Sinai who won't be doing much cooking in the well-appointed but not the most practical kitchen." —Hochwald
"Someone for whom a larger, nicer space is more important than proximity to nightlife and downtown. A young family, perhaps? That said, Harlem's restaurant scene is becoming a destination." —Valhouli
"Roommates who don't work from home and don't mind sharing a bathroom." —White Karp
Take it or leave it
TAKE IT. "But invest in earplugs, especially during recess time in the schoolyard next door!" —Hochwald
TAKE IT. "Nice spaces in Manhattan at this price are few and far between. But be sure to spend time here during the school day to gauge the noise levels." —Valhouli
TAKE IT. "And if this is a new neighborhood for you, get out and explore it." —White Karp
Brick Underground articles occasionally include the expertise of, or information about, advertising partners when relevant to the story. We will never promote an advertiser's product without making the relationship clear to our readers.