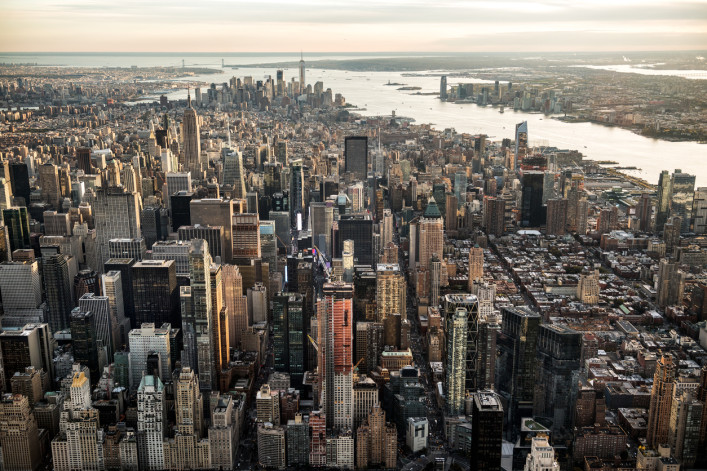 In the stressful, expensive process of moving apartments in New York City, one of the worst parts is pulling together money for the security deposit. On top of first and last month's rent, not to mention moving fees, it's a significant extra cost that ends up sitting with your landlord once you've settled into your apartment.
It's easy to see why the NYC rental market is shifting toward what's known as "deposit-free renting." In fact, it's the "preferred solution for both renters and landlords," says Ben Lantos, COO and co-founder of Rhino, a real estate startup at the forefront of the deposit free movement. The company has envisioned a system to not only eliminate the dreaded security deposit, but to replace it with something that works better for both landlords and their tenants.
But first, here's everything you need to know about deposit-free renting.
A traditional security deposit: A security deposit, simply put, is the deposit tenants pay to their landlord to ensure rent will be paid and the terms of their lease will be upheld. It's aimed at protecting the landlord when something goes wrong—say, major damage to the apartment caused by a renter. It's collected from tenants with the first month's rent, then returned after the renter has upheld the terms of their lease and decides to leave. The process often repeats itself all over again, as the renter typically takes back their security deposit, only to deposit it with the next landlord they rent an apartment from.
Why that isn't working: New York renters, understandably, hate the security deposit. In an overwhelming and enormously expensive moving process, it's more money given up front for damage that probably won't happen. And as more young people opt to continue renting, rather than buying a home, it's a significant amount of money that's unusable as you pass it from landlord to landlord.
In a rental market with an increase in rental concessions, the traditional security deposit has become unappealing for landlords too. Renters are struggling to afford the city's high-priced real estate, and landlords have had to get creative to fill buildings. To lure tenants, some have even waived security deposits altogether.
Deposit free renting: There's a simple solution: deposit-free renting. Instead of landlords requiring tenants to pay a large, upfront deposit, they can either waive the security deposit altogether or allow tenants to cover their apartment through a third party like Rhino. In exchange for this fee, tenants avoid the security deposit, their apartment gets protected, and the landlord is ensured that damages to the apartment are covered.
Why it works for tenants: Renters save thousands of dollars upon moving into their new apartment. They get to keep money that would have been passed between landlords and spend it on whatever they want. By choosing a deposit-free provider, instead of a large deposit, tenants pay a small monthly fee for the duration of their lease—tailored specifically to their monthly rent and costing significantly less than a full deposit.
How Rhino fits in: So you're ready to say goodbye to security deposits. (Isn't every New Yorker?) Cue Rhino, the third party operator who works between tenants and landlords to eliminate that payment. When you sign up for Rhino, your landlord is covered for your apartment automatically. It takes about 60 seconds to sign up and begin paying a small monthly fee (as little as $19 a month for a $2,500 per month apartment). Once you've signed up, your landlord can rest easy that their property is covered.
Finding an apartment that accepts Rhino: A number of major New York landlords, including Stonehenge NYC, the Brodsky Organization, and L+M Development Partners already accept Rhino, and more and more landlords accept Rhino every day because it offers better protection for less stress. You can check out deposit-free listings now open around the city here.
Renters can instantly find out if their landlord accepts Rhino by entering their address in the short pricing questionnaire on the website. If the landlord is not already onboard, Rhino will reach out to get them set up.
---
Brick Underground articles occasionally include the expertise of, or information about, advertising partners when relevant to the story. We will never promote an advertiser's product without making the relationship clear to our readers.