If you're new to New York City real estate, you're in for a few surprises—aside from the small size and high price of our apartments, which we assume you've been warned about. But that's not all that's different about renting in New York. Below, the experts at rental search site Zumper warn you what to prepare for—and how Zumper can give you the edge in your search.
1. There are a lot of apartments here...a LOT
You may have heard that New York is a town of renters, and it's true: Around two-thirds of apartments across NYC are rentals—the exact opposite of the rest of the country. Zumper has 57,000 active listings in NYC alone. 
"They are unique listings, not duplicated, like on many other sites," says Zumper's Devin O'Brien. "We've created the best de-duplication system of any NYC site, so you don't have to wade through multiple postings of the same apartment."
Zumper also enables you to filter nimbly through those nearly 60,000 listings by getting very specific in your search criteria. The most popular search topic, says O'Brien, is pet-friendliness (because not all New York City buildings are pet-friendly, and even those that are tend to have weight or size restrictions for dogs).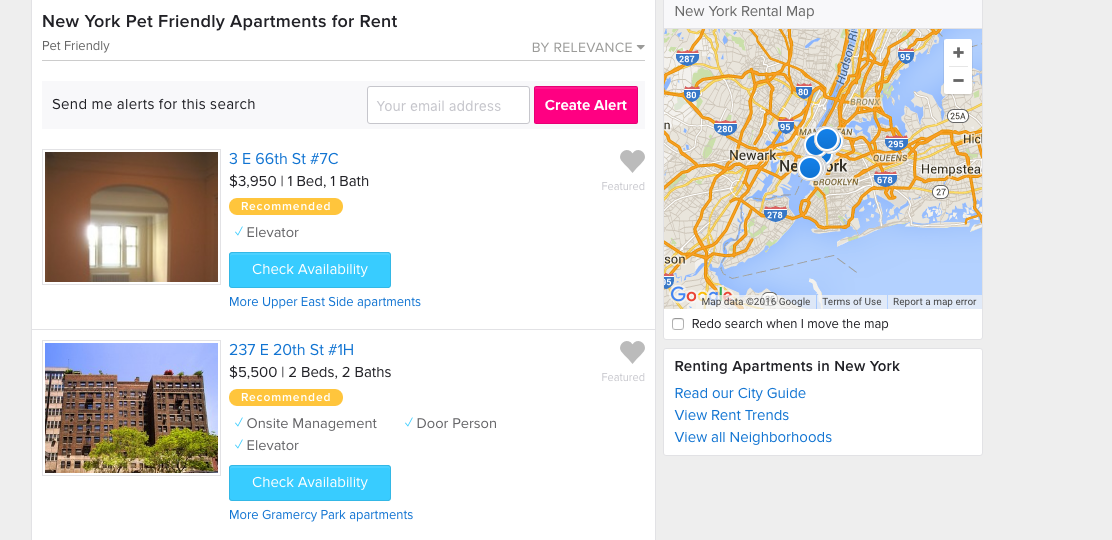 (Above) Zumper allows you to search through listings using very specific sets of criteria like "pet friendly"

You can create a search for anything—package room (where your drycleaning and other deliveries can be safely stowed), concierge, income restricted, swimming pool, roofdeck and more.

Plus, you can create alerts so that the moment an apartment that fits your criteria becomes available, you're notified.  That helps because you're not constantly weeding through thousands of listings, or hitting refresh over and over.

Looking for still more listings? Try Zumper sister site, Padmapper, where you'll find short-term rentals and sublets in addition to traditonal rental apartments. 
2. Most rentals come with broker fees, but you can try to get around them
Unlike most other cities, New York City renters typically pay a fee—a BIG fee—to a broker who helps them find an apartment. Traditionally the fee is 12-15 percent of the annual rent, which in a city with rents as high as New York, can be substantial. We're talking $2,880-$3,500 on a $2,000-a-month apartment.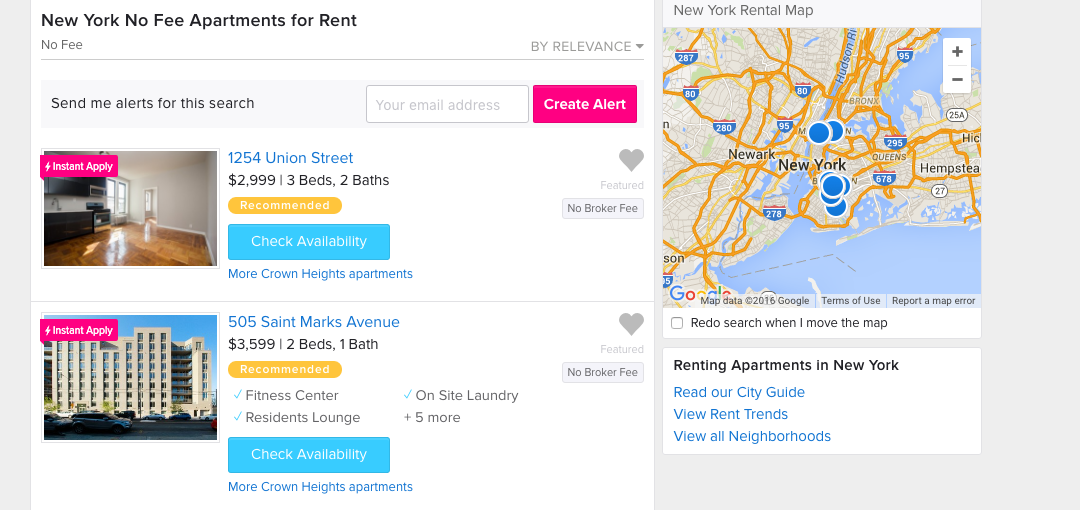 (Above) Sort through Zumper's no-fee listings to save thousands on a broker's fee.
Luckily, there are some "no-fee" apartments in which the owner pays the fee or in which the landlord is renting directly, to tenants without the help of a broker. Often these come in brand new buildings with lots of apartments that need filling (and these are often modern, amenity-filled options). You'll find these on Zumper's popular no-fee pages which lists 8,500 no-fee apartments as of this writing.
3. Each borough has its own personality
Each of the city's five boroughs—Manhattan, Brooklyn, Queens, the Bronx and Staten Island —have their own personality, perks (and downsides). Manhattan is busiest and most densely populated. While Manhattan has traditionally been the most desirable borough in which to live (as well as the priciest), Brooklyn, in the eyes of many, has usurped that title in recent years. It has a slightly more laid back vibe, and lots of brownstone and cobble stone-street charm (plus myriad hip restaurants and shops). In fact, Brooklyn has gotten so hot that you're not going to see huge price differences between the borough and Manhattan any longer.
If suburbs in the city are more your style, Queens and Staten Island might be best, though the feel can vary from neighborhood to neighborhood. Generally, areas closest to Manhattan tend to be priciest, most desirable, and therefore most full of amenities (and you'll likely experience the shortest commutes if you live there). The Bronx has gotten a lot of attention of late and has attracted newbies to the city who want to take advantage of its relatively affordable housing options (some areas of the Bronx are very residential, some more commercial). 
Zumper allows you to search for apartment by boroughs, so if you think Queens, for example, is more your speed (or your budget) you can focus your search there. 
4. You have to move fast to get an apartment, especially during the summer
During the busy summer rental season, apartments rent at the speed of a Metrocard swipe, so you need all your required paperwork at the ready in order to beat out the competition (that includes pay stubs, letters from employers, applications and credit checks). 

Zumper can help you cut down on the time it takes to get everything with its Instant Apply feature in which you can (securely) create an Experian Credit Report (landlords require those) and a Rental Application, and then apply to all the apartments you like directy on Zumper. It costs $10 to run your credit/eviction/criminal reports.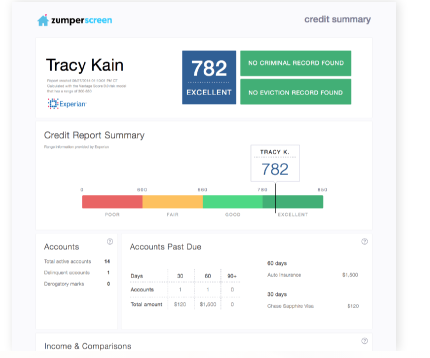 (Above) On Zumper, you can have your background check completed and fill out a one-size-fits-all application directly on the site.

You don't need to fill out 10 different applications for 10 apartments.

All listings that carry the "Instant Apply" mark guarantee they will review your application. You can also offer to share your application with any other listings on Zumper, or securely share it with a landlord or agent's email address.
5. Neighborhood descriptions are notoriously loose with the truth
Many NYC rental listings will claim an apartment is in a particular neighborhood when it's actually just near that neighborhood, because the actual neighborhood isn't quite as desirable. So, it really helps to know the boundaries of a particular neighborhood.
"Our map view plots every listing on a Google Map, allowing renters to narrow their search to the exact location they would like to live," says O'Brien.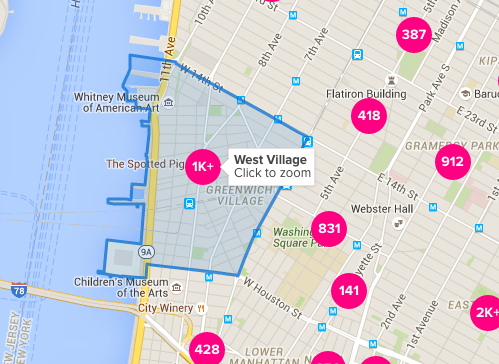 (Above) Zumper's maps show apartments within specific neighborhood boundaries. Pink means an apartment has been listed within the last 24 hours. 
In addition, Zumper's map displays all of Google's information for restaurants, nightlife, shops, etc. so you can make better informed location decisions, even if you don't know much about a neighborhood before moving in.
"We also provide custom neighborhood overlays on the map," says O'Brien. (See image above.) "When zoomed in, a pink marker denotes a new place listed in the past 24 hours, while blue means greater than 24 hours. This can be a huge help when looking for recently listed apartments, since they tend to rent quickly," says O'Brien.
---
Zumper is the largest start-up in rentals, and one of the most popular sites in NYC apartment search.  Begin your search now >>