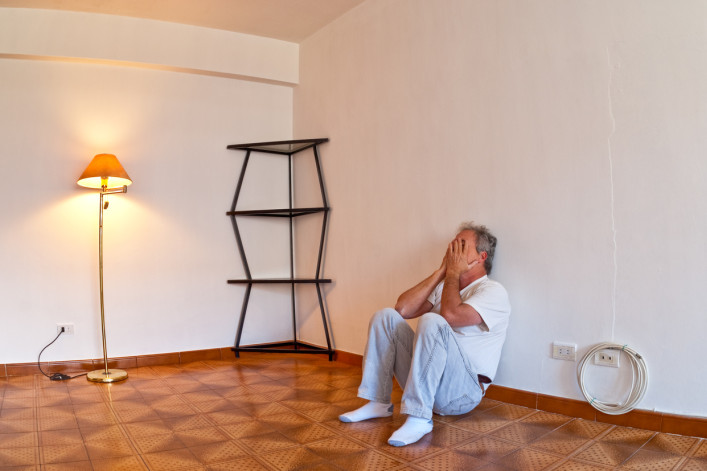 Renting an apartment in New York City after a divorce or break-up can be a double whammy: The emotional toll is compounded by the pressure of having to find a place to live, sometimes unexpectedly or without cash reserves or credit history, making what is a challenge under the usual circumstance seem nearly impossible.
Anne K. knows that experience all too well. Years ago, she found herself newly single after a break-up, searching for an apartment in New York City. She needed to find a rent-stabilized apartment because there was no way she could afford a market-rate apartment on her own. But the first few places she saw fell through.
"Then I got a lead... but there were tons of applicants," she says. "Someone told me to speak to Rose, the manager, so I went to her apartment. She was in her 70s and her apartment smelled like the medicine that she painted on the ailments on her legs. There were cockroaches everywhere. I never saw baby cockroaches before.
"I sat with her and had tea and she decided to give me the apartment. The fact that I spent time with her made all the difference," Anne says.
Chalk that apartment win up to determination, but there are other techniques to know if you're in a similar position. Professionals that Brick Underground spoke to offered their tips on how to approach renting an apartment after a divorce or break-up, and much of the advice centered on taking the emotion out of decision-making and doing away with stereotypical responses to divorce. Of course, that's easier said than done.
1) If you own an apartment, consider selling
Renting in the city is especially daunting if you have been out of the workforce while raising children. Most landlords want to see that your income is 40 times your monthly rent. If your income doesn't meet that steep threshold, you can get a guarantor, typically a friend or relative, but that person's income needs to be at least 80-100 times the monthly rent.
Pro Tip:
With Blueground, you'll shave weeks off finding and furnishing your new home. From studios to two-bedroom spaces, each of our turnkey apartments is thoughtfully designed and fully equipped from top to bottom. We provide a hassle-free experience and the flexibility to stay as long as you want — 30 days, a year, or longer. During your stay? You'll enjoy reliable support through our app, where you can request everything from a home cleaning to extra towels. Check out over 500 unique apartments in Williamsburg, Midtown, and other top NYC areas and compare prices here.
When Elise Pettus got divorced eight years ago, she stayed in the place she previously owned with her husband, a traditional pattern. But as the founder of Untied, an online magazine and divorce resource, Pettus urges women to do things differently. Holding onto the family apartment, she says, "something that many women, mothers in particular, feel they need to do at all cost," does not benefit them financially.
"It's a knee-jerk response," she says. "Women, especially mothers, feel they have to do it for the kids. But the attachment gets confused with reality."
A couple's house or apartment is usually their biggest asset, but if the spouse who is remaining at home hasn't worked and doesn't have credit cards in her name, the cash she needs access to stays locked up in the property.
"I often urge women to consider selling and both [spouses] become renters," she says. "It offers more flexibility." (And get a credit card in your own name, stat.)
Selling may sound like yet another unwelcome ordeal, but Pettus argues that it's well worth it.
"I see a huge amount of stress around selling for stay-at-home moms," she says. "But once they are in a rental, it is the best thing ever. They feel a sense of freedom and have creative control to express who they are, which is surprising since they are often in a smaller space. It's an important piece of starting over."
2) If you have kids, stay (geographically) close to your ex
Pettus also recommends that divorcing couples with children remain geographically as close as possible, which will have a great impact on how well the children fare.
"Convenience becomes everything," she says. "If you're far from school, far from friends, it can impact how much the child wants to be with you."
3) If you can afford it, talk to an interior designer
When the spouse who feathered the nest stays in the family apartment and keeps the furnishings, the new apartment can seem dreary, especially for the children. For that reason, the newly divorced are turning to interior designers to fix up their apartments.
Interior designer Beth Gibson, owner of Plot Brooklyn, who has been through a divorce herself, says she's seen apartments of newly divorced fathers furnished with "stuff they had in college. It doesn't feel remotely comfortable."
She urges these newly divorced men, who she says in general are "not great at reaching out for help" to "edit, edit, edit" their possessions.
"It's all about sensitively saying, 'You're ready for a fresh start, for your kids and yourself,'" she says. She also tells clients "to think about when you're dating again. No sophisticated woman is going to want to spend time here."
Her goal is to make the apartment as cozy as possible while being price-sensitive (she charges by the hour). That usually means starting with a sofa, often a sleeper couch.
4) Get help packing and moving
Before you can decorate a new apartment, you have to pack and sort your possessions.
Pettus recalls spending a lot of time and money getting her ex's stuff out of the family home, another reason to opt for being the one to move out.
"It's almost easier to start fresh," she says. "This is a hugely painful process."
She urges the soon-to-be divorced to have a friend, or better yet, a professional organizer help with the process. Professionals can not only help sort and pack possessions, but can handle the logistics surrounding a move, including hiring movers, according to professional organizer Janine Sarna-Jones, owner of Organize Me, who frequently works with people in the process of getting divorced.
"Having to divide up your stuff and get out causes stress and can be very emotional," Sarna-Jones says. "There's so much going on with lawyers and finances. Having someone to deal with the stuff and where it has to go relieves some of the stress."
One of her clients was moving out of a place that her husband had decorated. She only wanted to take her own stuff, Sarna-Jones recalls.
"She wanted a clean slate," she says. Sarna-Jones helped get her into a new space and make it feel like her own.
"When you move to a new apartment, there are a lot of details I can help with," she says. Some of the support can be emotional as well: "I can be a pair of ears and I can give you a hug. My main function is not to pick a side but to get things done and support you in separating."
Brick Underground articles occasionally include the expertise of, or information about, advertising partners when relevant to the story. We will never promote an advertiser's product without making the relationship clear to our readers.