Realty Bites
My landlord says I can't hang things on my apartment walls. What's the deal?
It's rare but a landlord is within their rights to ban renters from nailing things up
Check your lease for guidelines and patch any nail holes before you move out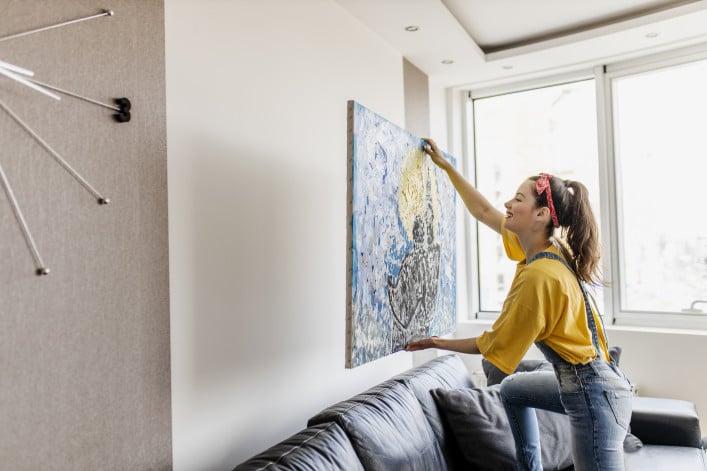 I moved into a new apartment and the landlord says I'm not allowed to hang anything on the walls, even though I could patch the holes when I move out. Are they allowed to forbid this?
It's not common for a landlord to ban you from hanging items, says Steven Kirkpatrick, partner at Romer Debbas. You should check the alteration provision in your lease first. If it's not included in the lease, then this wouldn't be enforceable, Kirkpatrick says.
Can a landlord put a ban on hanging things on the wall? 
Every landlord is different. For example, Arik Lifshitz, CEO of DSA Property Group says their leases state that tenants cannot affix anything to their walls, but the real concern is what happens when something is taken down. If it leaves a hole the size of a nail, then it's fine, he says. 
If the hole is larger than the size of a nail, then it's considered damage, Liftshitz says. So if you remove a mounted TV and it leaves significant damage, you must fix it before you move out, or you'll have to pay for the damage, Liftshitz says.
---
[Editor's Note: Realty Bites tackles your NYC rental questions. Have a query for our experts? Drop us an email. We respect all requests for anonymity.]
---
Ellen Sykes, a broker at Coldwell Banker Warburg, says she represented a landlord of an Upper East Side townhouse who prohibited tenants from hanging up artwork because the owners had done significant work to seal lead paint. Instead they installed picture moldings for tenants to hang things from with wires, Sykes says. 
The landlord has a one-page rider outlining what tenants can and cannot do with the walls. Sykes says the landlord did eventually allow a tenant to install TV brackets.
Bill Kowalczuk, a broker at Coldwell Banker Warburg, says while he doesn't see this situation often, a landlord is within their rights to ban you from hanging items on walls. 
And even if your landlord doesn't prohibit you from putting nails in the wall, you should ask for permission before installing things that will cause more damage like closet systems and TV brackets.
Do you have to patch holes before you move out? 
All leases have a clause that requires the tenant to return the apartment to the landlord in the condition they received it in, Kowalczuk says. In most cases, landlords are fine if you patch the holes before you move out. And some landlords do not care if you leave brackets on the wall, or don't patch the holes because it's considered normal wear and tear, says Becki Danchik, a broker at Coldwell Banker Warburg. 
If you aren't sure if you should patch certain holes before you move out, ask for an inspection of the apartment to clarify what you should do before you leave, Kirkpatrick says. You should also take photos of the apartment to document the repairs, he says.
Will you lose your security deposit for hanging items on walls?
If you leave holes that are large enough to be considered more than normal wear and tear, then your landlord does have the right to withhold at least part of your security deposit to make repairs. Be aware that owners must provide you with an itemized list of repair charges and return any remaining deposit within two weeks of you vacating. 
Renter-friendly ways to hang items
If you want to stay on the safe side of the wall-hanging debate, there are affordable products to use that won't cause any damage. 
You can buy a Command picture hanging kit ($13 for a 24 pack at Staples). They make various types for different size picture frames. For posters and smaller items, Scotch makes a removable mounting putty ($3 at Staples).
Command also makes products like hand towel bars ($16 on Amazon—I have this myself and it works great) and hair dryer holders ($15 on Amazon) with 3M adhesive that doesn't require you to drill any holes. 
Brick Underground articles occasionally include the expertise of, or information about, advertising partners when relevant to the story. We will never promote an advertiser's product without making the relationship clear to our readers.