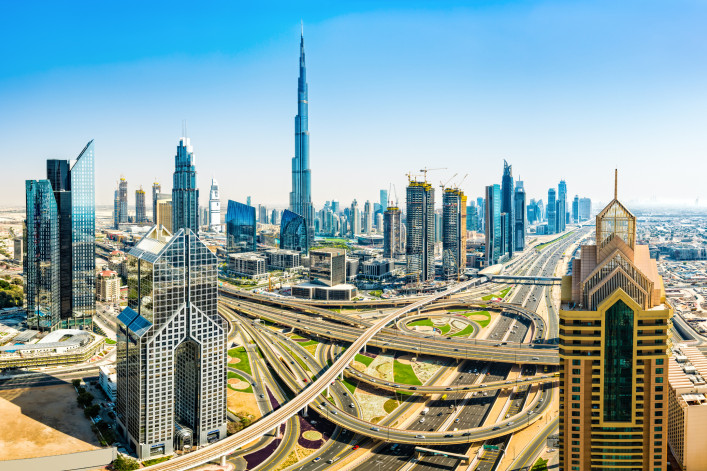 In our column, the Expat Renter, we check into how leasing an apartment works in other cities and compare it to the (sometimes intractable) process New Yorkers have to go through here.
Dubai, the largest and most populous city in the United Arab Emirates, has completely transformed over the past 40 years. Now famed for its glittering skyscrapers and a rich mix of architectural styles, this modern metropolis of 2.9 million had a population of only 49,000 prior to the game changing discovery of oil in 1966. 
One of the world's fastest-growing cities, and often dubbed a nation of expats, the UAE is home to the second largest economy (after Qatar) in the Middle East, and is one of the wealthiest countries in the region. Banking, construction, oil and tourism are major growth industries offering expat professionals a large number of opportunities – so many, in fact, that over 90 percent of the population is foreign born, according to World Population Review – diversity that overwhelms New York City's comparative 37 percent. This mix of employment options and rich, multicultural flavor is a major draw for New Yorkers.
Dubai is arguably most famous for its towering Burj Khalifa, the world's tallest skyscraper at 2,717 feet (almost twice as high as the Empire State Building), whose design is derived from the patterning systems embodied in Islamic architecture, with a triple-lobed footprint that is based on an abstract version of the hymenocallis desert flower, fauna that is native to the Dubai region. This symbolism links modern Dubai, which boasts the world's tallest skyline as of 2010, to the city's deep history and culture. Traces of its more modest origins as a small fishing settlement linger in Old Dubai, an area in the bank of the saltwater Dubai Creek with well-preserved historic sites. From the Gold Souk, a labyrinth of covered walkways and over 300 jewelry shops, to Dubai Heritage Village in the Al Shindagha district, a well-preserved traditional Arabian Village, the area reflects the rich variety of neighborhoods, cultures and housing types available in this fascinating city.
The landscape: 
Unlike in most parts of NYC, rents are at their lowest point in three years
While property prices are high in the UAE, it's a relatively good time to enter the market as a renter in Dubai. After a three-year slump, rents (and prices) have reached their lowest points, according to a 2017 Trends Report from propertyfinder.ae. From a market peak in September 2014, rental rates have fallen by 9.7 percent for apartments and 13.3 percent for villas, with some submarkets more affected than others. (In the villa segment, for example, Jumeirah Islands fell 17.1 percent, while in the apartment segment Jumeirah Beach Residence slumped by 13.9 percent and Downtown Dubai by 9.1 percent.)
Year over year, there has been a decline of between 5 and 15 percent in rental rates, according to Kalpesh Sampat, COO of SPF Realty. The reasons for the slide are a mix of falling GDP, rising inflation and cost of living coupled with a softening job market. On a more immediate level, however, the tumble is simply the result of inventory oversupply.
Dubai's new development market has boomed in recent years, taking the total stock to over 480,000 units, according to JLL's Dubai Real Estate Market Q2 2017 Overview report. In 2017 alone, upwards of 30,000 new units are slated to hit the market – a tenth of which were already on offer by the end of the second quarter. A secondary "shadow inventory" is also slated to come available, which is to say that properties previously used for capital appreciation are now being switched to income-producing assets, or homes with resident renters, according to propertyfinder.
The search: You won't find brownstones, but you will find high-rises and villas with inner courtyards
For renters ready to embrace modern Dubai at its most gleaming and urban, Downtown Dubai is the heart of it all. Home to the city's international financial center and the towering Burj Khalifa, it is a fairly new and modern area with a mix of residential apartment towers, office blocks and hotels. The quality of inventory here tends to be very good and there is a range of prices (some of which sound downright cheap compared to New York City): $16,329-35,380 annually, or $1,360-$2,948 monthly, according to international residential and commercial property brokerage Tranio.com. By comparison, the median rental price in Manhattan is currently $2,650 for a studio, $3,450 for a one bedroom, $4,500 for a two bedroom and $6,000 for three bedrooms or more, according to the most recent Douglas Elliman rental market report.
 In terms of location, the area is central with access to both new and old Dubai. Dubai Marina is an equally modern, urban hub, built around a man-made marina and set one road back from JBR, is a popular residential neighborhood comprised of high-rise apartment blocks, some with great views of The Palm Islands (three artificial islands–Palm Jumeirah, Deira Island and Palm Jebel Ali–pictured below). A number of the serviced (fully furnished with hotel-like amenities) apartment towers here offer a mix of short- and long-term rentals. The neighborhood is quieter than Jumeirah Beach Residence, but still close to the ocean.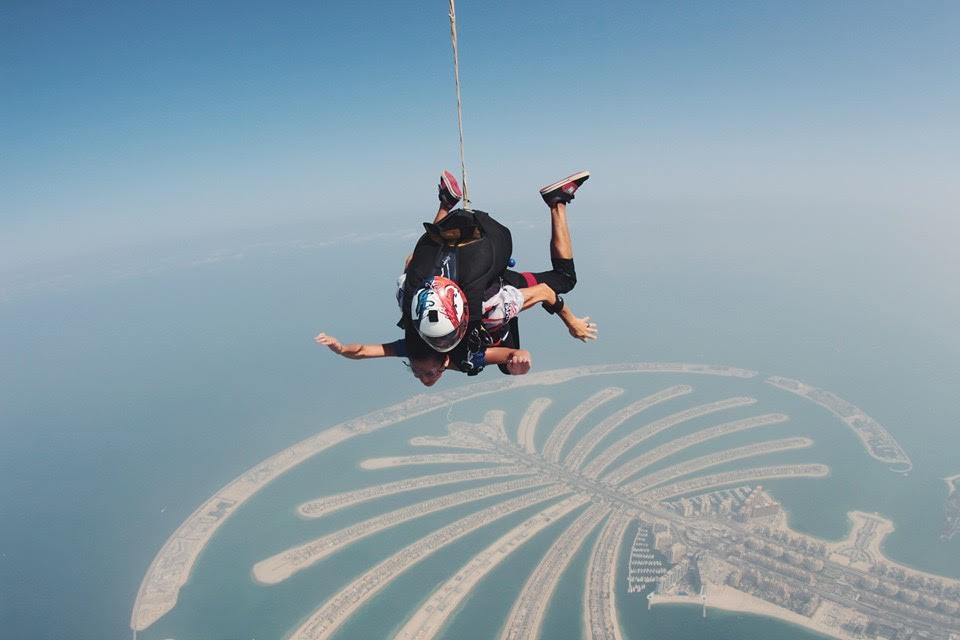 The best-known spot on the Dubai map for beach lovers is The Jumeirah Beach Residence, a massive residential development 1.1 miles long and spanning .77 square miles of gross floor area, comprised of clusters of high-rise apartment blocks overlooking the Arabian Gulf. The towers here are built over an ocean front promenade called The Walk, which is lined with retail outlets, restaurants, cafes and hotels. Each cluster of residences also includes several swimming pools for the residents and gyms. Apartments with sea views are highly sought after and command the highest rental rates, but in general the area offers good values and is popular with young professionals, ranging from $17,696 annually ($1,474 monthly) for a studio to over $50,000 annually ($4,309 monthly) for three or more bedrooms.
Flora and fauna may not be the first things that come to mind when imagining Dubai living, but areas like the aptly named Greens, The Springs, The Lakes and The Meadows consist of a mix of low-rise apartment blocks built around shared gardens and communal pools, within walking distance of shops and restaurants; villa-style developments and communities that share parks, pools and, in some cases, basketball courts. A good setup for families or renters with pets, rental rates are reasonable for all but The Meadows, which is sought after and pricey. In The Springs, two-bedroom townhouses with a study – a spread generally around 1,690 square feet– starts at $28,576 annually ($2,381 monthly) and goes up to nearly $60,000 annually (just under $5,000 per month) for three bedrooms with maid's quarters and family area, totaling approximately 3,000 square feet, according to Kalpesh. While that's pricey, it still feels like a lot more bang for your buck than many parts of New York City.
Bur Dubai is one of the oldest parts of the city, comprised of mostly low- to medium-rise apartment blocks built over shops and restaurants. Popular with expats from the Indian subcontinent and the Philippines, it is a bustling, vibrant area popular with expats who enjoy the hustle and bustle. It is comparatively affordable, and centrally located. Equally budget friendly are the areas of Discovery Gardens, Barsha Heights and Jumeirah Lake Towers (dubbed JLT by locals), locales that are popular with young couples and singletons. Views here are limited, but availability tends to be plentiful.
What you'll need: Unlike NYC, landlords insist on being paid upfront
In order to hit the rental trail, a foreigner will need a valid ID (passport), and a valid residence and/or employment visa. Without a visa, it is legally impossible to rent a long-term apartment, though in reality this is something of a gray area as banks will allow foreigners to open an account with an employer letter stating that such a visa is in process. Dubai Electric and Water (DEWA) will also accept this kind of a letter.
The biggest difference between renting in Dubai and signing a lease virtually anywhere else is that in Dubai, the renter pays rent annually in advance, via post-dated checks. The actual amount you pay in rent can be negotiated according to the number of checks you provide, according to Sabina Passi, an attorney with multinational law firm Baker McKenzie, who has lived in Dubai for three months. Most landlords will accept payment via one to four checks, payable at the start of the rental contract, with the others post-dated.
Checks are legally enforceable bonds, and there can be serious consequences if you can't or don't cover the funds.
"Under no circumstances should you ever let a check bounce–it is a criminal offense in the UAE," said Passi, and many real estate professionals we spoke with echoed her warning. "If you're moving here for work, ensure that your employer will provide you with a housing allowance. My employer gave me my whole annual rent upfront (hence I also got a great deal, as my landlord got the whole amount upfront), and it is deducted from my pay."
Be sure that you only make checks payable to the registered owner, which you can ensure by requesting to see the property's title deed or sales contract–either of which is valid proof of ownership. It is also possible to make payment to someone with Power of Attorney, in which case it is wise to check this individual's documents as well. Normally in Arabic, these documents should be dated with court stamps and stickers attached. If shown a copy, ask to see the original.
Unlike NYC, brokers are required by law in Dubai
While New Yorkers can, in theory, go the rental route without a broker (and without a fee), choosing to go directly to management companies or landlords, in Dubai, doing so is a risky proposition. In fact, the city's Real Estate Regulatory Agency (RERA) requires brokers be used in any sales or rental transaction, but with 1,050 registered brokerage firms and 2,154 individuals, finding a good one can be a challenge.
To navigate this crowded space, Kalpesh advises considering companies that have been in operation for a number of years, won industry awards and have a diversified team of brokers that specialize in different areas. Employers or recruiters can also be a useful source of recommendations. 
"I wanted to save money but also live close to my office, as I work long hours," said Passi. "I would ideally have liked to live in Jumeirah, but the commute was too long. In terms of housing type, I didn't need the space of a villa, but absolutely needed a furnished apartment as a large portion of my belongings was still to be shipped from London. That criteria really helped narrow my options, as there is a lot of choice."
If determined to go it alone, renters could search online for the few landlords who advertise their properties without going through a third party. Popular portals include Tranio.com, Bayut, Buzzon, Dubizzle, JustProperty.com, Propertyfinder.ae, advises Bianca Jutaru of Traino. But skirting the rules by skipping a broker could put the renter at risk, warns Kalpesh. 
"The only advantage of not using a broker would be saving the 5 percent housing fee, but the risk is simply not worth it," says Kalpesh. "You may not be familiar with all the rules and may end up signing a tenancy contract skewed in favor of the landlord. Payments could be made in a name other than the name of the landlord, exposing you to a serious financial risk, and maintenance issues may not have been adequately covered."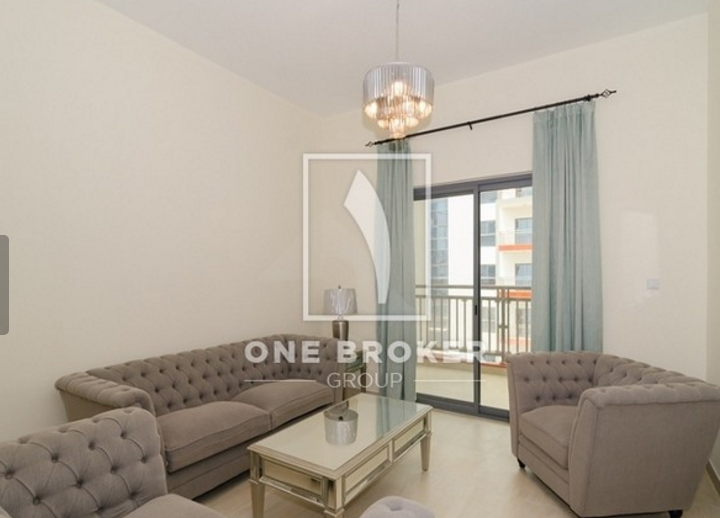 A furnished 1,493-square-foot two-bed, two-bath apartment in Al Furjan, priced at $31,308 per year ($2,609 per month). 
The costs: Fees are lower than in NYC, but arguably more complex
If you engage a real estate broker, you'll be responsible for paying an agency fee. The amount is typically between 2 and 5 percent of the annual rent, according to propertyfinder. Renters are also responsible for the standard ejari fee, AED 195 ($53 U.S.), which pays to authenticate rental contracts via the Dubai Land Department's registration platform.
Every apartment in Dubai should have a DEWA connect. A housing fee of 5 percent of the total yearly rent paid, split into monthly payments, is typically charged. This is essentially a tax collected through DEWA and payable online and a variety of other places, such as post offices and banks. Internet and landline phone services will be supplied through Du or Etisalat, and tends to be pricey. Take care to thoughtfully evaluate the package you want from the outset, as making a change down the road is extremely difficult.  
District cooling fees, which refer to the centralized production and distribution of cooling/air conditioning in Dubai, can also be significant. In this city, where temperatures regularly climb to over 100 degrees Fahrenheit and 90 percent humidity, water is chilled underground and delivered via an underground pipeline into residential buildings to cool the air. While fees vary according to provider and size of the property, your landlord should pay the initial setup fee (around 1,500 AED, or $400 U.S.). You'll then have to transfer the service into your name and pay a refundable deposit of around 2,000 AED ($540 U.S.). As at home, your monthly bills will depend on consumption.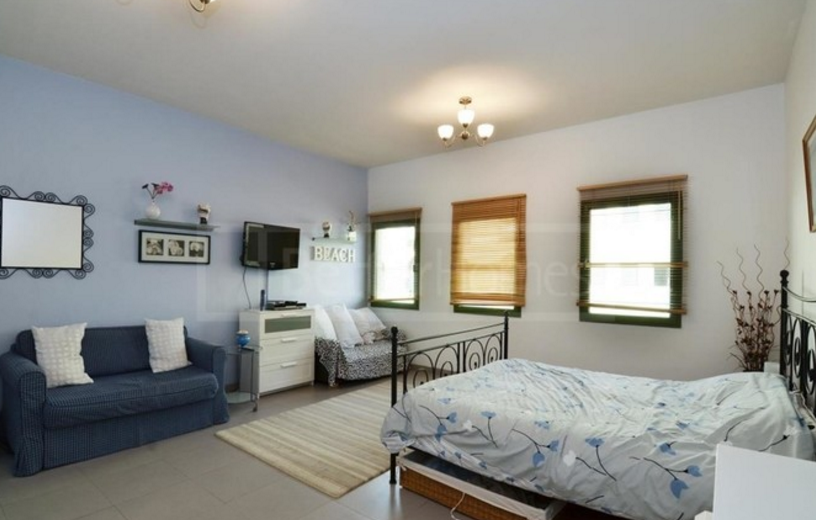 A furnished 473-square-foot one-bed, one-bath apartment in International City, priced at $9,529 per year ($794 per month).
The quirks: Apartments are generally large (much larger than NYC) despite the area's density
Dubai apartments range from sparkling new, modern units in glass and steel high-rises to more traditional villas and single-family homes. As the city becomes increasingly dense, familiar quirks of other densely populated cities are increasingly common, such as the two-in-one washer dryers. "Obviously it's hot so you can theoretically dry clothes outside, but it's usually too dusty to do so," notes Passi.
Apartments in Dubai are, however, very generously sized–comparatively inexpensive per square foot compared to places like New York or London. Many also come partially or completely furnished–down to a shoehorn, close brush, sheets, iron and coat hangers.
Dubai is a tremendous draw for expats, with a quality of living that is some of the best in the world, and rental homes that are more (comparatively) affordable than you might think. Expats rank Dubai highly for safety and security, quality of education and childcare services and quality of healthcare, according to the HSBC Expat Explorer survey. There's a great deal of cultural richness beyond the shiny new buildings, the depth of which is a tremendous experience to those who decide to take the leap.
Brick Underground articles occasionally include the expertise of, or information about, advertising partners when relevant to the story. We will never promote an advertiser's product without making the relationship clear to our readers.