In our recently launched column, the Expat Renter, we check into how leasing an apartment works in other cities and compare it to the (sometimes intractable) process New Yorkers have to go through here.
Our third edition of The Expat Renter touches down in the Argentine capital of Buenos Aires, a multicultural melting pot of nearly 3 million on the western shore of the estuary of the Rio de la Plata.
Founded in the 16th century and affectionately dubbed "Baires" by locals (and "BA" by expats), the name comes from a tale that originated in the city of Cagliari, Italy. In 1370, as the story goes, a box containing an image of the Virgin Mary with the baby Jesus in one arm and a candle in the other arrived on the beach. From that point, she was venerated as the patron saint of sailors, who dubbed her Bonaira, or "good air". Her devotees carried her with them to Spain, and then on to the New World, according to the website Todo Buenos Aires. First established as Ciudad de Nuestra Señora Santa María del Buen Ayre ("City of Our Lady Saint Mary of the Fair Winds") in 1536, the first European settlement was located in what is today the San Telmo district, a well-preserved area known for its colonial buildings, tango parlors and cobblestone streets just south of the city center. 
Buenos Aires is sometimes called the Paris of South America because of the strong European influence on the city's culture, architecture and language. It is estimated that between 1850 and 1930, Argentina received more than 6.6 million immigrants from Italy, Spain, France, Germany and the United Kingdom, according to Oxford Bibliographies. Today, Buenos Aires is home to the busiest live theater industry in Latin America and is also the financial and industrial hub of Argentina. The economy of the city proper alone accounts for nearly a quarter of Argentina's gross geographic product, which totaled some $550 billion as of 2016, according to the World Bank.
The Argentine capital is the fourth-most populous city in the Americas, after São Paulo, Mexico City and New York. According to the most recent census in 2010, nearly 3 million people reside in the city, while the population of Greater Buenos Aires is over 13 million. The population density in BA proper is about 13,680 inhabitants per square kilometer, or 34,800 per square mile, but spreads to only about 2,400 per square kilometer (6,100 per square mile) in the suburbs. New York City, by comparison, has 27,000 people per square mile, according to the Department of City Planning. Two thirds of the city's residents live in apartment buildings, and 30 percent in single-family homes. Among them are roughly 26,000 Americans.
Buenos Aires is divided into 48 official barrios, or neighborhoods, a division that was originally based on the Catholic parroquias (parishes). Within these districts, there are several further subdivisions, some with a long history and others that are more recently revived or recast areas, like the Puerto Madero Waterfront. The most notable of the old, grand dames is Palermo, the city's largest district, which has been further subdivided over the years into mini sectors, usually with an English prefix, sometimes with a namesake in New York or Los Angeles, like Palermo Soho or Palermo Hollywood. There's also Palermo Chico, Palermo Viejo and even Palermo Freud.
"Some of the neighborhoods adjacent to 'hot' neighborhoods have experienced 'neighborhood-flation', whereby their name might be changed to reflect the hot neighborhood that it's next to," said Simon Botting, of the popular real estate website enbuenosaires.com. "An example of this is Palermo (the hot neighborhood), and Villa Crespo (the 'warm' neighborhood). Villa Crespo at one time even started to be called Palermo Queens."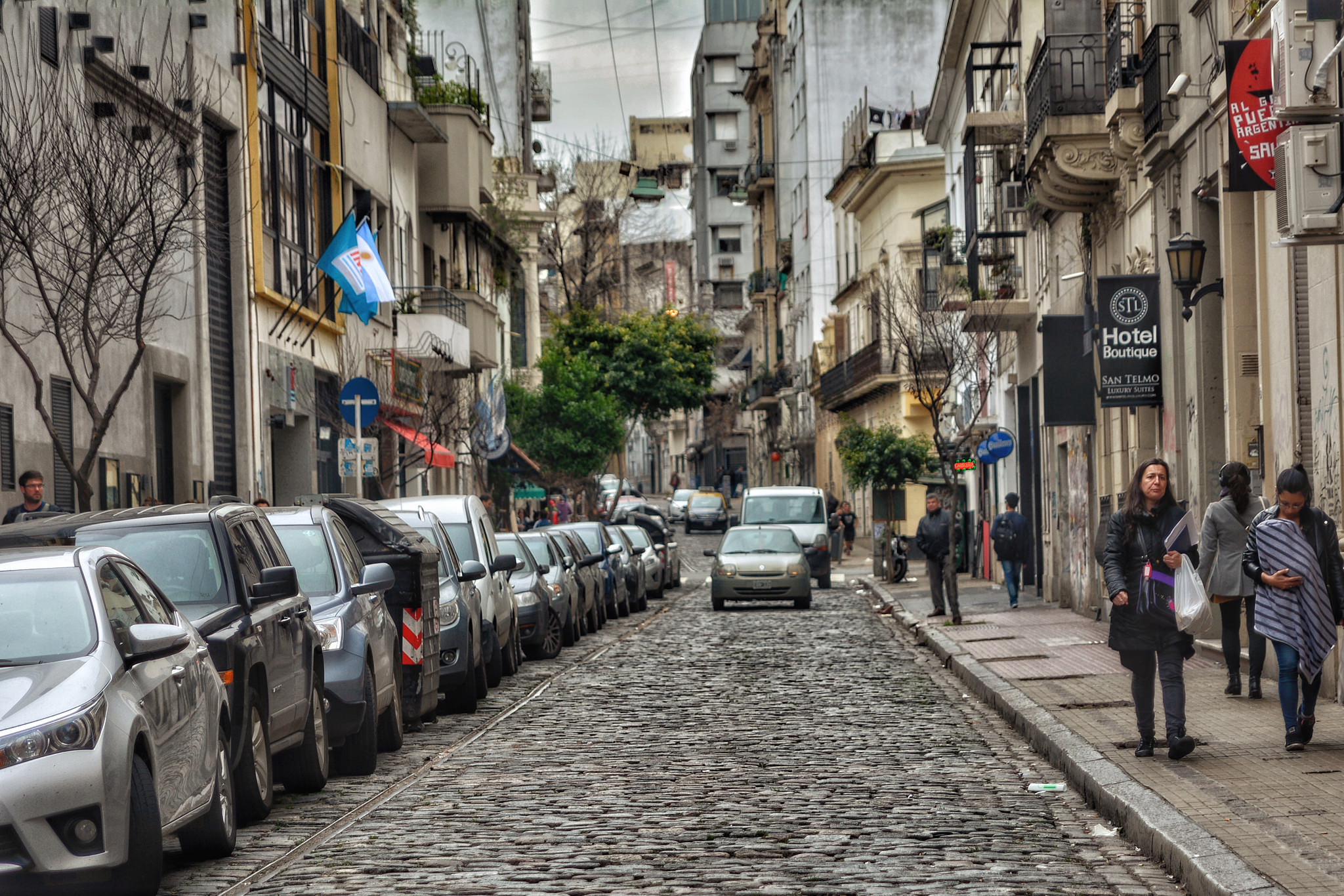 The landscape
Inflation in Argentina has made headlines nonstop in recent years, and is now at an annual rate of about 20 percent. The resulting currency fluctuation has put a squeeze on the housing market overall, with pricey implications for the rental scene in particular. The government of President Mauricio Macri, who came to power in 2015 following 10 years of President Cristina Fernández de Kirchner's administration, dismantled the country's Kirchner-era exchange controls, enabling Argentines to sell their currency—the peso—for U.S. dollars for the first time in several years.
The value of the peso subsequently fell by 30 percent against the U.S. dollar, triggering an increase in rental prices (among other things). As the dollar remains strong, rental prices are more affordable for Americans than for locals, and Americans can find great, centrally-located properties at prices below those of comparable locations in other major international cities, according to Adriana Faerman, Director of Sales with ONE Sotheby's International Realty in Buenos Aires.
"Though rents were traditionally adjusted on an annual basis, they are now adjusted every six months at rates that can exceed 15 percent to keep pace with fluctuating currency values," Faerman said via email. Congress is currently debating changes to these formulas, she added, but that's what they are for now.
The value of one square meter of an average, non-new construction apartment in good condition was 7.06 percent higher in 2016 than in 2015, according to a study from consulting firm Reporte Immobiliario. In the city overall, the value of one square meter of an apartment has increased nearly 120 percent over the last 10 years.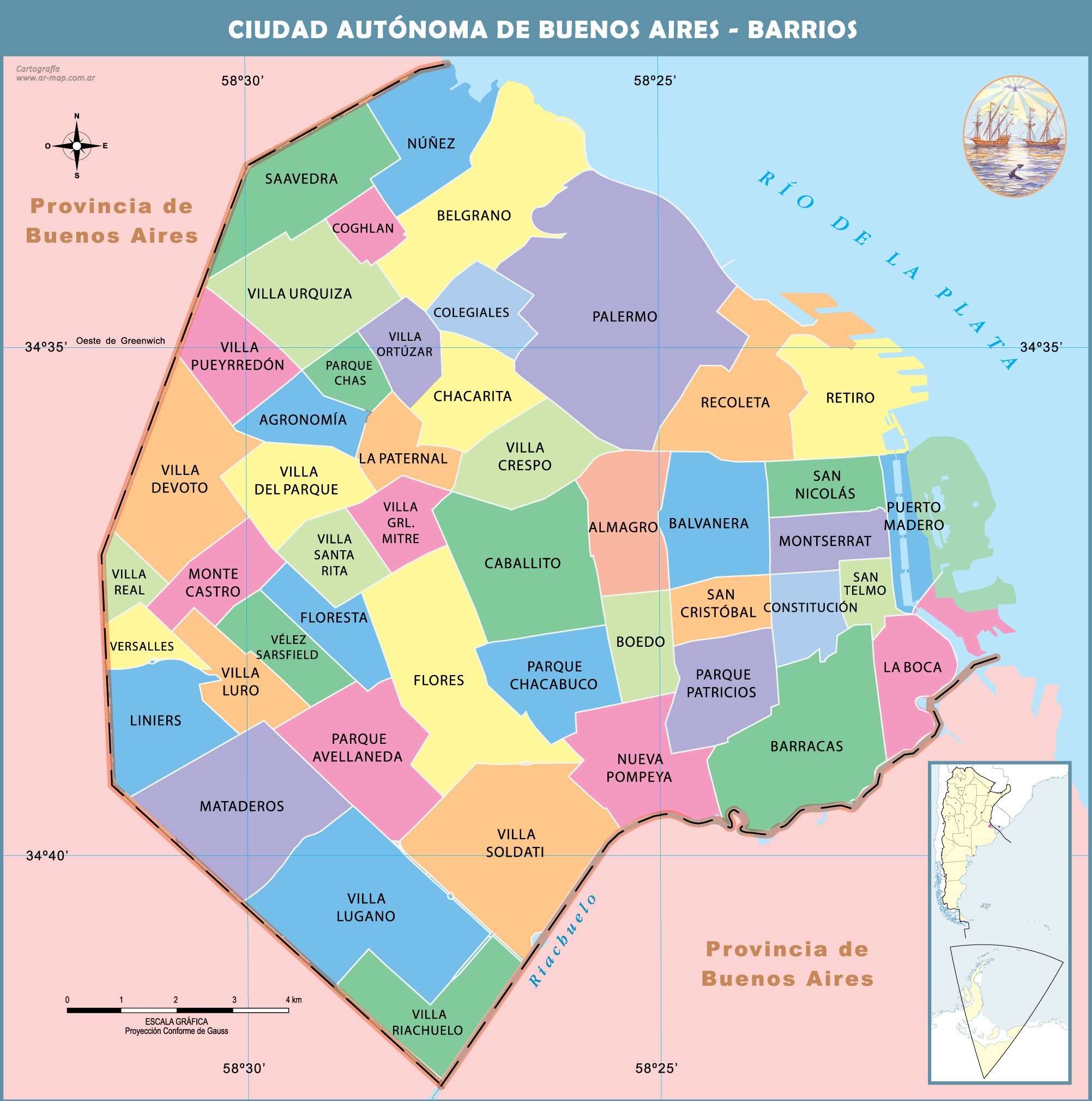 Where to look
Buenos Aires neighborhoods line the western shore of the Rio de la Plata estuary, extending from Puerto Madero, a once industrial neighborhood in the south that is now a trendy hub of modern architecture, to the green, leafy barrio of Belgrano in the north. The city is shaped much like Brooklyn, with the Rio de La Plata to the northeast in lieu of the border with Queens, and the Avenida General Paz beltway lining the north and west as the BQE and Belt Parkway ring Brooklyn. Neighborhoods fan out to the west in a circular shape, with a metro map resembling that of Paris.
In downtown Buenos Aires, areas most popular with the expat community include Puerto Madero and Recoleta, the latter of which is home to broad avenues and French-style buildings, and Palermo, which subdivides further into Palermo Hollywood and Palermo Soho, areas known for their restaurants and cafes. Puerto Madero, full of refurbished, formerly abandoned warehouses, has a great deal of newer inventory to offer, and is equally popular as a business lunch spot during the day and a destination for strolling the waterfront and dining among a fashionable crowd at night.
In these neighborhoods, a bright, 500-square-foot apartment with a common area pool, a high-end perk, will generally fetch rental rates of about $850 USD per month, according to Paul Reynolds, proprietor of a real estate brokerage bearing his name. Larger units of 3,500 square feet, with amenities including a gym and pool, start at around $5,000 per month. In Recoleta, smaller apartments of around 330 square feet are less expensive, at $300, while a two bedroom can be secured for $1,000. 
"In Palermo Soho, one can find apartments as low as US $500 plus condo fees and utilities, but these tend not to satisfy the expat community, in my experience," explains Reynolds. "These less expensive units have less natural light and most lack modern kitchens."
The northern suburbs, comprised of areas including Vincente Lopez, Olivos, La Lucila, Martinez, Acassuso, San Isidro and Beccar, from closest to farthest from the city center respectively, are a good fit for families with children, according to Reynolds. These areas are close to the Lincoln International School, where many expats send their children. Homes in these areas usually include a yard and a pool, with lot sizes around 8,000 square feet. Rental rates range between $4,000 and $10,000 a month.
"We also recommend that foreign renters seriously evaluate daily travel time to and from work and school, especially in the case of families with children," said Reynolds. "Public transport is affordable but crowded due to massive demand. Last, we Argentines are wild drivers—a culture shock unless you enjoy the adrenaline generated by 8 a.m. traffic!"
What you'll need
In addition to the usual necessary documentation such as a passport and work permit, the key requirement (and headache) for a local or foreign renter in Buenos Aires is the garantía, or guarantor, an individual who legally vouches for your rent in the event that you are unable to pay. (The role isn't completely alien to New York City renters, many of whom must enlist the support of a co-signer, but in New York the backup is purely to cover a lease in the event that the tenant doesn't make enough money to cover the cost of rent – normally 40 times the monthly rate.) In Argentina, your garantía must show proof of ownership of some form of real estate in Argentina. The real estate company orchestrating your rental lease will, at the tenant's expense, obtain a registration certificate ensuring the property is not mortgaged, has any lien or other encumbrance. The cost in obtaining these certificates is usually around $120, according to Reynolds.
For expatriates sent to Argentina by their employer, a corporate guarantee can stand in for an individual garantía, essentially stating that the company can and will pick up the slack should the individual not pay the agreed upon amount. If neither a corporate nor personal garantía is available, one may attempt an insurance company issued policy, called a seguro de garantía. This is the most costly option, usually equivalent to the value of one month's, or a month and a half's rent.
When it comes to the rental contract itself, tenants should also consider negotiating a peso-based contract rather than one in U.S. dollars, according to Botting. "In the past, currency fluctuations have usually benefitted foreign renters doing the inverse, but the local currency devaluation that has taken place since Macri came to office turns this around," he said.
To broker or not to broker
Depending on your level of Spanish, its usually best to work with an agent or at least someone that has referred you to the landlord that you are intending to rent from, according to Botting. Buenos Aires operates with two separate rental markets aimed at foreigners: longer-term rentals of 24 months or more, and short-term rentals primarily geared toward tourists or temporary professionals.
"Essentially, the requirements are quite demanding for locals who have to pay a security deposit, plus commissions which can go between 4.15 percent to 9 percent and maintenance fees, plus the adjustment for inflation every six months," said Faerman. "The rental market is not regulated, and many owners or real estate companies dealing with foreign nationals set their own prices and payment models for relocation and/or vacation rentals. Dealing with inflation and currency devaluation is a big factor, but in a different sense, when it comes to renting to foreign nationals."
For longer-term contracts, property owners scale the rent by approximately 10 to 12 percent every six months, but the increase is not described as such. Instead, only the new peso value is represented—an expression of currency fluctuations that a reputable broker can help navigate.
"The best way to find reputable brokers is through word-of-mouth recommendations and general responsiveness—you can get a general feel by the way they answer questions," says Botting.
In lieu of a broker, there are a number of go-to websites that are popular among expats. Argentina's largest real estate portal, http://www.zonaprop.com.ar, publishes both realtor and rental owner listings. The realtor listings usually have their company logo printed on the upper right corner of a specific listing. Airbnb and VRBO are popular as well.
"I've lived in Buenos Aires for two years, and I found my first apartment on Airbnb," said Talia Samuelson, an American expat. "It's a good platform to start negotiating from. There are also a number of sites that allow you to rent directly from the landlord, but you have to be careful—there are always people looking to swindle someone who can't get a garantía."
The costs
Cash outlays upon signing of a rental contract are one to two months' rent as damage deposit, the first month's rent and the cost of producing registration certificates on the garantía's property, which is typically about $120 dollars. Realtor commission is 4.15 percent plus the value added tax (VAT) of the overall contract value in downtown Buenos Aires. In the northern suburbs, the fee is 5 percent plus the VAT, according to Reynolds.
The key requirement for a local or foreign renter is the garantía, the paperwork and cost for which varies according to whether you're able to secure the support of an individual, corporation or bank, as outlined above.
A reputable realtor will also help tenants avoid getting stuck with an abusive indexation, a lease agreement in which the amount of future lease payments is calculated by using an established index, or scaled rent increase clause, to compensate with inflation. (In New York, there is no rule of thumb for the amount of yearly rent increases, unless you're lucky enough to snag a rent stabilized apartment. In that case, landlords cannot increase rent for a one-year lease, and can only increase by 2 percent for a two-year lease, according to NYC.gov.)
The quirks
Buenos Aires is famed for its architecture, a rich mix of different styles and designs. Shaped by European architects who arrived in the late 1800s with wide boulevards; art deco and art nouveau; neoclassical and neo-gothic; and renaissance and French-Bourbon, the city is also no stranger to cutting-edge modernity.
"As far as actual homes here go, they can be absolutely stunning," said Samuelson. "Traditional porteña homes have inner courtyards a bit like the French quarter. Living in one of them is beautiful, though heating and AC is expensive and a bit ineffective."
In other quarters, apartment offerings are particularly quirky affairs, such as the colorful Caminito street in the barrio of La Boca. An area once made up of shipyards, it is now famous for houses built from the cast offs of ship building materials, such as planks, sheet metal and corrugated iron. This mix of old and new, sprinkled throughout Buenos Aires, can have varying implications in terms of modern amenities: while some properties offer full, American-style kitchens, swimming pools and gyms, older, more modest offerings may have minimal kitchenware.
"Many of the apartments don't come with refrigerators, and kitchens are often the smallest room in the apartment," said Stephen Seifert, an SEO manager from Portland, Oregon who has lived in Buenos Aires for five years. "My bathroom is actually larger than my kitchen area."
Washers and dryers inside apartments are rare, a conundrum familiar to many New Yorkers. And if you are lucky enough to have one, "they are pretty much for washing, because the dryer aspect, if there is one, takes forever," said Seifert – a scenario reminiscent of the two-in-one washer-dryers in Hong Kong.
Other quirks include bidets in the bathroom – a carryover from the French expat arrival in the mid 19th to mid 20th century – and a tendency for there to be a shortage outlets in older structures. Bathrooms and kitchens also often have drains in the floor.
The economic and cultural engine of Buenos Aires has much in common with New York in terms of big finance, a thriving film and theater scene, and diversity among its people and architectural styles. But the distinctly European and Latin American mix of flavors in this beautiful city gives it a character all its own, offering up a completely new experience and challenge to would-be expats.
Brick Underground articles occasionally include the expertise of, or information about, advertising partners when relevant to the story. We will never promote an advertiser's product without making the relationship clear to our readers.