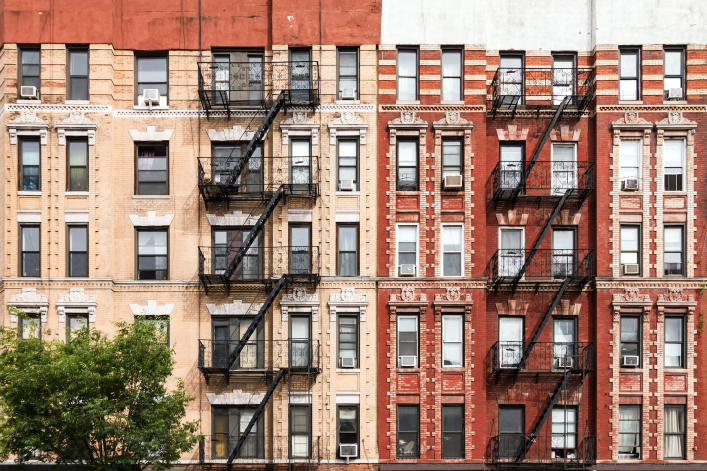 Can my landlord ask me to get a guarantor for a rent-stabilized apartment?

A guarantor comes into play when you are renting in New York City if your finances fail to meet the requirements set by landlords. Typically, tenants need to have good U.S credit and earn 40 times the monthly rent. 
If you don't meet these standards, Sam Himmelstein, a partner at Himmelstein, McConnell, Gribben, Donoghue & Joseph (and a Brick sponsor, FYI), says landlords can require "any tenant, rent-stabilized or not, to have a guarantor on their initial lease."
A lease guarantor is a friend or relative who lives in the tri-state area and will co-sign your lease and pay the rent if you don't. They need to have an annual income of around 80 times the monthly rent (the high amount is so they can cover their own housing expenses, plus yours, if necessary). Alternatively, you can pay a company, like Insurent, (another Brick Underground sponsor) to guarantee your lease. The fee is a percentage of the monthly rent. 
---
[Realty Bites tackles your NYC rental questions. Have a query for our experts? Drop us an email. We respect all requests for anonymity.] 
---
The new rent laws were drafted to maintain New York's rent-stabilized inventory and provide tenants with extra protections against discrimination, rent hikes, and eviction. 
The changes to rent laws include an end to vacancy decontrol, which means rent-stabilized apartments are less likely to cycle out of the system. Landlords can also no longer use the tenant blacklist to screen renters and neither can they ask for more than a month's rent as a security deposit. In addition, application fees to cover background and credit checks are now capped at $20. (This payment is separate from the broker fee.) 
Landlords lean on guarantors
Leasing agents and brokers tell Brick Underground the new cap on the security deposit makes it more difficult for those without a U.S. credit history to secure a rental. In the past, landlords might have taken more than a month's rent to offset the risk of taking on a tenant with shaky credit.
With that option removed, many say there's an increasing emphasis on guarantors. Adam Frisch, managing principal at Lee & Associates Residential NYC, a real estate company representing small building owners in Manhattan, goes as far as saying the rent laws have been "gigantic cash cow" for third-party guarantors. 
Even though a rent-stabilized tenant can be asked to provide a guarantor when they sign the original lease, they cannot be asked to provide one retroactively. So if the rent-stabilized lease is already underway without a guarantor that cannot be changed. "Renewal leases must be on the same terms and conditions as the original lease," says Himmelstein. 
Guarantors cannot put up additional security
It is within the law to ask for a guarantor when the original lease is signed but it appears some landlords are going beyond this and requiring guarantors to put up six months or a year's worth of rent in advance. Himmelstein says "this violates the law."
Brick Underground articles occasionally include the expertise of, or information about, advertising partners when relevant to the story. We will never promote an advertiser's product without making the relationship clear to our readers.