It's not exactly a "poor door" situation, but these 116 affordable units now taking applications via New York Housing Connect will be accessed through an entrance that's separate from the 269 luxury condos housed in the same complex at One West End. The Upper West Side development, New York YIMBY reports, comprises a gleaming, 41-story high rise, and separate, eight-story stone building for the below market rate apartments. The latter also has its own address: 10 Freedom Place South. 
If you can countenance the thorny class politics of it all, there are studios, one-, two-, and three-bedrooms available with rents starting at $833 per month. The building is close to Lincoln Center, and will likely feature some gorgeous river views. (StreetEasy reveals that market-rate apartments in the neighborhood are renting for as much as $7,320 per month.) See below for more information on prices and income requirements: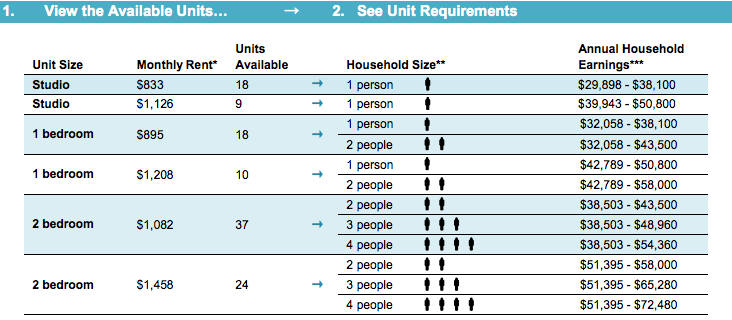 According to the listing, residents will have access to amenities like a fitness center, children's playroom, storage room, and roof terrace. From the rendering of the development (see above), it looks like you can expect plenty of greenspace surrounding the property, as well. Priority for 50 percent of the apartments will go to current residents of the neighborhood, in this case Manhattan's Community Board 7. 
If you're interested and think you qualify, you can create a profile and apply online via NYC Housing Connect, or request a paper application by sending a self-addressed envelope to 10 Freedom Place c/o Breaking Ground, PO Box 3620937, New York, NY 10129. (Be sure to only apply once, however, as sending in multiple applications could disqualify you from the running.) Applications are due November 1st. 
Note: Brick Underground is in no way affiliated with New York City public housing. If you are interested in applying to this or other affordable housing developments, please go to the NYC Housing Connect website for information and instructions.