This is going to be a popular one: If you qualify, you might as well apply to get this serious deal in Hell's Kitchen. All 17 units are up for grabs at 424 West 55th Street, a new building with on-site laundry, an outdoor courtyard, and bicycle storage (for an additional fee).
The median rental price in the neighborhood at the moment is $3,625, but here, studios are available for $1,146, one-bedrooms for $1,230, two-bedrooms for $1,486, and three-bedrooms for $1,709.
As usual, there are income restrictions. To snag a studio, you have to make at least $40,629 and no more than $50,750. For a one-bedroom, the minimum income is $43,543, and maximum is $58,000 (for a two-person household). Two bedrooms are available for those making between $52,355 and $72,500. The largest apartments are reserved for people making between $60,446 and $84,100, and for families with up to six people. More info below: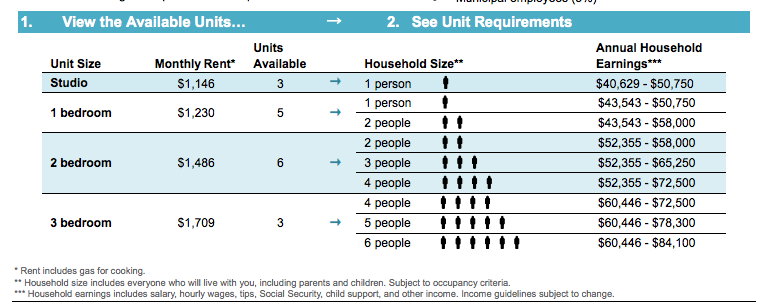 A percentage of units have been set aside for neighborhood applicants (in this case, of Community Board 4, which encompasses Chelsea and Hell's Kitchen) and municipal employees.
If you're interested and think you qualify, you can apply online via NYC Housing Connect. To request an application by mail, send a self-addressed envelope to: West of Ninth, P.O. Box 20189, Floral Park, NY 11002. Applicants who submit more than one application (e.g. one online and one in the mail) may be disqualified. Deadline is June 27.
Note: Brick Underground is in no way affiliated with New York City public housing. If you are interested in applying to this or other affordable housing developments, please go to the NYC Housing Connect website for information and instructions.