It's been a wild few months for the world of north Brooklyn real estate, as residents warily brace themselves for the planned L train shutdown in 2019 and rents across the city tentatively tap the breaks on their years-long upward rise.
So there's no time like the present to conduct our annual check-in on just how much it costs to rent at each stop off Brooklyn's most famous transit line, and whether you'll still save money by heading a stop or two farther to the east. We asked StreetEasy to crunch the numbers, looking at median rent, price per square foot, and inventory at each stop from Bedford Avenue to Broadway Junction, as well as the year-over-year change in those stats between 2015 and today.
(A quick note on methodology: For each stop, StreetEasy's data team drew a five-block radius and pulled prices from listings that were active in May of each year, regardless of size and time on the market. There was insufficient data from the Wilson and Bushwick-Aberdeen stops, and fewer than ten listings apiece at the Morgan, Halsey, and Broadway Junctions tops, and therefore less representative information to harness.)
The biggest surprise: an apparent drop in the median around Bedford, the white-hot, overpriced epicenter of Brooklyn's market. "There are opposing forces at play in North Williamsburg, causing this formerly hot neighborhood to see a slight decline in demand and prices," StreetEasy economist Krishna Rao tells us. "New high-end developments have been hitting the market at a rapid pace over the past few years as developers look to cash in on Williamsburg's cache, and the influx of luxury units may have caused an oversupply in the market. This, coupled with fears surrounding the impending L-train shut-down, could certainly be contributing to rent declines observed in the area."
But why, then, has price-per-square foot continued to climb in areas where the median has dropped? Rao theorizes that "these same new units are amenity-rich but potentially slightly smaller than traditional apartments on the market, which may be why we've observed a simultaneous increase in PPSF."
More to note: While these prices are general medians and could therefore represent a mix of three-bedrooms, studios, and everything in-between, anecdotally, in the search for representative listings at the median, we often found that the listings that fit the bill were two-bedrooms. By and large, though, this year's data is marked by fewer precipitous price hikes, a serious glut of new inventory, and a general cooling down of prices.
Below, dig into the data at every stop: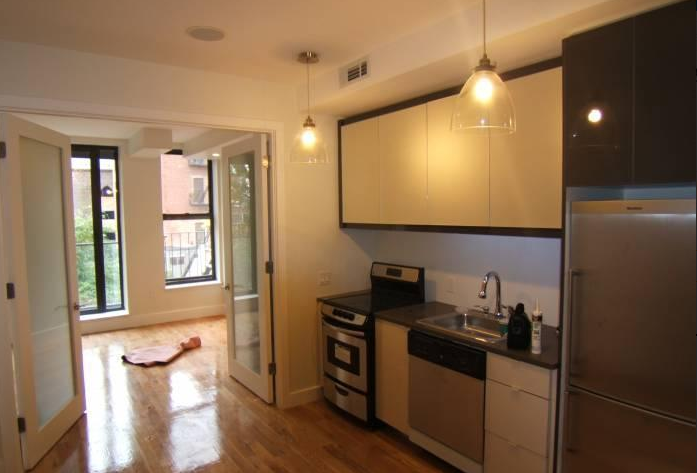 At $3,200/month, this two-bedroom condo on Bedford Avenue clocks in slightly above the area median, and features extras such as a newly renovated kitchen and a rooftop terrace.
BEDFORD
Median rent and year-over-year change: $3,100; down 11.4 percent from 2015
Median rent per square foot and YoY change: $55; up 10.5 percent from 2015
Rental inventory and YoY change: 151; up 30.2 percent from 2015
While median rental prices took an 11.4 percent drop between May 2015 and 2016, it seems unlikely that the area will lose its status as a hub for wealthy Brooklyn renters, even when the L goes on hiatus. (An Equinox has now opened up right on Bedford and North 7th, and a Whole Foods is coming to the area later this summer—not exactly signs that wealthy people are poised to leave the neighborhood.) As with previous years, keep in mind that the median rents were pulled from listings directly around the actual subway stop, meaning that the notoriously high-priced options along the waterfront aren't included in the mix.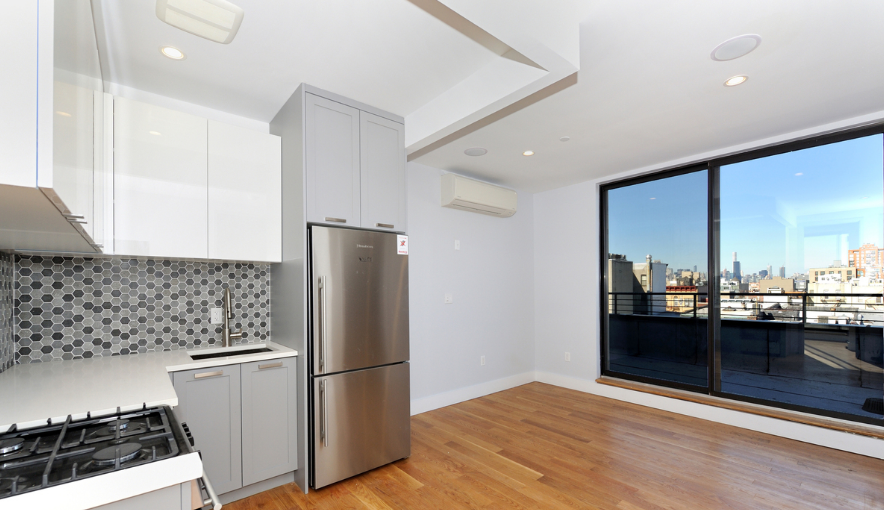 Reflecting the slightly higher median around Lorimer, this penthouse two-bedroom on Devoe Street comes with two outdoor decks, and is asking $3,250/month.
LORIMER
Median rent and YoY change: $3,300/month; down 5.7 percent from 2015
Median rent per square foot and YoY change:  $45; down 3.5 percent from 2015
Rental inventory and YoY change: 215 units; up 93.7 percent from 2015
After a rather precipitous climb in 2015, the rents around the Lorimer stop (which also has access to the Metropolitan G train) seem to have calmed down a bit, with both the median rent and price per square foot dropping by a few percentage points apiece. While it could be a coincidence of the size and quality of apartments that are currently on the market, this could also be a function of supply and demand, since there are nearly twice as many rentals currently available in the area as there were at the same time last year.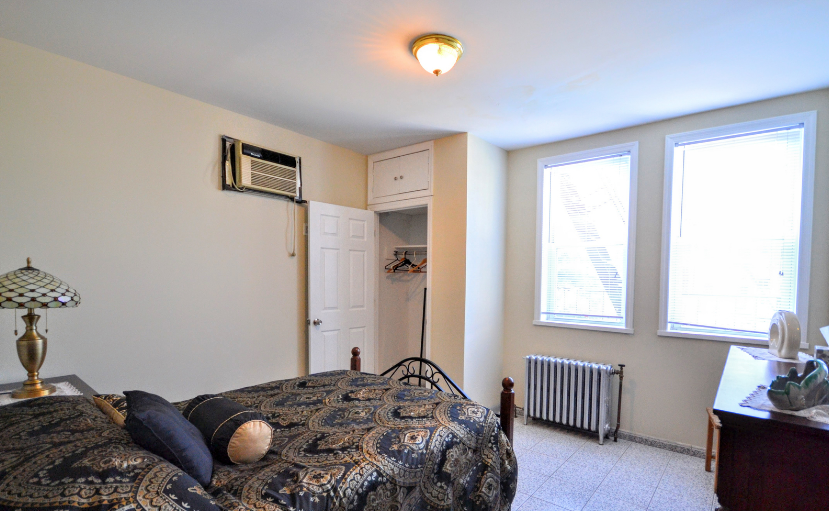 After a recent price hike to the tune of $200/month, this rather retro-looking two-bedroom off Graham is now asking the exact area median of $3,000/month.
GRAHAM
Median rent and YoY change: $3,000/month; up 6.2 percent from 2015
Median rent per square foot and YoY change: $40; up 4.6 percent from 2015
Rental inventory and YoY change: 93 units; up 45.3 percent from 2015
The area around the Graham stop—which is in Williamsburg, but also just a short walk under the BQE and over into Greenpoint—seems relatively stable compared to Bedford and Lorimer, dipping a bit last year, and rising six percent this year. Even its rise in inventory is impressive, but somewhat less dramatic compared to other stops, rising 45.3 percent from last year. And in spite of the still-high $3,000/month median, a quick scan of current rentals in the area indicates primarily one-bedroom and two-bedroom apartments asking slightly lower prices.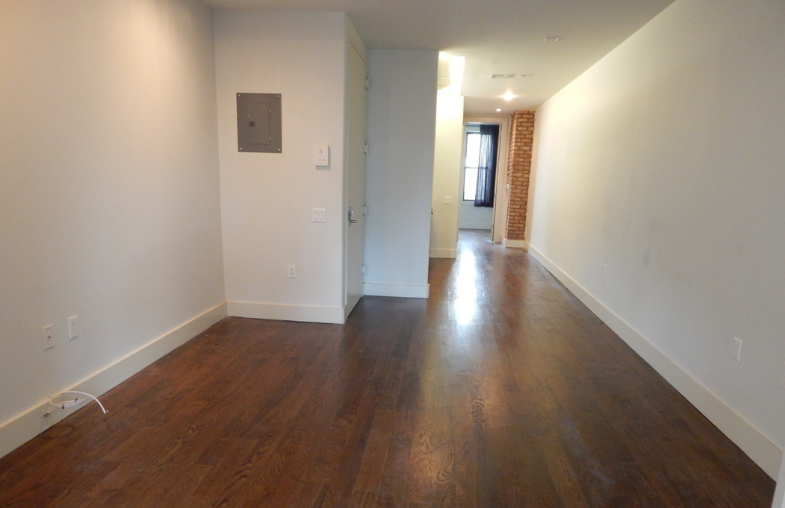 For $2,900/month, you can rent this two-bedroom on Maujer off the Grand stop, which includes remote-controlled A/C in each room, a dishwasher, a virtual doorman, and an in-building laundry room.
GRAND
Median rent and YoY change: $2,950/month; down 5.5 percent from 2015
Median rent PSF and YoY change: $37; up 2.5 percent from 2015
Rental inventory and YoY change: 41 units; up 241.7 percent from 2015
This particular stretch of East Williamsburg—which one ambitious broker recently tried to re-label as "Northeast Williamsburg"—has also largely held steady, with a small dip in median rents, but a whopping 241.7 percent increase in inventory. The area has long had a solid mix of bars and restaurants, but in the past couple of years, we've also noticed its formerly-troubled retail landscape transform, with brand-new grocery stores and small businesses setting up shop.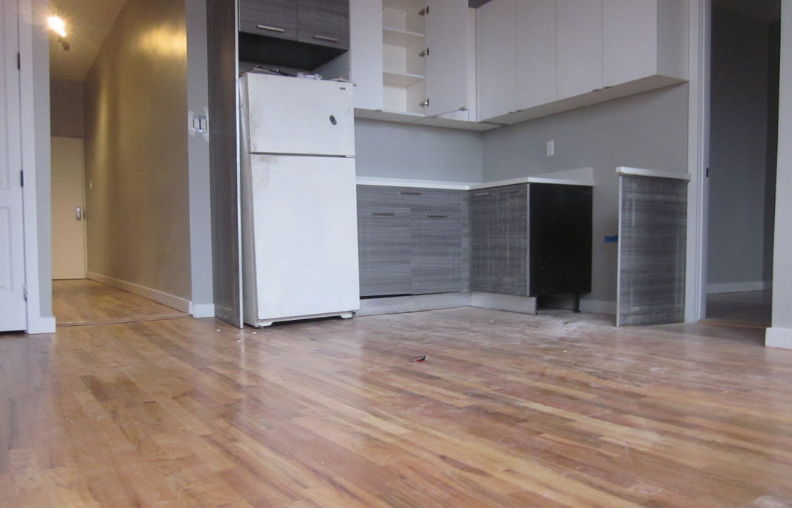 Here's one for a crew of roommates or a family: a three-bedroom for $2,699/month at 232 Meserole. It looks to have had recent work done in the kitchen, and just had the price lowered by $100/month.
MONTROSE
Median rent and YoY change: $2,750/month; down 3.5 percent from 2015
Median rent PSF and YoY change: $45; up 12 percent from 2015
Rental inventory and YoY change: 93 units; up 138.5 percent from 2015
After a 12 percent spike in median rents last year, prices around Montrose more or less held steady, dropping 3.5 percent, per StreetEasy's data. While locals were gutted over recent news that punk venue the Acheron (situated in the back of the Anchored Inn) would no longer be hosting shows, longtime DIY stalwart Shea Stadium is still going strong in the neighborhood, and alongside several new-ish bars, restaurants, and venues that've come to the area, it's still an appealing option for renters whose top priorities are shows and nightlife.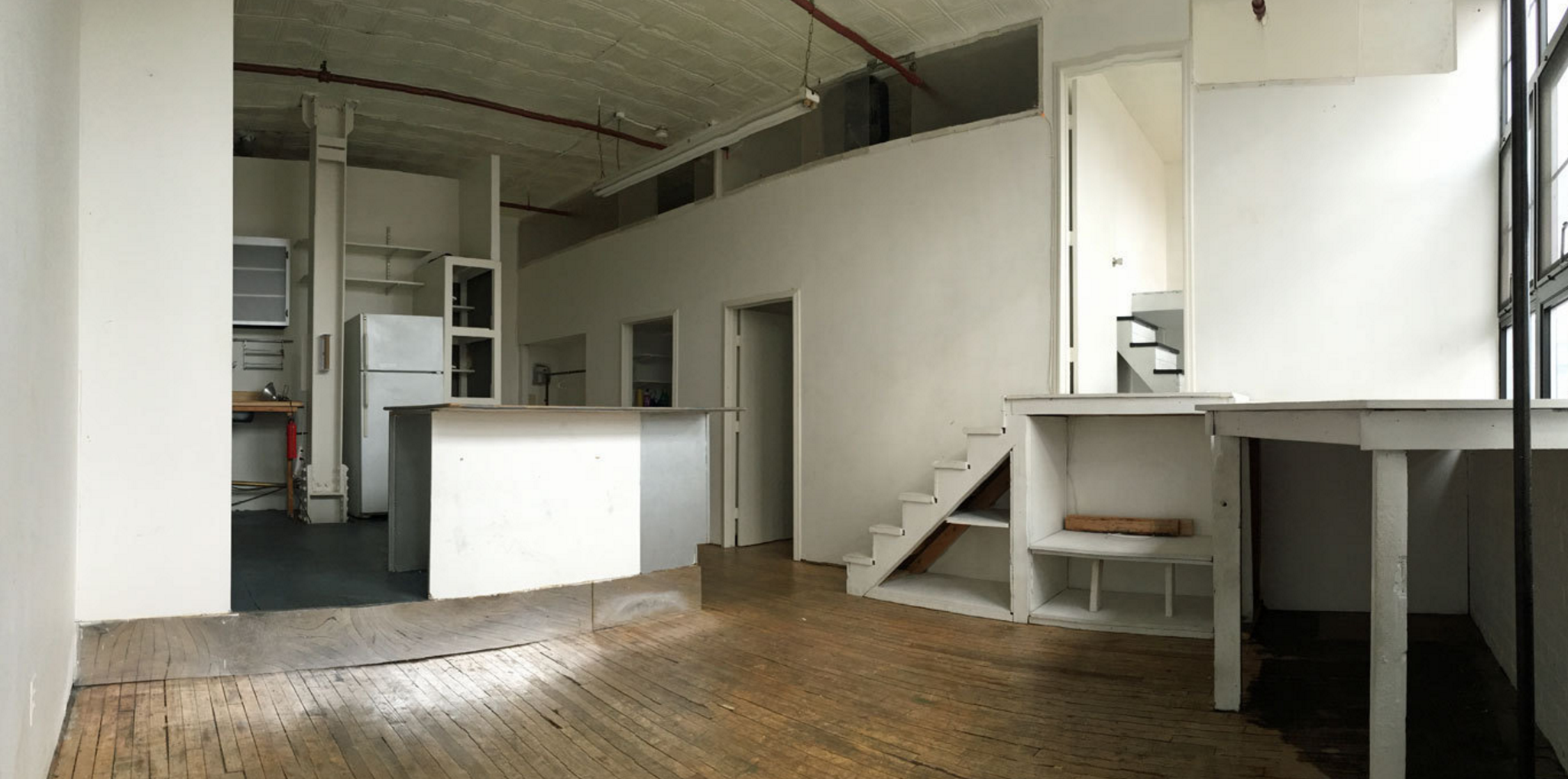 Located in the McKibben lofts, this $3,175/month three-bedroom has 12-foot ceilings, laundry in the building, and a convenient location about a block away from the Morgan L stop.
MORGAN
Median rent and YoY change: $3,213; up 7.1 percent from 2015
Median rent PSF and YoY change: $41 (insufficient data from 2015)
Rental inventory and YoY change: 2 units; up 100 percent from 2015
If you're dead set on living right around the corner from Roberta's, it'll cost you: Median prices are notably higher off the Morgan stop than any area besides so-called "prime Williamsburg," in part due to an apparent lack of inventory in the area—StreetEasy counted just two units in May, and a quick search in June didn't garner much more. Options in the area are still largely comprised of lofts, and one word to the wise: If you're thinking of moving in, check into the building's history of noise complaints. The area's still pretty industrial (with lots of trucks rattling along Flushing), and you're just as likely to be woken up by large, idling service vehicles as by a neighbor's late-night band practice. (The high prices out here are really about the cultural cachet more so than about standard-issue convenience of quality-of-life factors.)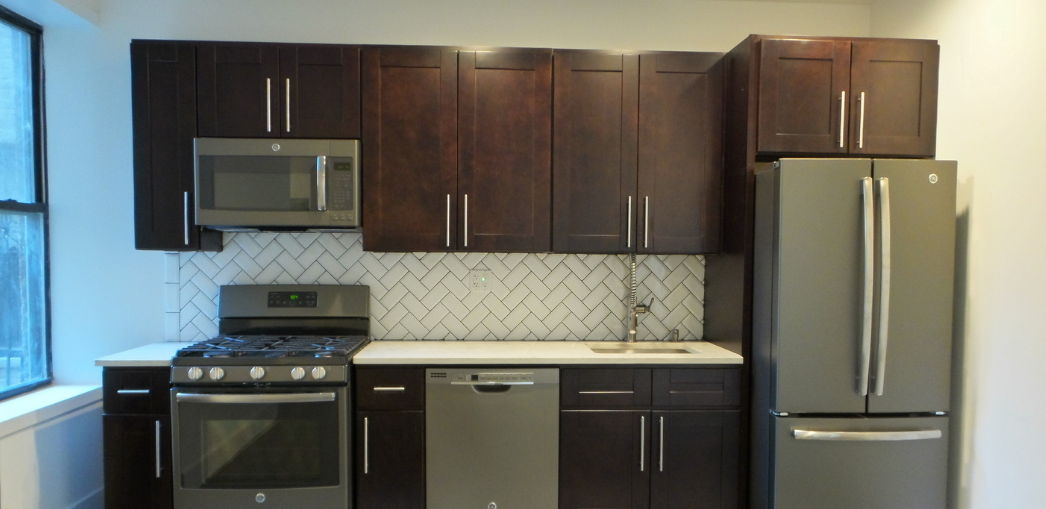 This $2,500/month two-bedroom is located a block away from the Jefferson L stop in a guarantor-friendly building, and includes a dishwasher and built-in microwave in the recently renovated kitchen.
JEFFERSON
Median rent and YoY change: $2,623; up 0.9 percent from 2015
Median rent PSF and YoY change: $38; up 6.1 percent from 2015
Rental inventory and YoY change: 72 units; up 53.2 percent from 2015
As with several other stops on this list, prices around Jefferson ("Jefftown," to some) seem to have course-corrected a bit after a steep 19 percent rise last year, going up by less than 1 percent this time around. More than ever, the area is a haven for restaurant buffs (not to mention booze buffs), though its food scene was recently dealt a serious blow with the closing of beloved neighborhood joint Northeast Kingdom.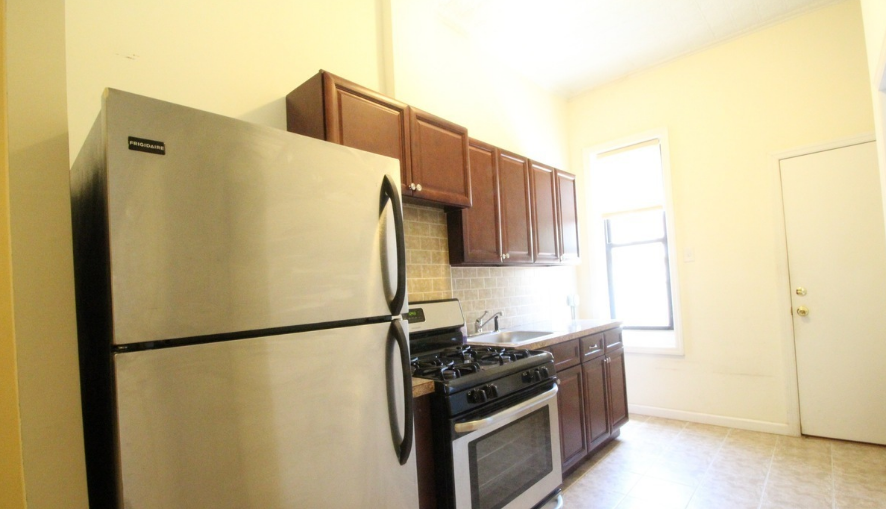 At $2,100/month, this two-bedroom clocks in well under the neighborhood median (perhaps because of its railroad layout), and includes access to a backyard patio. 
DEKALB
Median rent and YoY change: $2,600/month; up 2 percent from 2015
Median rent PSF and YoY change: $30; down 14.7 percent from 2015
Rental inventory and YoY change: 200 units; up 227.9 percent from 2015
Renters off the Dekalb L stop in some ways have the best of both worlds, with easy access to Maria Hernandez Park, and a short walk to all the entertainment (and eats) situated right around the Jefferson stop. (This is likely part of the reason there tends to be more families and longtime residents in this stretch of Bushwick than in the area's ultra-hip epicenter.) Prices barely went up this year, but as in other areas, inventory nearly doubled, meaning you'll find far more options if you opt to take your search out a few stops than you would if you're dead-set on renting off Morgan.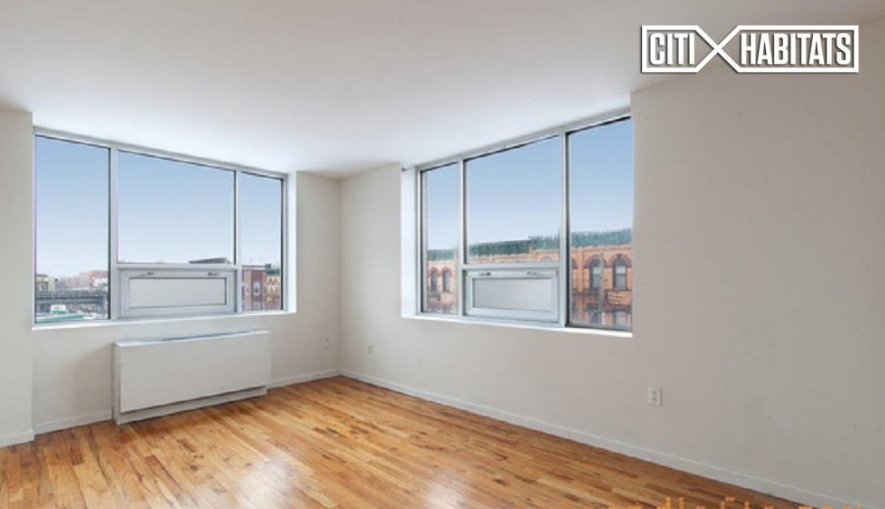 Though it's technically right at the area median, the pricing on this $2,550/month two-bedroom near Myrtle-Wyckoff seems a bit high for the area. (And it was recently lowered by $38/month.) But perhaps that's not surprising, as it's located in a brand-new condo building with a terrace and a roof deck.
MYRTLE-WYCKOFF
Median rent and YoY change: $2,567/month; up 2.7 percent from 2015
Median rent PSF and YoY change: $35; down 10.6 percent from 2015
Rental inventory and YoY change: 51 units; up 41.7 percent from 2015
Yet another area where prices basically held steady, the neighborhood surrounding Myrtle-Wyckoff is one to watch over the next couple of years. Located at the nexus of Bushwick and Ridgewood, Myrtle-Wyckoff has the key distinction of hosting the L train and the M train, meaning it'll provide a coveted transportation lifeline once the L is down for the count. And given the influx of new development—and new businesses—that's already come to the neighborhood in the last year or two, we'd bet on prices to spike around this area sooner rather than later.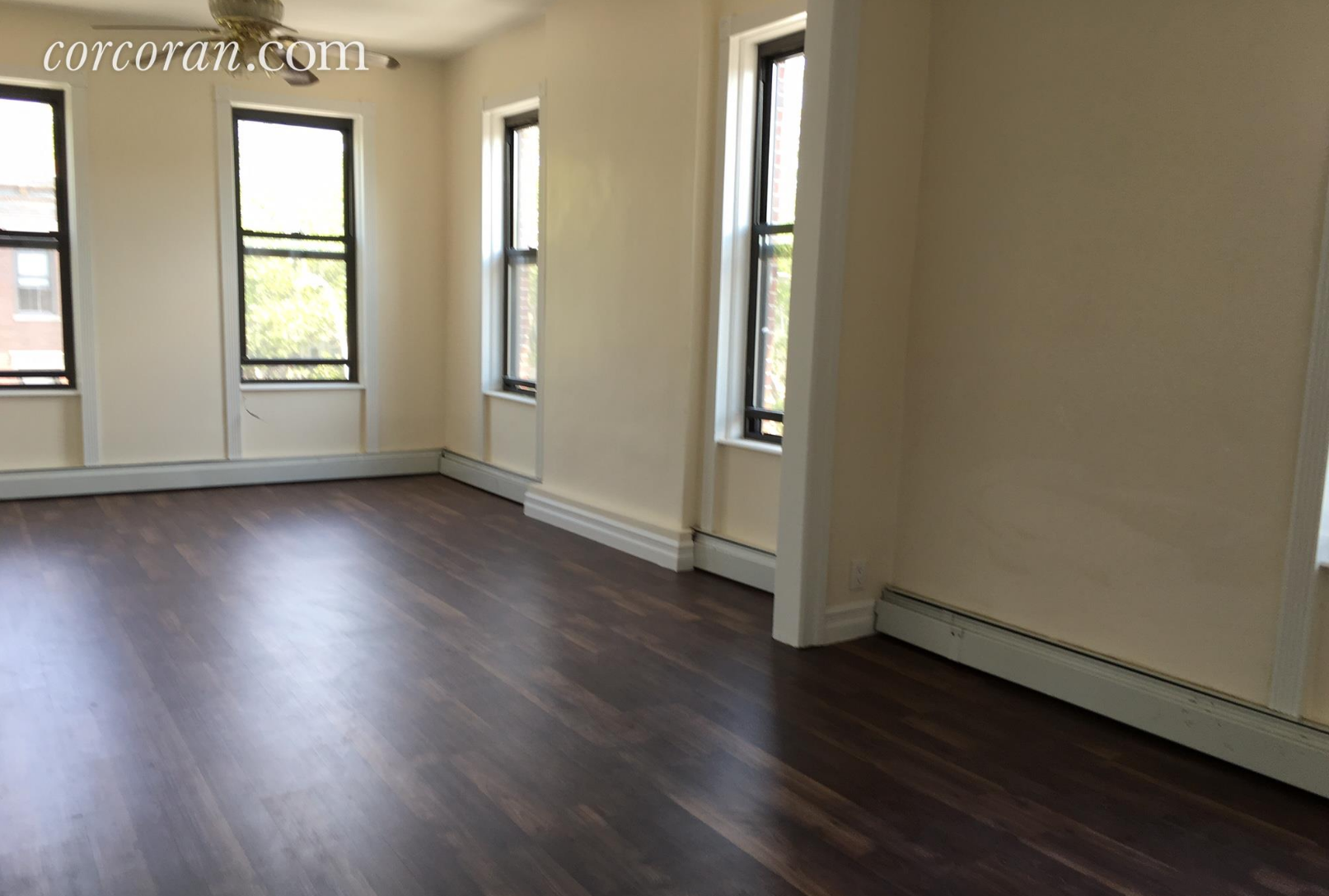 Another option for a group of budget-minded roommates: this three-bedroom right off the Halsey L stop has been recently renovated, and is asking $2,500/month.
HALSEY
Median rent and YoY change: $2,195/month; down 12.2 percent from 2015
Median rent PSF and YoY change: $27; insufficient data from 2015
Rental inventory and YoY change: 3 units; 200 percent up from 2015
As with last year, there wasn't much inventory to work with off the Halsey L stop, making it difficult to get a big-picture sense of what's been happening with prices around here. Anecdotally, however, current listings seem to skew toward new developments (or at least, new renovations) trying to push prices to new highs in the area—a trend we've been seeing with buildings farther east on the L train for a few years now. We've also noticed a few listings nearby with price chops, meaning that if you encounter a promising apartment that seems too high-priced for the neighborhood, you just might have room to push back and get a better deal.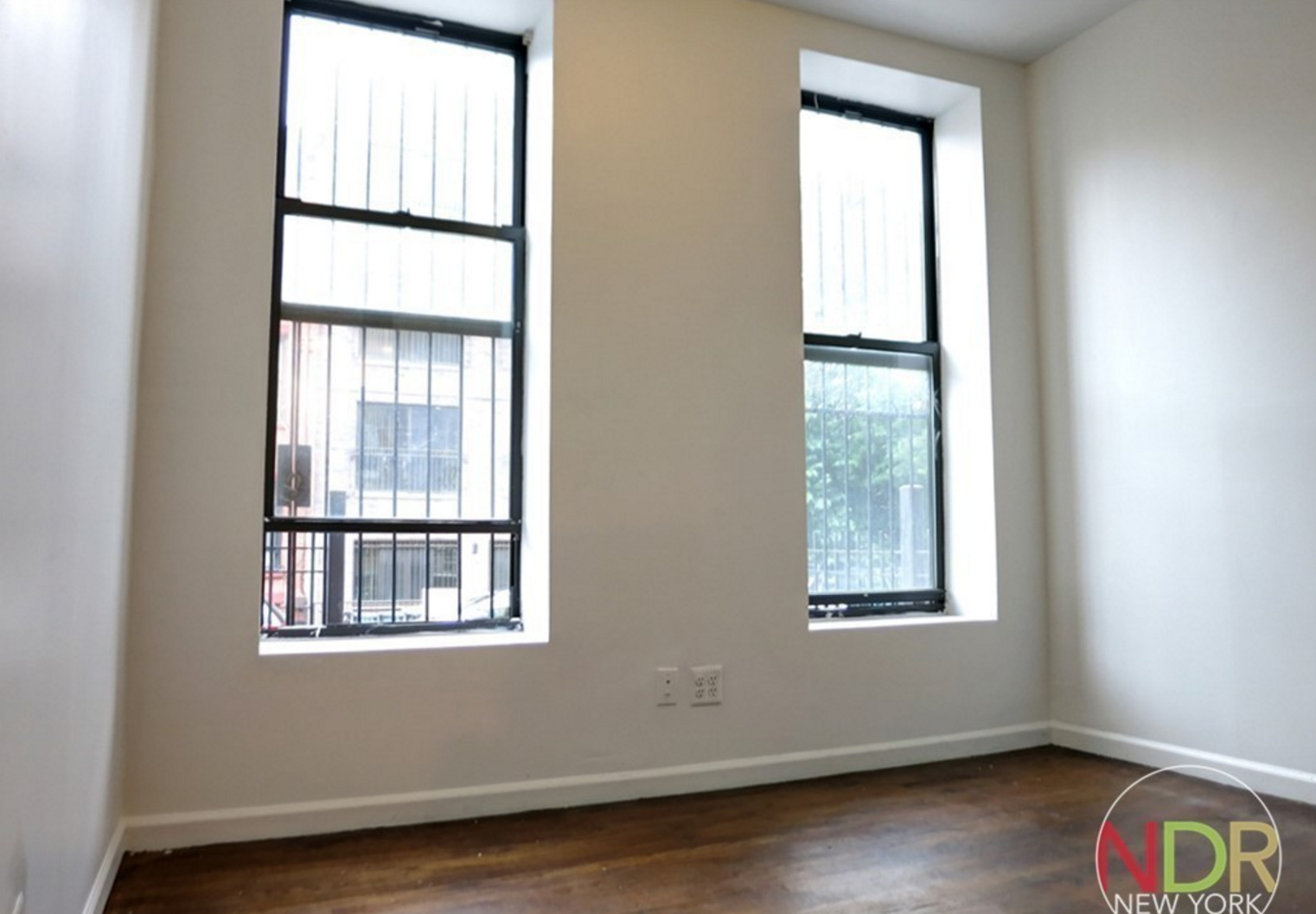 Though there aren't currently many listings off the Broadway Junction stop, head over to nearby Bushwick-Aberdeen, and you'll find this no-frills two-bedroom for $1,750/month.
BROADWAY JUNCTION
Median rent and YoY change: $1,800/month; down 7.5 percent from 2015
Median rent PSF and YoY change: $32;  up 46.4 percent from 2015
Rental inventory and YoY change: 4 units; up 100 percent from 2015
As usual, Broadway Junction is the cheapest stop we measured along the L, but with very few listings available at any given time. However, given its location on the border of East New York (which is, controversially, poised for gentrification) as well as its convenient acces to the L, J, Z,C, and A trains (not to mention the LIRR), we'd be curious to see if developers scramble to build or renovate higher-priced apartments in an effort to lure L-train-dependent Bushwick renters. Stay tuned...
Brick Underground articles occasionally include the expertise of, or information about, advertising partners when relevant to the story. We will never promote an advertiser's product without making the relationship clear to our readers.