Located in a no-frills, but seemingly well-kept Crown Heights building, this $1,800 one-bedroom apartment has a washer and dryer and a decently sized kitchen. The living room seems to be a bit of a squeeze, but the bedroom can fit a queen bed. Plus, we're seeing at least one good closet and two windows in the living room.

Heat and hot water are included, and the asking price is $100 less than the area median for similar apartments.
So is it worth considering? We asked our experts (and veteran renters), RentHackr founder Zeb Dropkin and freelance writer Lambeth Hochwald, to weigh in with me on this week's Take It or Leave It.​
The apartment:
Size: One-bedroom, one-bathroom
Location: 1460 Carroll Street (between Albany and Troy)
Monthly rent: $1,800
Flexible layout: No
Days on the market: 16
Subway: 3 at Kingston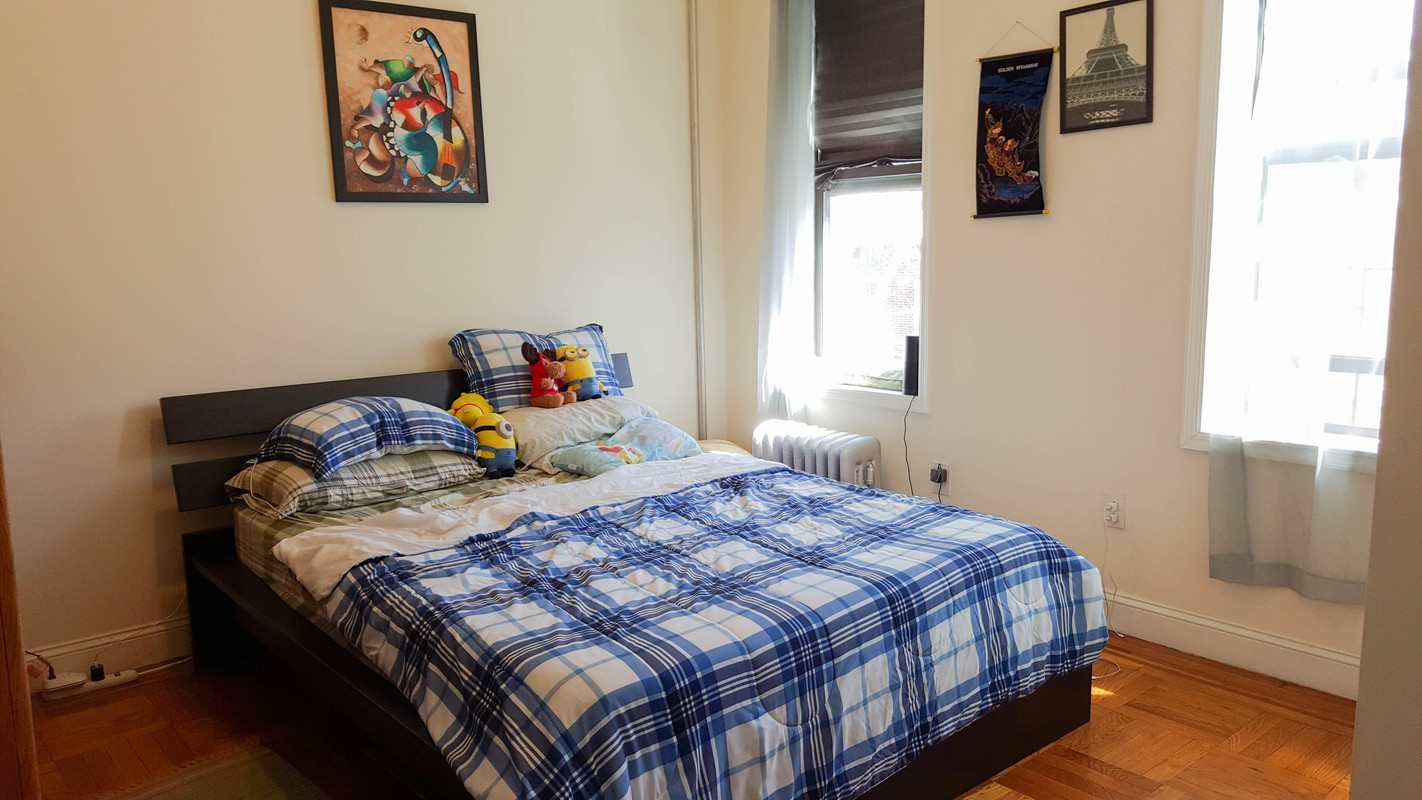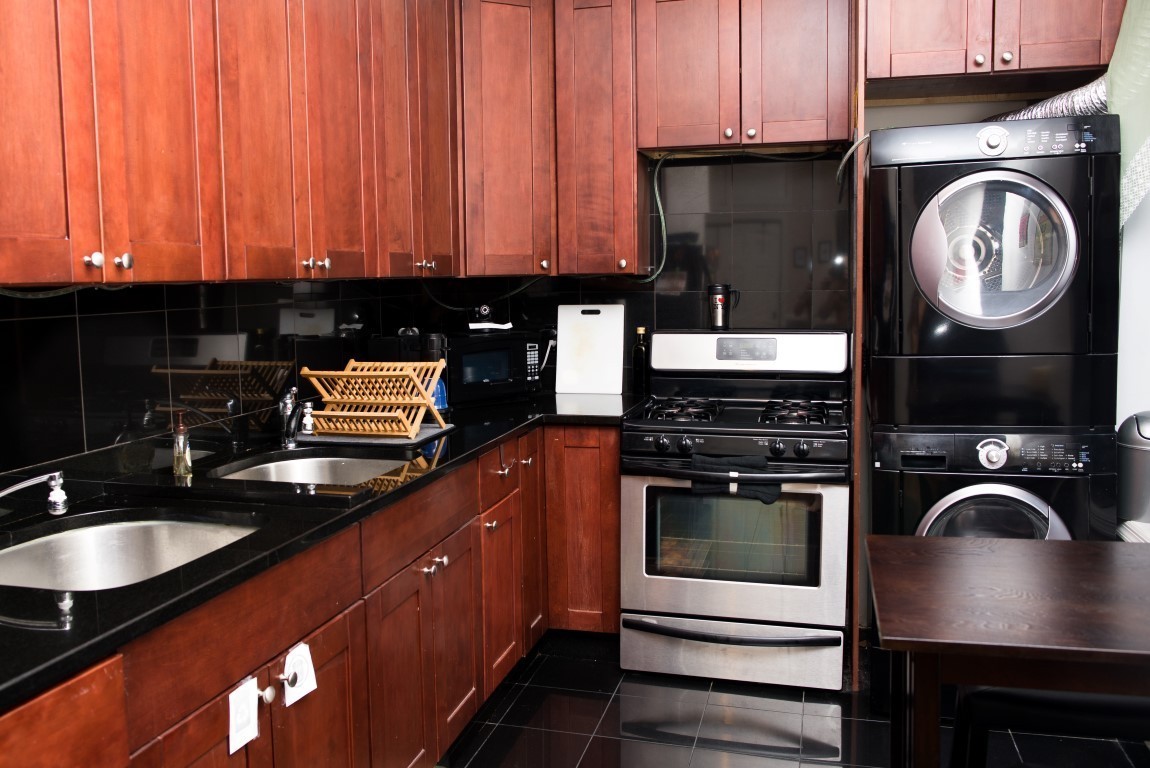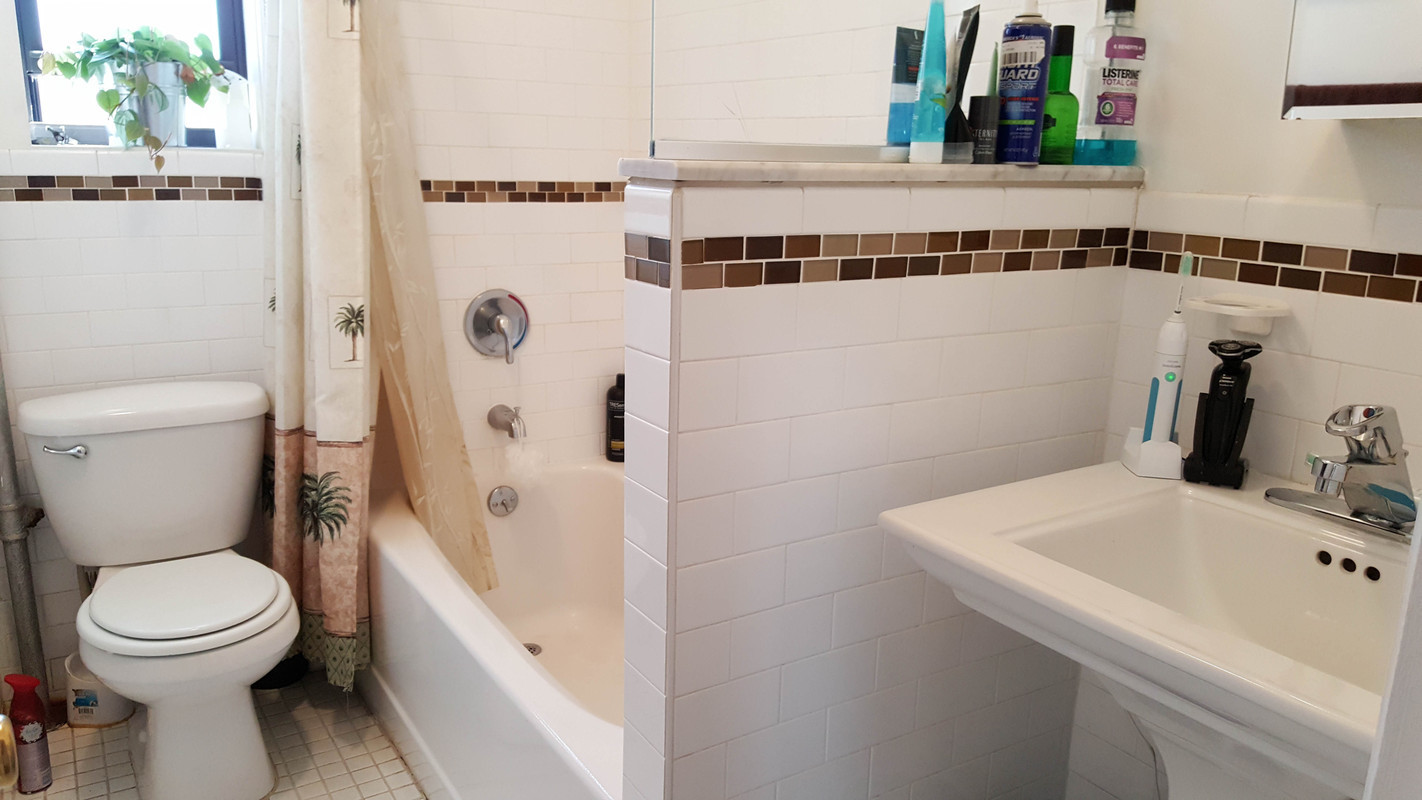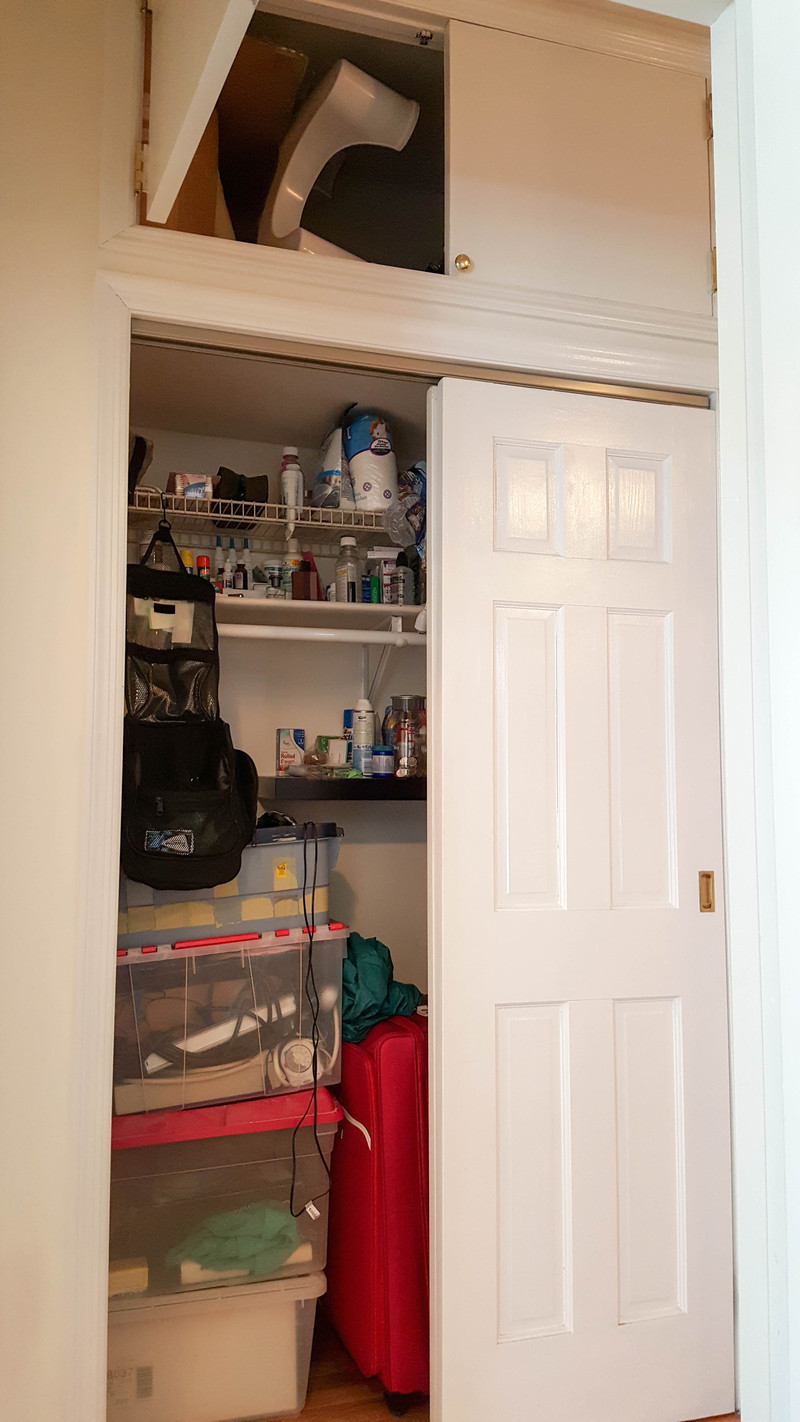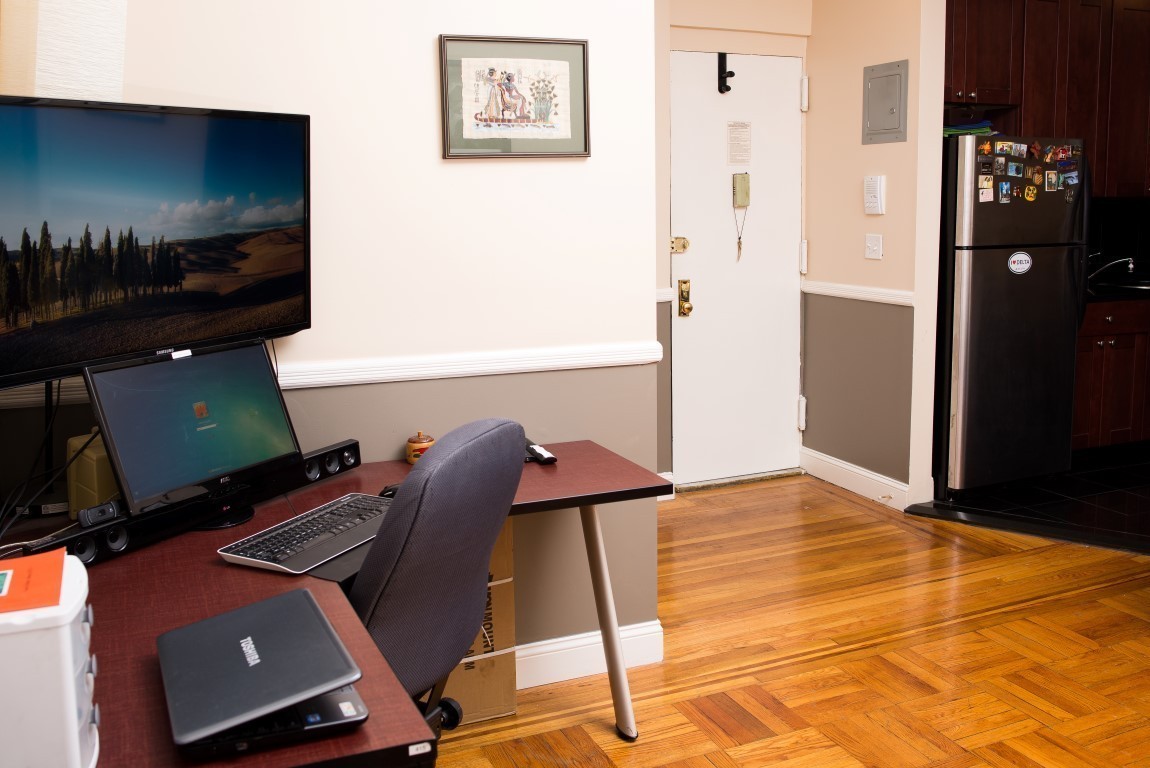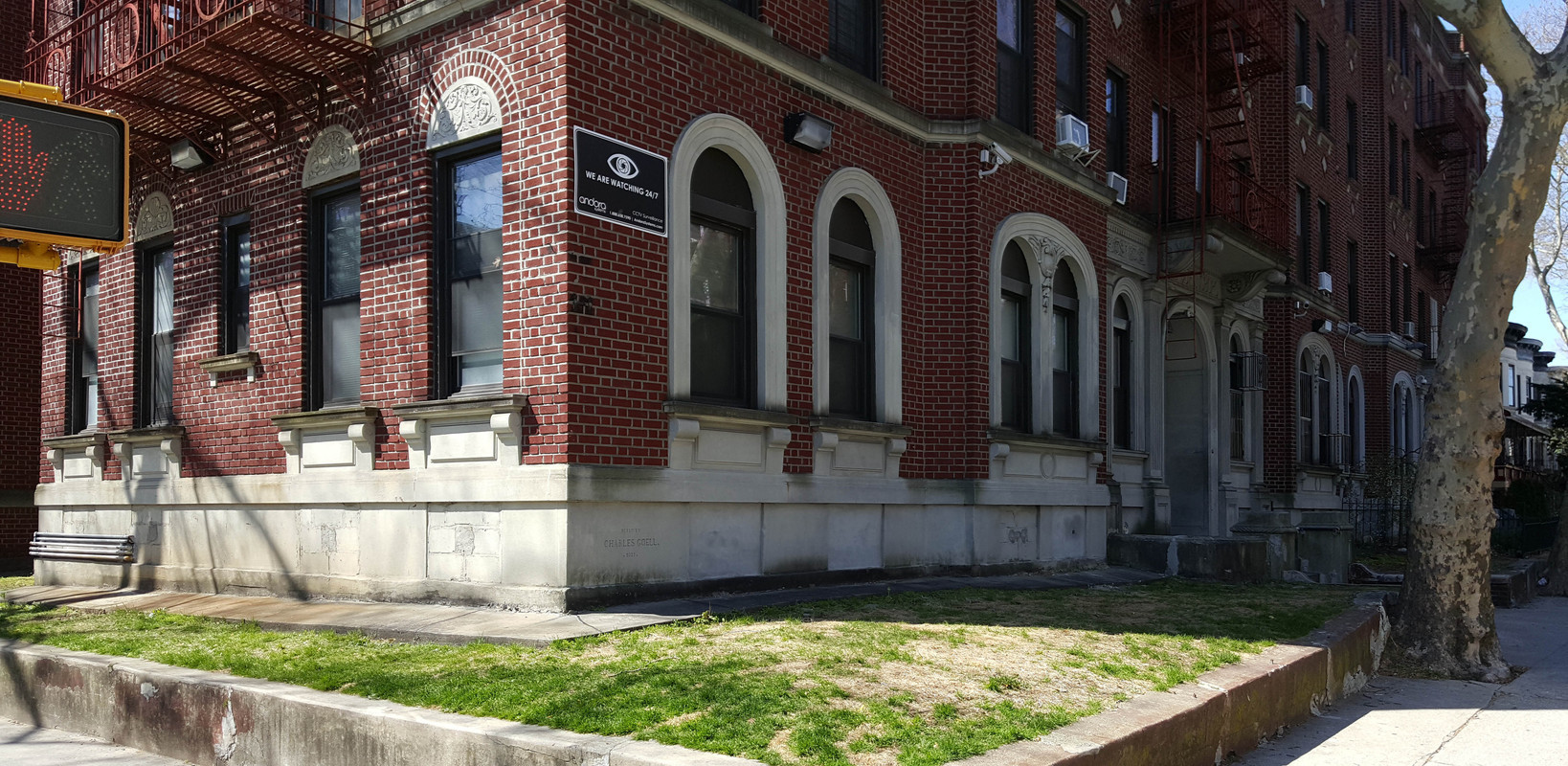 Pros and cons:
"There's something charming about this one-bedroom in Crown Heights. The two-tone paint in the living room makes the space look less cookie-cutter, as does the admittedly unique shape of the living room. The kitchen also looks like it's recently been renovated, and there's a washer and dryer (which is extra useful in a walk-up building). It's far from huge, but it should happily fit one or two people. And Crown Heights gets more and more amenities all the time. " —Lucy
"This looks like a competitively priced, bright, and well-equipped one bedroom in Crown Heights. It's a bit out of the way at 30 minutes walking to the park and 40 minutes to Union Square by train, and some of the windows face neighboring apartments."—Zeb
"You had me at in-kitchen washer-dryer. That's already one of the biggest perks of this Crown Heights pad located in The Queensboro, a seemingly well-maintained brick building that dates to 1921. On the flip side, this place feels pricey for the neighborhood.—Lambeth
Who would this apartment be perfect for?
"A single person or a couple looking to pay under $2,000 (though it looks like there's a broker fee, so account for that). Extra points if you're organized and don't have too much furniture." —Lucy
"This spot is good for a renter looking for a one bedroom on a budget under $2,000 who prefers to go deeper into a developing neighborhood to get a bit more apartment for the money." —Zeb
"A couple who have been waiting to try out Crown Heights and have already spent a while looking for a tidy apartment to call home."—Lambeth
The verdict(s):
TAKE IT "The price seems fair and for a one-bedroom in a popular neighborhood, you could do worse." —Lucy
TAKE IT "If the commute and the neighborhood work for you, and the space missing from the photos is as good as what's shown, it looks like a solid option." —Zeb
LEAVE IT "Sure heat and hot water are included but you're still creeping up to the $2K mark for a building with zero amenities." —Lambeth