Neighborhood Intel
New map shows historic civil rights sites throughout in Greenwich Village, the East Village, and Noho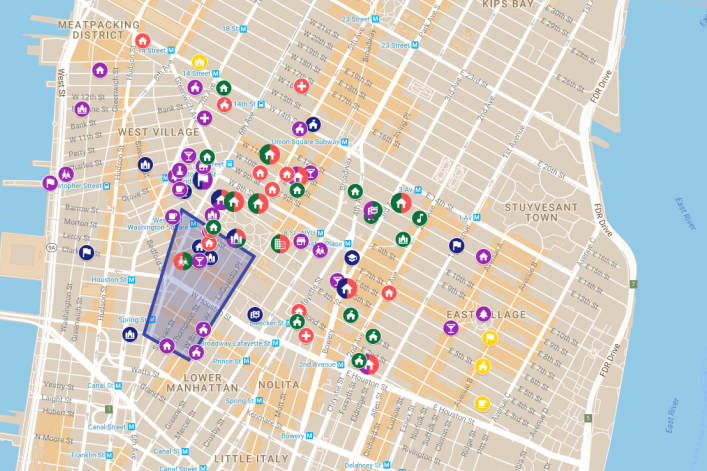 New York City's streets are packed with so much history that it can be a bit of an uphill battle to keep track of it all. In the interest of highlighting Lower Manhattan's history of political activism, the Greenwich Village Preservation Society has released a new civil rights map (embedded below), billed as a "guide to sites of significance in the history of civil rights and social justice movements in Greenwich Village, the East Village, and Noho."
The map is color coded into five main categories—African-American history, LGBT history, women's history, social justice and political activism, and Hispanic history—with some sites encompassing more than one. (For instance, the site of the Triangle Shirtwaist Fire is flagged for both women's history and social justice and political activism.)
Particularly post-election, the map is a potent reminder of New York's longstanding history as a hotbed of progressive political action. Locations on the map include the former NAACP quarters; the site of the draft riots; homes of Margaret Sanger, Allan Ginsberg, and James Baldwin; the Stonewall Inn; and places crucial to the founding of the ACLU and the Young Lords.
"We're obviously incredibly conscious of the broader political environment we're in, where so much of the progress that has been made over the decades and generations seems to be in doubt and in jeopardy," GVSHP executive director Andrew Berman tells us. "We think it's incredibly important to document these struggles, celebrate the organizations and people behind them, and take note of how much progress has been made and how precious that is."
"You never really value anything as much as you do when you're in jeopardy of losing it," he adds. "And we take great pride in the fact that our neighborhoods have been places that have led the charge on so many of these fronts. The assortment of people and institutions that have been here and what they've accomplished has been mind boggling."
Included on the map are a mix of buildings that no longer exist, along with still-standing institutions where Berman says "You can go and interact, join, participate. We're glad that it's not all gone, [and] not forgotten."
The map is also a living document, and the GVSHP will be adding in submissions of additional sites, which can be sent to [email protected]. "We definitely encourage the public to submit additional suggestions, and as much as they're able to, provide links or other documentation to substantiate the historic connection," says Berman.
You can play around with the map below, and if you click the icon on the top left, you'll see a navigable side bar, which will let you browse sites in list form, and click for an expanded history of each one.
Brick Underground articles occasionally include the expertise of, or information about, advertising partners when relevant to the story. We will never promote an advertiser's product without making the relationship clear to our readers.