Neighborhood Intel
This upgraded Brooklyn subway station is a case study in how to get things fixed in your NYC neighborhood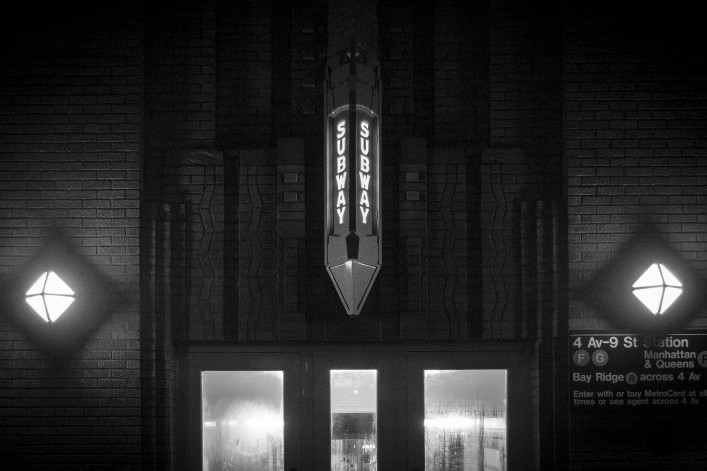 As Americans continue to get more hands-on with their political involvement, this renewed enthusiasm has filtered down to the local level, with New Yorkers across the city rolling up their sleeves and pushing to make local improvements when leadership from the top is stalling. (See: the latest proposed plans for how to best use 14th Street during the L train closure, born of frustration with the city's slow decision-making process.)
WNYC has been chronicling several such projects in their Design By Community series, the most recent of which follows a group of dedicated Brooklynites who successfully lobbied for improvements to the 4th Ave-9th Street subway station, a longtime eyesore with scaffolding, leaks, and blue particle board covering up the windows.
In a bid to kickstart more community organizing in the area—and find a means of connecting neighborhood activists and groups from Park Slope, Gowanus, and Carroll Gardens, which all border the station—local organizers Grace Freedman and Sarah Jean Avery decided to seek input from their neighbors on potential ways the MTA could improve the beleaguered transit hub.
"Everybody looked at it as the border—so if it's the border, it doesn't belong to anybody. And we wanted to get a better sense of belonging," explains Avery. The end result was a pop-up event envisioning the station's potential, including cardboard renderings of benches, and canvas painted like storefronts. The pop-up was originally supposed to take place at the station, but after last-minute pushback from the MTA, the event moved to the Old Stone House nearby.
"Even when you're told 'no' by a government agency, you have to keep trying," said WNYC's Clarisa Diaz, who chronicled the story. In exchange for moving their pop-up, in this case, organizers bargained with the MTA to demand a public meeting with the Park Slope Civic Council, and a final schedule for future improvements. Since Avery and Freedman first began their efforts, the scaffolding has come down, and the MTA has added new signage, lighting, and public art.
Besides persistence, say organizers, the key to getting it all done was personalized, grassroots outreach to get other locals involved. "What brought people to the events were one-on-one requests and telephone calls. I think that gets overlooked," said Avery. "When you're working on a smaller level, the ability to call Bernice or call Kathy or talk about it at your book club meeting and say, 'We're going to do this fun thing, I think you might get into it,' that's real important. That hands-on, person-to-person organizing. I don't think it can be understated."
Other successful projects so far covered in the Design By Community series include an East Village Community Garden, cooking classes for children in Astoria, and a new program providing interpreter services for immigrant communities. 
If you're looking to get involved and not sure where to start, we've got a guide to joining your Community Board here, and for some inspirational viewing, we recommend the newly-released documentary on Jane Jacobs.
Brick Underground articles occasionally include the expertise of, or information about, advertising partners when relevant to the story. We will never promote an advertiser's product without making the relationship clear to our readers.