Neighborhood Intel
"Citizen Jane" revisits how Jane Jacobs defeated Robert Moses—and how New Yorkers can fight to protect their neighborhoods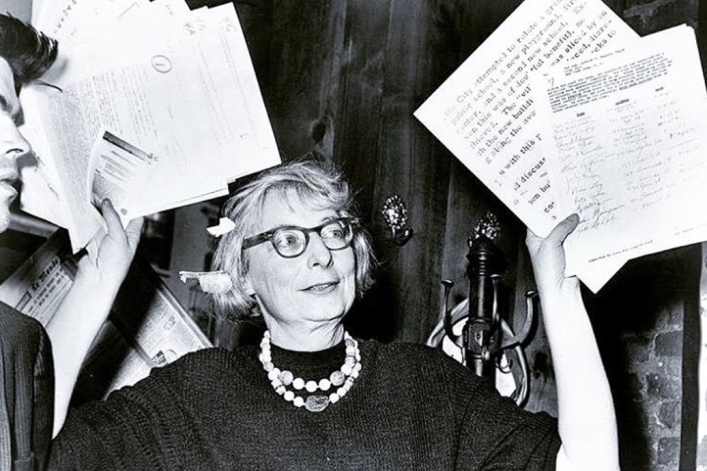 As the woman who fought back—and won—against the all-powerful midcentury city planner Robert Moses, Jane Jacobs is a legend among many New Yorkers. Jacobs died in 2006, but on the occasion of what would have been her 100th birthday last year, she was widely celebrated both for her visionary ideas about cities, as well as her concrete victories, such as preventing Fifth Avenue from being extended right through the middle of Washington Square Park; she also defeated Moses's scheme for a Lower Manhattan Expressway that would have effectively razed Soho and other vital NYC neighborhoods.
The latest tribute to Jacobs comes in the form of Citizen Jane: The Battle for the City, a new documentary chronicling her scholarship on the subject of city planning (The Death and Life of Great American Cities is her most well-known work), as well as her particular knack for grassroots activism that vanquished the grand schemes of the day's politicians.
But in true Jacobs-ian style, the movie isn't just a tribute to one woman's works, but a look at the lessons we can use today as population (and construction) levels continue to explode in cities across the globe.
"Urbanization is such a huge issue on the global agenda—the world is urbanizing at an unprecedented pace," producer Matt Tyrnauer tells us. "How we build our cities is going to be decisive."
Indeed, with exploding demand for urban residences, countries like China have begun creating entire cities from scratch. "Sadly, one of the reasons we thought this issue was important is that [some cities] are harkening back to Robert Moses," adds producer Robert Hammond, pointing to Moses' uniform style of planning that created housing projects, rather than a more organic approach that takes into account the way people actually live.
For instance, one of Jacobs's best-known theories is that streets are safer when they're busy and populated with businesses, and therefore have more "eyes on the street," which is hampered when the only buildings are giant, concrete structures situated on mega-blocks.
However, Jacobs's push against poorly-conceived new development ideas shouldn't be mistaken for a wholly anti-development sentiment across the board. "Sometimes people mistake her philosophy for freezing cities in time and not doing anything, or building anything at all—it gets misappropriated," says Hammond. "She was not necessarily anti-development, she was for appropriate development. And she also believed that one-size-fits-all solutions almost never work."
For a typical New Yorker, the main takeaway from Citizen Jane is to look at the city's issues critically, and to remember that local activism and protest really can make a difference, even if it's a decades-long process. "Jane was a skeptic," says Tyrnauer. "As she says in the opening of her book, look around your city. She looked around her own neighborhood, walked around cities, and saw what was working and what was not working. We focus so much on the problems, but she also looked at the pieces that were working, and that naturally organized themselves."
Even when they seem at their most chaotic, cities have a certain kind of innate wisdom and self-direction when left to thrive without harmful intervention.
Citizen Jane: Battle for the City opened in limited release and on demand on April 21st.
Brick Underground articles occasionally include the expertise of, or information about, advertising partners when relevant to the story. We will never promote an advertiser's product without making the relationship clear to our readers.