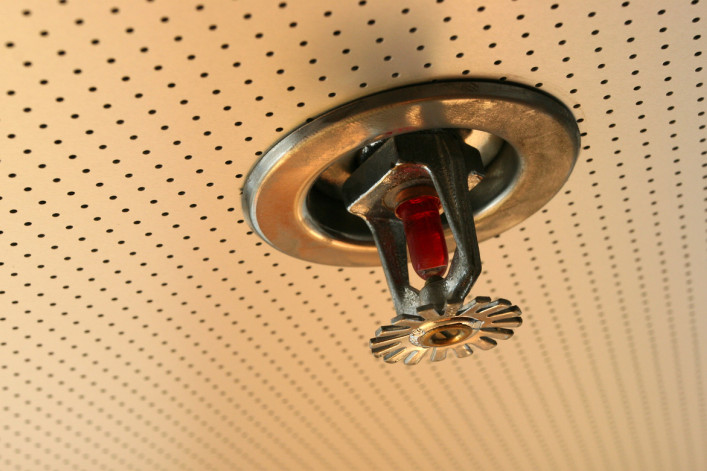 The upper-floor apartments in Trump Tower, where a fire killed one longtime resident and injured six firefighters on Saturday, do not have a sprinkler system. Trump Tower isn't an outlier in this. Far from it. In fact, a majority of older residential buildings in New York City lack fire sprinklers.
Only newer buildings with three or more apartments and townhouses with more than three stories constructed after 1999 are required to have automatic sprinkler systems.
That means "a huge amount of old buildings in New York City do not have fire sprinklers," says Michael Tobias, principal at New York Engineers, a firm that has designed over 400 fire sprinkler systems for buildings. He estimates that about half of the city's residential buildings do not have sprinklers.
But owners of another type of New York buildings are retrofitting them with fire sprinklers. In 2004, the city passed a retroactive law requiring all commercial buildings over 100 feet to add fire sprinklers by 2019.
The dearth of sprinklers in apartment buildings should alarm New Yorkers, Tobias says, because "most fires break out in residential buildings. That's where you're cooking on gas stoves and sleeping at night. There's a much higher risk of fire than an office building, which is safer."
He says that years ago residential developers successfully lobbied to avoid costly changes to the building codes. The average cost of a sprinkler system is $5 a square foot, he notes. In the '90s, Trump was among the voices arguing against requiring that owners add sprinklers to existing buildings. And he chose not to install fire sprinklers in Trump Tower after learning his building was exempt, according to City Councilman Robert Cornegy, chairman of the Housing and Buildings Committee, who is proposing new fire sprinkler legislation.
There are some types of building renovations that do require an owner to add fire sprinklers. They include alterations where the cost exceeds 60 percent of the value of the building, changes in the occupancy, or increases of more than 125 percent in the square footage of the floor area of a building. For more specific rules, check out the fire code.
Tobias said that these requirements don't kick in often.
Brick Underground articles occasionally include the expertise of, or information about, advertising partners when relevant to the story. We will never promote an advertiser's product without making the relationship clear to our readers.