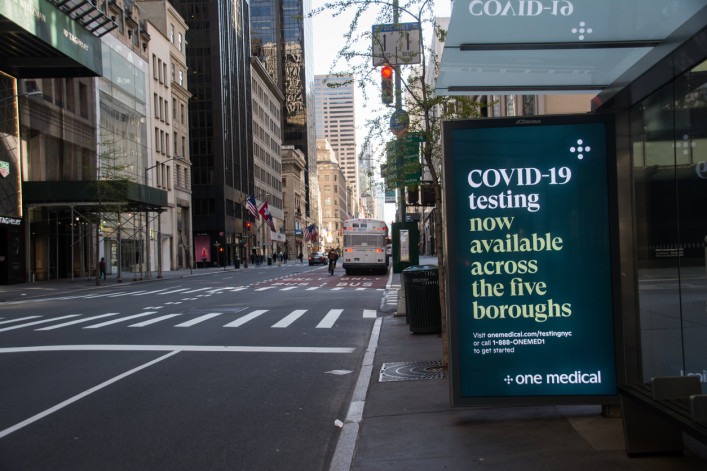 When I walk my dog every day, it's impossible to miss the long line of mask-clad people, spaced six feet apart, snaking down the block on East 86th Street. Clearly, considering the times, they are not waiting for a sneaker drop or concert tickets to go on sale—they are waiting for Covid screenings and antibody tests at an urgent care facility.
I try to scan their eyes while being careful not to get too close. I want to see if I can tell for which test they are waiting. It's a morbid mental game I play with myself. Even so, each time I pass this block I feel a momentary surge of panic when I see the line of people.
Of course, life on this block wasn't always like this.
---
[Editor's Note: Brick Underground's series "Living Next to" features first-person accounts of what it's like to have an iconic or unusual New York City neighbor. Have a story to share? Drop us an email. We respect all requests for anonymity.]
---
Living by an urgent care site used to be comforting. This CityMD just a few short blocks from my house has been a blessing countless times since I moved here seven years ago—and even more so when I lived on the Upper East Side years before. 
It was always so reassuring to know that if I had the painful early rumblings of a UTI I wouldn't need to stress out about seeing my primary care physician or ob-gyn, who both have very busy practices and limited hours—or have to navigate to their offices. Anyone who has ever had a UTI or other worrying illness knows the particular anxiety of trying to get to a doctor fast. Public transportation is the last place you want to be. Still, are you really a New Yorker if you haven't thrown up in a yellow cab?
The urgent care location that is now administering Covid tests is where a doctor diagnosed my baseball-sized uterine fibroid, and because of her expertise and ability to secure an ultrasound a mere hour later, I was in surgery the following week, with no complications. Without this facility, I could have had to go weeks longer in pain.
While it's certainly not a fun place to visit, living so close to an urgent care always made me feel safer.
Until now, that is. There is just no way to use the word "safe" in writing about the Covid-era. In mid-March, when the shutdown was mandated, most of my doctors were either furloughed or went to tele-medicine. The urgent care facility by me stayed open with increased hours. Again, it was a relief to know that if I got something urgent, but non-life-threatening, like an earache or ankle sprain, I wouldn't have to go to the ER, which was already a hotbed of Coronavirus activity. In a sea of overanxious New Yorkers, I am perhaps one of the most neurotic when it comes to health-related matters. But with good reason: I have a chronic illness that frequently rears its ugly head.
During March and April, I stayed inside to avoid contracting the virus. But then when my doorman died of the deadly disease and others in my building were falling sick, I worried about what I would do if I had symptoms. Covid tests were hard to get. A friend who is a nurse stayed in line in his car at a Westchester testing facility for hours, only to be told he didn't qualify for a test.  Other friends were told via video by their doctor to just stay put even though their fevers were high and they were having respiratory symptoms. Getting a test wouldn't have changed things for me anyway because the medical advice was stay inside and only go to an ER if you had difficulty breathing.
Soon after, my CityMD became a Covid testing center, and you didn't need an appointment for a test. This made me feel relieved that I could get one easily, but the long lines outside from morning until night were disconcerting. When Governor Andrew Cuomo said the state had officially boosted testing capacity and implored New Yorkers to get tested—either a nasal swab for an active infection, or a blood test to check for previous infection—those lines grew even longer.
Can't ignore the people standing on line
There is no way to put the havoc the virus has wreaked on the city and the whole world out of my mind when there is such a stark, visual reminder daily every time I venture outside. The line of people has blocked entrances to local businesses and nearby apartment buildings. 
I am not alone in feeling haunted by the testing lines. Durra, an Astoria resident, told me something similar. There is also a testing center outside his subway stop near his apartment. "There is a CityMD which was built sometime last year. It is comforting to know there's a Covid testing site in a walking distance, even though I have never fell sick," he explains. Still, it is a bit disconcerting to have a near-daily reminder of how many people are affected a few blocks from where you live. And having to pass potentially sick people every time you exit the subway can also give you pause.
My turn to join the the line
Last month I decided to get an antibody test and stood on the line. I wondered if I had been exposed unknowingly to the virus by my doorman and had been asymptomatic. I chose a nice sunny day, not too hot or cold, and settled in to move up in six-foot increments. The experience was aggravating: Pedestrians without masks passed by frequently and others, eager to get a test themselves, tried to cut the line. Still, it took only about an hour to reach the entrance. One I got inside, things moved swiftly. I got my blood drawn for an antibody test and a few days later got the results via email. Negative.
Then this month I was feeling sick (not with Covid-type symptoms) and went to the urgent care facility again and had the same wait. But this time, even though I was not there for Covid-related issues, I was told to get another antibody test and a nasal swab. It seemed the only topic the doctor wanted to discuss. I worried that I was not tested for anything else, particularly when my symptoms didn't resemble anything I had read about the virus.
Since I was there anyway, I got both tests. The Covid swab is sort of like a nasal pap smear—not at all pleasant. Ten days later, I got negative results again. I still feel sick though and had to make an appointment at my actual primary care physician.
But here is the real rub: Now that the urgent care facility is a Covid testing site, there is no way to be seen quickly for other health issues. If you have a UTI you still have to stand outside for an hour or two waiting to be seen. Good luck with finding a public bathroom nearby, if you are brave enough to use one.
Living next to an urgent care-turned-Covid-testing site has kept the virus in focus for me. I'm reminded daily that there are people who are still getting sick. Some people may want to avert their eyes or move away from New York City. My role feels different: I am bearing witness in my corner of the city to NYC's ordeal.
Brick Underground articles occasionally include the expertise of, or information about, advertising partners when relevant to the story. We will never promote an advertiser's product without making the relationship clear to our readers.