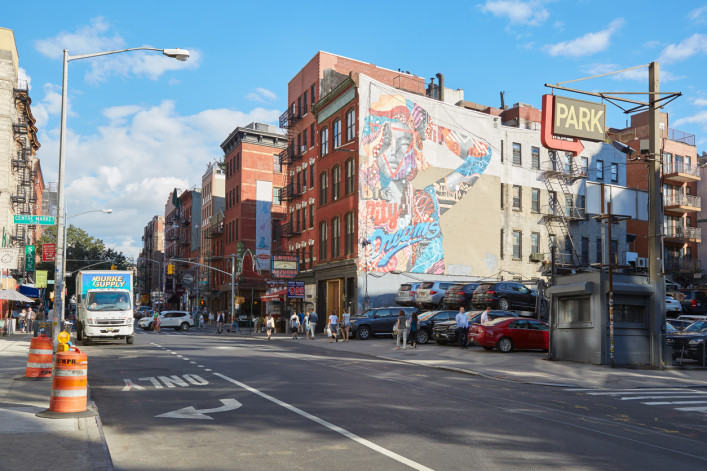 When his daughter started to grow up and need a real bedroom, New Yorker William Richmond-Watson traded his open loft rental in Tribeca—which was great for parties—for a more family-oriented space in Nolita. He gained a better living space, and also something he didn't know he was craving: A sense of community. Here's his story.
I lived on the edge of Tribeca at Church and Reade for about nine years, starting in 2009. Whenever I move in New York City, I make sure to really get to know the rental market before making a decision. Settling on that apartment was no exception. I knew it was one of those deals that only came up every so often, so I snagged it quickly.
The Tribeca space was a classic corner loft with fantastic, 16-foot ceilings and approximately 1,100-1,200 square feet that was around $1,000 under market because it was raw space—but the bones were great. It allowed for some terrific parties.  
---
[Editor's Note: Brick Underground's series "Transitions" features first-person accounts of what it's like to move from one New York City neighborhood to another. Have a story to share? Drop us an email. We respect all requests for anonymity.]
---
The rent was good and the views were better. The apartment's incredible windows afforded me a great view of One World Trade Center getting built before my eyes, and at certain points, the morning sun would hit the building at a perfect angle to illuminate the entire apartment in an extraordinary way. It was remarkable watching Downtown get rebuilt.
One thing I didn't like about living in a classic Tribeca loft was the lack of air conditioning. I didn't install AC because I felt the loft could keep cool enough without it—it got plenty of air flow and ceiling fans did the rest of the work. Still, it would have been nice to have the option of central air, particularly on humid summer days.

As far as the neighborhood, I appreciated how the loft was on the fringe, rather than in the center, of Tribeca. There, you can find no-frills restaurants like the super authentic Pakistan Tea House, or Tribeca institutions like The Odeon. I knew if I ever left I'd miss frequenting The Greenwich Hotel for drinks and Marc Forgione for food.
However, in the spring of 2017 I knew I had to move to a more traditional space. My young daughter, Lola, was growing up fast and needed a more defined living area. My goal was to rent a real two-bedroom. The Tribeca loft was a large, open space without real rooms—great for an adult, but not so great for an energetic child. I had to build a loft for Lola to sleep in when she was born, but ultimately the space just wasn't practical for Lola long term. Once she reached a few months old, I knew she needed her own space to play. We also love making art together so I wanted a more designated area for that, too.
I didn't move that far away, but in many ways it is a huge change. I moved to Nolita because I've always wanted to live here. It has so much going for it: charm, classic NYC architecture, and its small size. It really feels like a proper, bustling neighborhood, whereas I think Tribeca can feel empty at times, particularly at night. Nolita, for us, definitely seemed better suited for raising a child.
My new apartment feels like it was built in the same era as my old one, so the aesthetics are similar, but it certainly has better updates. It's an old loft with lots of character: the floors creak, pipes make noise, and light shines through. An open plan allows for one large living/kitchen space, and Lola finally has her own bedroom. This apartment is also on the ninth floor, so it's quieter than my second-floor Tribeca loft. It is more expensive because it's larger— approximately 2,000 square feet—and in a more sought-after area.
We've made the Nolita loft our own with a bouncy castle complete with a slide and windmill, ready to inflate at the push of a button in the living room; a treasured Andy Warhol print; and large pieces of my own artwork, which are leaning against the walls and yet to be hung.  
Speaking of artwork, as I was leaving Tribeca, contemporary galleries were just beginning to open in the area, so it's unfortunate that the timing didn't line up for me. I am the owner and chief creative officer for Watson & Company, an award-winning creative agency, which I founded in 2008. Previously, I was heavily involved in the art world.
Not that there is a lack of culture in Nolita, though. I enjoy popping into McNally Jackson, an excellent bookshop.
I also appreciate that I can still eat really well in this neighborhood. My favorite spot to eat out is Sant Ambroeus if I'm feeling upscale, Lovely Day if I'm not. To be honest, I eat out most nights due to my schedule or for business. Living in Tribeca I would go to a great bodega at Reade and West Broadway if I was in a bind. While I miss that, I do love the Whole Foods just at the edge of Nolita. I'm also a fan of ordering groceries online so my change in neighborhood doesn't really affect that.
As far as public transportation, Tribeca and Nolita both have decent subway options. However, Nolita is much closer to school and work for us—a 15-minute walk or quick bike ride to both.
I loved living in Tribeca, but now that I've moved to Nolita, I find myself bumping into people I know every few days or so. It feels like I'm living in a close-knit community now, and I think everyone needs community. Frankly, I didn't realize my life lacked it until I arrived there.
Brick Underground articles occasionally include the expertise of, or information about, advertising partners when relevant to the story. We will never promote an advertiser's product without making the relationship clear to our readers.